Saturday, November 28, 2015
Maine Shut Out By Robert Morris, 3-0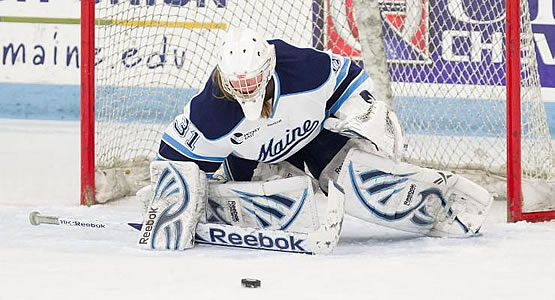 Senior goaltender Meghann Treacy made 34 saves for the Black Bears
| | | | | | | |
| --- | --- | --- | --- | --- | --- | --- |
| Prd | Time | Team | Score | Type | Scored By | Assists |
| 2nd | 18:10 | RMU | 1-0 | EV GW | Ashley Vesci (8) | Mackenzie Johnston/7, Brittany Howard/12 |
| 3rd | 8:25 | RMU | 2-0 | EV | Mackenzie Johnston (4) | Maeve Garvey/5, Jessica Gazzola/2 |
| 3rd | 17:07 | RMU | 3-0 | PP | Mikaela Lowater (7) | Brittany Howard/13, Maggie LaGue/11 |
| | | | | |
| --- | --- | --- | --- | --- |
| Scoring | 1st | 2nd | 3rd | Final |
| Maine | 0 | 0 | 0 | 0 |
| Robert Morris | 0 | 1 | 2 | 3 |
| | | | | |
| --- | --- | --- | --- | --- |
| Shots on Goal | 1st | 2nd | 3rd | SOG |
| Maine | 12 | 11 | 4 | 27 |
| Robert Morris | 11 | 8 | 18 | 37 |
| | | | |
| --- | --- | --- | --- |
| Team Stats and Records | PP | PIM | SHGF |
| Maine (6-11-0) | 0/6 | 5/10 | 0 |
| Robert Morris (9-5-2) | 1/4 | 7/14 | 0 |
| | | | | | | |
| --- | --- | --- | --- | --- | --- | --- |
| Maine Goaltending | MIN | GA | 1 | 2 | 3 | Saves |
| Meghann Treacy (L, 5-10-0) | 59:23 | 3 | 11 | 7 | 16 | 34 |
| Empty Net | 0:37 | 0 | | | | |
| | | | | | | |
| --- | --- | --- | --- | --- | --- | --- |
| Robert Morris Goaltending | MIN | GA | 1 | 2 | 3 | Saves |
| Jessica Dodds (W, 9-4-1) | 60:00 | 0 | 12 | 11 | 4 | 27 |
After losing game 1 Friday night, the Black Bears were back in action Saturday afternoon against the Robert Morris University Colonials, who shut out Maine 3-0, sweeping the 2 game series.
The game remained scoreless through the majority of the first 2 periods, the first goal coming late in the 2nd period from Ashley Vesci, assisted by Mackenzie Johnston and Brittany Howard.
In the third period, Johnston scored her own goal 8 minutes into the period to give Robert Morris the insurance goal and a 2-0 lead. Almost 10 minutes later a power play goal was scored by Mikaela Lowater, giving Robert Morris a 3-0 lead which would remain until the end of the game.
Meghann Treacy was in net for the Black Bears and saved 34 of the 37 shots she faced, but gets the L for the contest; her record drops to 5-10-0. Across the ice, Jessica Dodds for Robert Morris saved all 27 shots she faced for a clean shut out on the Black Bears; her record improves to 9-4-1.
The Black Bears return home this weekend, Dec 5 and Dec 6 to face undefeated Boston College. Both games start at 2pm.