Saturday, January 23, 2016
Curtis Leads New Hampshire Past Maine, 5-1
Junior forward Jonna Curtis has goal and two assists for Wildcats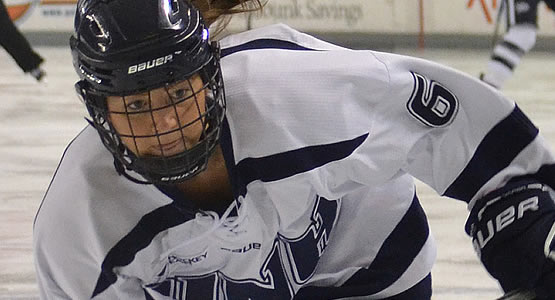 Junior forward Jonna Curtis had a goal and two assists for the Wildcats
| | | | | | | |
| --- | --- | --- | --- | --- | --- | --- |
| Prd | Time | Team | Score | Type | Scored By | Assists |
| 2nd | 2:50 | UNH | 1-0 | EV | Jonna Curtis (13) | Amy Boucher/9 |
| 2nd | 12:41 | UNH | 2-0 | EV GW | Cassandra Vilgrain (6) | Jonna Curtis/14, Sara Carlson/10 |
| 3rd | 8:05 | UNH | 3-0 | EV | Margo Lund (3) | Carlee Toews/2 |
| 3rd | 8:43 | UNH | 4-0 | EV | Amy Boucher (10) | Jonna Curtis/15, Marie-Jo Pelletier/6 |
| 3rd | 13:21 | MNE | 1-4 | PP | Audra Richards (12) | Jillian Langtry/7, Victoria Hummel/4 |
| 3rd | 18:06 | UNH | 5-1 | EV EN | Amy Schlagel (7) | Nicoline Jensen/4 |
| | | | | |
| --- | --- | --- | --- | --- |
| Scoring | 1st | 2nd | 3rd | Final |
| New Hampshire | 0 | 2 | 3 | 5 |
| Maine | 0 | 0 | 1 | 1 |
| | | | | |
| --- | --- | --- | --- | --- |
| Shots on Goal | 1st | 2nd | 3rd | SOG |
| New Hampshire | 12 | 23 | 18 | 53 |
| Maine | 4 | 5 | 13 | 22 |
| | | | |
| --- | --- | --- | --- |
| Team Stats and Records | PP | PIM | SHGF |
| New Hampshire (9-16-1) | 0/5 | 3/6 | 0 |
| Maine (7-17-2) | 1/3 | 5/10 | 0 |
| | | | | | | |
| --- | --- | --- | --- | --- | --- | --- |
| New Hampshire Goaltending | MIN | GA | 1 | 2 | 3 | Saves |
| Kyra Smith (W, 8-8-1) | 60:00 | 1 | 4 | 5 | 12 | 21 |
| | | | | | | |
| --- | --- | --- | --- | --- | --- | --- |
| Maine Goaltending | MIN | GA | 1 | 2 | 3 | Saves |
| Meghann Treacy (L, 6-14-2) | 59:00 | 4 | 12 | 21 | 15 | 48 |
| Empty Net | 1:00 | 1 | | | | |
ORONO, Maine - The Black Bears returned home to face rival UNH but fell 5-1 in the Saturday afternoon contest; Meghann Treacy made 48 saves on the afternoon loss to improve her total Hockey East saves total to 1,831, which passes former BC goaltender Molly Schaus' 6th place spot with 1810. Treacy now sits behind 5th place Elaine Chuli of UConn, who after today now has 1898.
The game remained scoreless through 1 period, although the Wildcats handled the period well outshooting Maine 12-4. UNH continued through the second period in control, scoring their first goal 2:50 into the 2nd period skating 4-on-4, the goal was scored by Jonna Curtis assisted by Amy Boucher. New Hampshire scored again 12:41 into the 2nd period by Cassandra Vilgrain on a tough-angle shot that just got past Treacy. UNH led 2-0 after 2 and outshot Maine 23-5 that period.
In the third UNH continued to get on the scoring sheet, scoring 2 goals in the 8th minute of third period play; New Hampshire's third goal came 8:05 into the period from Margo Lund who knocked it into the crease and off a Maine skater's stick to give UNH a 3-0 lead. Just under 40 seconds later Amy Boucher scored from the right face off dot, giving New Hampshire more insurance.
Maine got on the board 13:21 into the third period on a power play goal from Audra Richards, her 12th of the year, on assists from Jillian Langtry and Victoria Hummel. The Black Bears would then get an opportunity with 2 extra attackers on a power play/pulled goalie combo, but when the penalty expired UNH defender Amy Schlagel collected an empty netter 18:06 into the third to seal it for UNH, 5-1.
Meghann Treacy finished the afternoon with a .905 save% and falls to 6:14-2 on the season; UNH Freshman Kyra Smith stopped 21 of 22 shots faced to finish with a .954 save% and her 8th with of the season.
The Black Bears and the Wildcats will face off again Sunday afternoon, Jan 24 at 2pm.