Saturday, January 9, 2016
Vermont Rallies To Tie Maine, 3-3
Junior forward Bridget Baker scores two goals for Catamounts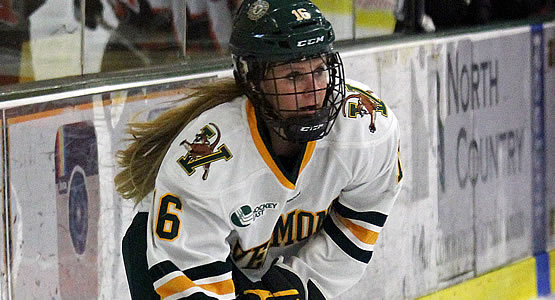 Junior forward Bridget Baker scored two goals for the Catamounts
| | | | | | | |
| --- | --- | --- | --- | --- | --- | --- |
| Prd | Time | Team | Score | Type | Scored By | Assists |
| 1st | 5:27 | MNE | 1-0 | EV | Cassidy Herman (3) | Jillian Langtry/5, Brooke Stacey/7 |
| 1st | 15:22 | MNE | 2-0 | EV | Brooke Stacey (8) | Jillian Langtry/6 |
| 2nd | 4:49 | VER | 1-2 | EV | Bridget Baker (4) | - |
| 2nd | 7:15 | MNE | 3-1 | PP | Morgan Sakundiak (4) | Audra Richards/6, Mikayla Rogers/6 |
| 3rd | 13:11 | VER | 2-3 | SH | Daria O'Neill (1) | Victoria Andreakos/5, Dayna Colang/8 |
| 3rd | 18:43 | VER | 3-3 | EV GT | Bridget Baker (5) | - |
| | | | | | |
| --- | --- | --- | --- | --- | --- |
| Scoring | 1st | 2nd | 3rd | OT | Final |
| Vermont | 0 | 1 | 2 | 0 | 3 |
| Maine | 2 | 1 | 0 | 0 | 3 |
| | | | | | |
| --- | --- | --- | --- | --- | --- |
| Shots on Goal | 1st | 2nd | 3rd | OT | SOG |
| Vermont | 15 | 10 | 14 | 5 | 44 |
| Maine | 13 | 9 | 6 | 1 | 29 |
| | | | |
| --- | --- | --- | --- |
| Team Stats and Records | PP | PIM | SHGF |
| Vermont (5-16-1) | 0/3 | 3/6 | 1 |
| Maine (7-13-2) | 1/3 | 3/6 | 0 |
| | | | | | | | |
| --- | --- | --- | --- | --- | --- | --- | --- |
| Vermont Goaltending | MIN | GA | 1 | 2 | 3 | OT | Saves |
| Madison Litchfield (T, 2-9-1) | 64:50 | 3 | 11 | 8 | 6 | 1 | 26 |
| Empty Net | 0:10 | 0 | | | | | |
| | | | | | | | |
| --- | --- | --- | --- | --- | --- | --- | --- |
| Maine Goaltending | MIN | GA | 1 | 2 | 3 | OT | Saves |
| Meghann Treacy (T, 6-11-2) | 65:00 | 3 | 15 | 9 | 12 | 5 | 41 |
ORONO, Maine - The Black Bears Women's Ice Hockey team tied UVM in their Saturday afternoon conference bout, 3-3. This was the Black Bears first action since December, and the two teams remained tied in Hockey East with 7 points each.
The Black Bears seized momentum in the first two periods; the first goal was scored 5 minutes into the first period by Cassidy Herman for her 3rd goal of the year, assisted by Jillian Langtry and Brooke Stacey. Stacey and Langtry would then notch their 2nd points of the afternoon with a shot by Brooke Stacey from the right face-off dot off the feed from Langtry, 15:22 into the period. It was Stacey's 8th goal of the season. The Black Bears led 2-0 after 1.
In the second period both teams were even in goals with 1; Vermont struck first 4:49 into the period on an unassisted goal for Bridget Baker cut the Maine lead in half. Maine answered back less than 4 minutes later with a power-play goal from Morgan Sakundiak from Audra Richards and Mikayla Rogers. Black Bears led 3-1 after 2 periods.
In the third Vermont mounted a comeback, scoring two goals in the final 10 minutes to tie it. The first coming on a Maine power play by Daria O'Neill; Victoria Andreak and Dayna Colang assisted on the short-handed attempt. The second goal came 18:43 into the period, again from Bridget Baker unassisted; her 5th goal of the season and 2nd of the game sent the game to overtime, which would remain scoreless.
In net, Meghann Treacy stopped 41 of 44 shots she faced giving her a .932 save percentage on the afternoon, 5 of them coming in the extra period. Across the ice Madison Litchfield for Vermont saved 26 of 29 shots she faced, giving her a .896 save percentage. Her record with the tie is now 2-9-1, Treacy's is now 6-11-2.
The two teams are back in action Sunday afternoon at 2pm for the Hockey East Skating Strides game.