Colang's Three Points Lead Vermont Past Maine, 4-1
Senior forward Dayna Colang posts two goals and assist for Catamounts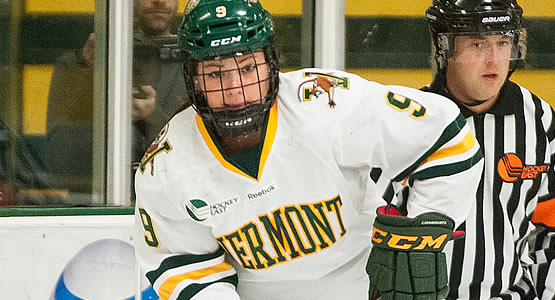 Senior forward Dayna Colang had two goals and an assist for the Catamounts
| | | | | | | |
| --- | --- | --- | --- | --- | --- | --- |
| Prd | Time | Team | Score | Type | Scored By | Assists |
| 1st | 8:49 | VER | 1-0 | PP | Dayna Colang (9) | Alyssa Gorecki/3, Daria O'Neill/6 |
| 3rd | 1:10 | VER | 2-0 | SH GW | Saana Valkama (2) | Bridget Baker/3 |
| 3rd | 3:04 | VER | 3-0 | PP | Taylor Willard (4) | Daria O'Neill/7, Dayna Colang/9 |
| 3rd | 14:04 | VER | 4-0 | EV | Dayna Colang (10) | Sammy Kolowrat/3, Taylor Willard/6 |
| 3rd | 17:05 | MNE | 1-4 | EV | Emilie Brigham (3) | Alyson Matteau/4 |
| | | | | |
| --- | --- | --- | --- | --- |
| Scoring | 1st | 2nd | 3rd | Final |
| Vermont | 1 | 0 | 3 | 4 |
| Maine | 0 | 0 | 1 | 1 |
| | | | | |
| --- | --- | --- | --- | --- |
| Shots on Goal | 1st | 2nd | 3rd | SOG |
| Vermont | 8 | 13 | 9 | 30 |
| Maine | 5 | 2 | 8 | 15 |
| | | | |
| --- | --- | --- | --- |
| Team Stats and Records | PP | PIM | SHGF |
| Vermont (6-16-1) | 2/5 | 5/10 | 1 |
| Maine (7-14-2) | 0/5 | 6/12 | 0 |
| | | | | | | |
| --- | --- | --- | --- | --- | --- | --- |
| Vermont Goaltending | MIN | GA | 1 | 2 | 3 | Saves |
| Madison Litchfield (W, 3-9-1) | 59:52 | 1 | 5 | 2 | 7 | 14 |
| Empty Net | 0:08 | 0 | | | | |
| | | | | | | |
| --- | --- | --- | --- | --- | --- | --- |
| Maine Goaltending | MIN | GA | 1 | 2 | 3 | Saves |
| Meghann Treacy (L, 6-12-2) | 59:12 | 4 | 7 | 13 | 6 | 26 |
| Empty Net | 0:48 | 0 | | | | |
After tying yesterday 3-3 the Black Bears lost to Vermont 4-1 on Sunday afternoon in the first of Hockey East's Skating Strides Against Breast Cancer games.
Vermont was in control for the entire game, outshooting the Black Bears 30 to 15 in the game; they scored four unanswered goals, 3 of them coming in the third period.
The scoring started off 8 minutes into the game on power play goal from Dayna Colang, her 9th goal of the season, from Alyssa Gorecki and Daria O'Neill. The score would stand at 1-0 through two periods.
In the third Vermont put the game out of reach with a goal 1:10 into the period from Saana Valkama on a Maine penalty from Bridget Baker; it was Vermont's second short-handed goal of the weekend. Less than 2 minutes later 3:04 into the period Vermont scored again, this time on their own power play from Taylor Willard, from Daria O'Neill and Danya Colang. The Catamounts ended the game 2 of 5 on power play opportunities.
Vermont scored a 4th goal 14:04 into the period from Dayna Colang, assisted by Sammy Kolowrat and Taylor Willard, putting the lead to 4-0.
Vermont goaltender Madison Litchfield got the win by saving 14 of 15 shots she faced; Maine spoiled the shutout with a late goal 17:05 into the period from Emilie Brigham, her 3rd of the season, from Alyson Matteau. Maine goaltender Meghann Treacy ended the afternoon stopping 22 of 26 shots.
The two teams who were tied at 7 points in Hockey East have no separated, as Vermont secures 6th place with the victory, and Maine now sits behind Providence in 8th.
The Black Bears travel on the road to Northeastern this weekend for a 2 game series and will return to the Alfond the following weekend Jan 23 and 24 at 2pm to face rival UNH.