Wednesday, January 13, 2016
Coyne Leads Northeastern To 5-1 Win Over Providence
Senior forward Kendall Coyne posts two goals and three assists for Huskies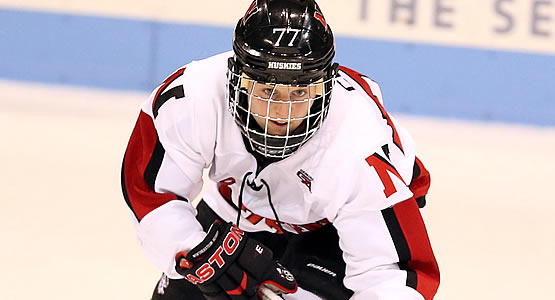 Senior forward Kendall Coyne had two goals and three assists for the Huskies
| | | | | | | |
| --- | --- | --- | --- | --- | --- | --- |
| Prd | Time | Team | Score | Type | Scored By | Assists |
| 1st | 7:08 | NOE | 1-0 | PP | Hayley Scamurra (11) | Paige Savage/10, Kendall Coyne/18 |
| 1st | 10:43 | NOE | 2-0 | EV GW | Denisa Křížová (9) | Kendall Coyne/19, Maddie Hartman/7 |
| 2nd | 6:03 | NOE | 3-0 | EV | Kendall Coyne (30) | Jordan Krause/17, Hayley Scamurra/16 |
| 3rd | 1:56 | NOE | 4-0 | EV | Denisa Křížová (10) | Kendall Coyne/20, Hayley Scamurra/17 |
| 3rd | 6:31 | NOE | 5-0 | EV | Kendall Coyne (31) | Denisa Křížová/25, Hayley Scamurra/18 |
| 3rd | 19:59 | PRV | 1-5 | PP | Brooke Boquist (11) | Cassidy Carels/12, Kate Friesen/3 |
| | | | | |
| --- | --- | --- | --- | --- |
| Scoring | 1st | 2nd | 3rd | Final |
| Northeastern | 2 | 1 | 2 | 5 |
| Providence | 0 | 0 | 1 | 1 |
| | | | | |
| --- | --- | --- | --- | --- |
| Shots on Goal | 1st | 2nd | 3rd | SOG |
| Northeastern | 19 | 5 | 11 | 35 |
| Providence | 10 | 7 | 4 | 21 |
| | | | |
| --- | --- | --- | --- |
| Team Stats and Records | PP | PIM | SHGF |
| Northeastern (18-4-1) | 1/5 | 5/10 | 0 |
| Providence (8-14-0) | 1/3 | 7/14 | 0 |
| | | | | | | |
| --- | --- | --- | --- | --- | --- | --- |
| Northeastern Goaltending | MIN | GA | 1 | 2 | 3 | Saves |
| Sarah Foss (W, 6-1-0) | 60:00 | 1 | 10 | 7 | 3 | 20 |
| | | | | | | |
| --- | --- | --- | --- | --- | --- | --- |
| Providence Goaltending | MIN | GA | 1 | 2 | 3 | Saves |
| Madison Myers (L, 7-9-0) | 46:31 | 5 | 17 | 4 | 2 | 23 |
| Allie Morse | 13:29 | 0 | 0 | 0 | 7 | 7 |
PROVIDENCE, R.I. - The Providence College women's ice hockey team was defeated by the No. 8 Northeastern Huskies, 5-1. Kendall Coyne recorded five points to lift the Huskies past the Friars. Providence moves to 8-14-0 (4-8-0 WHEA) and Northeastern improves to 18-4-1 (13-2-0 WHEA).
The Huskies started off the scoring at the 7:08 mark of the first period with a power play goal from Hayley Scamurra. Northeastern extended their lead to 2-0 in the first period with a goal from Krizova at 10:43.
The Friars held the Huskies to one goal in the second period, when Kendall Coyne scored at 6:03.
Denisa Krizova notched her second of the night less than two minutes into the third period. Coyne stretched the Northeastern lead to five goals four minutes later.
Coyne was a part of every goal Northeastern scored, finishing with two goals and three assists.
The Friars capitalized on a power play at the end of the third period. Kate Friesen (Altona, Manitoba) passed the puck into the corner, where Cassidy Carels (Bruxelles, Manitoba) picked it up. Carels fed Brooke Boquist (Thunder Bay, Ontario) in the slot, and Boquist slipped the puck between Northeastern's Sarah Foss' legs. The Boquist goal came with 0.3 seconds remaining in the game.
Madison Myers (Colchester, Vt.) started in net and made 23 saves. Allie Morse (Cottage Grove, Minn.) played 13:29 minutes, made seven saves, and allowed zero goals against.
The Friars are back in action at 2:00 p.m. on January 16 at Schneider Arena and face off against the Connecticut Huskies.