Coyne, Herrington Lead Northeastern Past Syracuse, 5-4
Senior forward Kendall Coyne and sophomore forward Shelby Herrington each score two goals for Huskies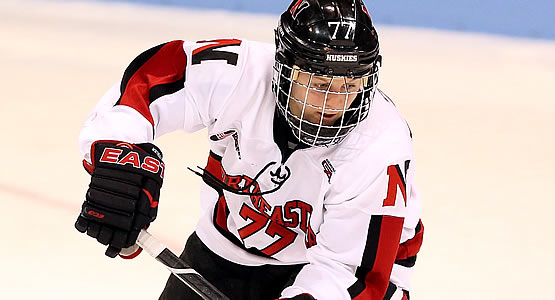 Senior forward Kendall Coyne scored two goals for the Huskies
| | | | | | | |
| --- | --- | --- | --- | --- | --- | --- |
| Prd | Time | Team | Score | Type | Scored By | Assists |
| 1st | 0:50 | NOE | 1-0 | EV | Kendall Coyne (5) | Jordan Krause/2, Ainsley MacMillan/1 |
| 1st | 4:28 | NOE | 2-0 | EV | Kendall Coyne (6) | Denisa Křížová/3 |
| 1st | 7:00 | SYR | 1-2 | EV | Nicole Ferrara (1) | Melissa Piacentini/1, Stephanie Grossi/2 |
| 1st | 12:05 | NOE | 3-1 | PP | Shelby Herrington (2) | Jordan Krause/3, Lauren Kelly/1 |
| 1st | 15:18 | SYR | 2-3 | PP | Megan Quinn (1) | Larissa Martyniuk/1, Jessica Sibley/1 |
| 2nd | 17:35 | NOE | 4-2 | EV | Shelby Herrington (3) | Kasidy Anderson/3, Christina Zalewski/2 |
| 3rd | 0:07 | SYR | 3-4 | PP | Melissa Piacentini (2) | Nicole Renault/1 |
| 3rd | 14:15 | NOE | 5-3 | PP GW | Taytum Clairmont (1) | Lauren Kelly/2, McKenna Brand/2 |
| 3rd | 16:47 | SYR | 4-5 | EV | Melissa Piacentini (3) | Nicole Ferrara/1, Stephanie Grossi/3 |
| | | | | |
| --- | --- | --- | --- | --- |
| Scoring | 1st | 2nd | 3rd | Final |
| Syracuse | 2 | 0 | 2 | 4 |
| Northeastern | 3 | 1 | 1 | 5 |
| | | | | |
| --- | --- | --- | --- | --- |
| Shots on Goal | 1st | 2nd | 3rd | SOG |
| Syracuse | 13 | 11 | 13 | 37 |
| Northeastern | 9 | 12 | 7 | 28 |
| | | | |
| --- | --- | --- | --- |
| Team Stats and Records | PP | PIM | SHGF |
| Syracuse (0-2-0) | 2/6 | 4/8 | 0 |
| Northeastern (2-0-1) | 2/4 | 7/25 | 0 |
| | | | | | | |
| --- | --- | --- | --- | --- | --- | --- |
| Syracuse Goaltending | MIN | GA | 1 | 2 | 3 | Saves |
| Jenn Gilligan (L, 0-2-0) | 58:41 | 5 | 6 | 11 | 6 | 23 |
| Empty Net | 1:19 | 0 | | | | |
| | | | | | | |
| --- | --- | --- | --- | --- | --- | --- |
| Northeastern Goaltending | MIN | GA | 1 | 2 | 3 | Saves |
| Sarah Foss (W, 1-0-0) | 59:57 | 4 | 11 | 11 | 11 | 33 |
| Empty Net | 0:03 | 0 | | | | |
BOSTON - Sophomore Shelby Herrington and senior Kendall Coyne each scored twice to help the No. 10 Northeastern women's hockey team (2-0-1) nip Syracuse, 5-4, on Friday afternoon at Matthews Arena.
Sophomore Taytum Clairmont netted the game-winning goal in the third period, while senior Jordan Krause and sophomore Lauren Kelly chipped in two assists apiece.
Junior Sarah Foss picked up her first win of the 2015-16 season with 33 saves, including 11 in a frantic third period, as NU stayed unbeaten and dropped the Orange to 0-2-0.
Goal Recaps
- Coyne lit the lamp just 50 seconds into the first period with a backhand finish on a breakaway.
- The senior scored again less than four minutes later, taking a feed from sophomore Denisa Krizova in the right corner, before cutting to the net and stashing home her sixth goal in the first three games.
- Syracuse cut the deficit to 2-1 when Nicole Ferrara nudged a shot by Foss at the 7:00 mark.
- The Huskies responded with a power-play goal from Herrington at 12:05 to make it 3-1. After SU netminder Jenn Gilligan (23 saves) denied Herrington on a tipped shot in front, the Huskies' sophomore followed the play and buried the rebound on the doorstep.
- The Orange closed out a five-goal first period when Megan Quinn's point shot zipped through traffic and over the shoulder of Foss to make it 3-2 at 15:18.
- Herrington recorded her first collegiate two-goal game when she netted her third goal of the year at 17:35 of the second period. After some nifty work by sophomore Christina Zalewski along the boards, freshman Kasidy Anderson picked up the puck and centered for a cutting Herrington, who swatted it by Gilligan to make it 4-2 late in the frame.
- Syracuse cut the deficit to 4-3 just seven seconds into the third on a twisted wrister by Melissa Piacentini from the top of the left circle.
- Northeastern responded with a crucial insurance goal at the 14:15 mark. On another power play, Kelly tossed a shot at the net from the left circle that was redirected home by Clairmont to make it 5-3.
- Syracuse again pulled back within one at 16:47 when Piacentini jammed home a loose puck on the doorstep after Nicole Ferrara's initial shot struck the right post.
Stats of the Game
- Herrington notched her first collegiate two-goal game.
- Zalewski recorded a point for the third straight game.
- The Orange held a 37-28 advantage in shots.
- Both teams scored twice on the power play.
Up Next
- The Huskies will look to extend their unbeaten streak to four on Saturday against Lindenwood. Opening faceoff from Matthews Arena is set for 2 p.m.