Saturday, October 3, 2015
Northeastern Blanks Toronto Leaside In Exhibition, 5-0
Senior defenseman Jordan Krause posts three assists for Huskies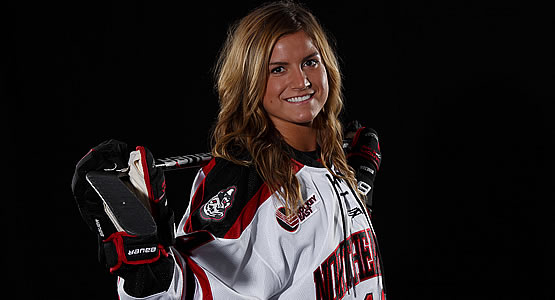 Senior defenseman Jordan Krause had three assists for the Huskies
| | | | | | | |
| --- | --- | --- | --- | --- | --- | --- |
| Prd | Time | Team | Score | Type | Scored By | Assists |
| 1st | 7:34 | NOE | 1-0 | PP GW | Shelby Herrington | Jordan Krause, Lauren Kelly |
| 1st | 18:42 | NOE | 2-0 | EV | Maddie Hartman | Denisa Křížová, Hayley Scamurra |
| 2nd | 18:50 | NOE | 3-0 | EV | Christina Zalewski | Kasidy Anderson, Jordan Krause |
| 3rd | 6:54 | NOE | 4-0 | EV | Hayley Scamurra | Ainsley MacMillan, Kendall Coyne |
| 3rd | 9:54 | NOE | 5-0 | EV | McKenna Brand | Paige Savage, Jordan Krause |
| | | | | |
| --- | --- | --- | --- | --- |
| Scoring | 1st | 2nd | 3rd | Final |
| Toronto Leaside | 0 | 0 | 0 | 0 |
| Northeastern | 2 | 1 | 2 | 5 |
| | | | | |
| --- | --- | --- | --- | --- |
| Shots on Goal | 1st | 2nd | 3rd | SOG |
| Toronto Leaside | 3 | 3 | 11 | 17 |
| Northeastern | 10 | 13 | 18 | 41 |
| | | | |
| --- | --- | --- | --- |
| Team Stats and Records | PP | PIM | SHGF |
| Toronto Leaside | 0/2 | 4/8 | 0 |
| Northeastern | 1/4 | 2/4 | 0 |
| | | | | | | |
| --- | --- | --- | --- | --- | --- | --- |
| Toronto Leaside Goaltending | MIN | GA | 1 | 2 | 3 | Saves |
| Katie Mowbray (L) | 32:29 | 2 | 8 | 7 | 0 | 15 |
| Danielle Toland | 27:31 | 3 | 0 | 5 | 16 | 21 |
| | | | | | | |
| --- | --- | --- | --- | --- | --- | --- |
| Northeastern Goaltending | MIN | GA | 1 | 2 | 3 | Saves |
| Sarah Foss (W) | 19:43 | 0 | 3 | 0 | 0 | 3 |
| Brianna Storms | 20:00 | 0 | 0 | 3 | 0 | 3 |
| Brittany Bugalski | 20:00 | 0 | 0 | 0 | 11 | 11 |
| Empty Net | 0:17 | 0 | | | | |
BOSTON - Five goals from five different players helped the Northeastern women's hockey team to a 5-0 victory over Toronto Leaside in exhibition play Saturday at Matthews Arena.
Shelby Herrington, Maddie Hartman, Christina Zalewski, Hayley Scamurra and McKenna Brand lit the lamp for Northeastern, while goaltenders Sarah Foss, Brianna Storms and Brittany Bugalski combined for the shutout.
Goal Recaps
- Herrington put the Huskies on the board first with a power-play goal at 7:34 of the first period. After some good puck movement from point to point, senior Jordan Krause blasted a shot from just inside the blue line that Herrington was able to deflect home in front for the 1-0 lead.
- Northeastern added a second goal in the waning minutes of the period to take a 2-0 advantage into the first intermission. Sophomore Denisa Krizova cycled to the high slot before laying a feed to Hartman at the top of the right circle. The freshman then unleashed a quick wrister through traffic that beat Toronto netminder Katie Mowbray at the 18:42 mark.
- Zalewski tacked on a third goal at the end of the second period to give the Huskies additional breathing room on the scoreboard. Krause initiated the play with a feed up the right boards to freshman Kasidy Anderson, who spotted a streaking Zalewski open on the left wing. Zalewski took the tape-to-tape feed and cut to the net, before slipping a shot through the pads of netminder Danielle Toland at the 18:50 mark.
- Scamurra made it 4-0 seven minutes into the third period with a pretty deflection in the low slot following a point shot by sophomore Ainsley MacMillan.
- Three minutes later, NU pushed the lead to 5-0 when redshirt junior Paige Savage slipped a feed to Brand at the right of the net for a shot that squeezed inside the right post from a tough angle.
Stats of the Game
- Senior Jordan Krause chipped in three assists.
- The Huskies outshot the Wildcats by a 41-17 margin.
- Bugalski made 11 saves in the third period, while Foss and Storms each stopped three shots in the first and second periods, respectively.
- Hartman scored her first goal in a Northeastern uniform.
- Savage and senior Kendall Coyne each tallied a game-high six shots on goal.
Up Next
- The Huskies (1-0-1) welcome Syracuse to Matthews Arena on Oct. 9 for a 2 p.m. faceoff.