Saturday, January 9, 2016
Three Goals In Second Period Send Northeastern Past New Hampshire, 4-2
Junior forward Hayley Scamurra scores two goals for Huskies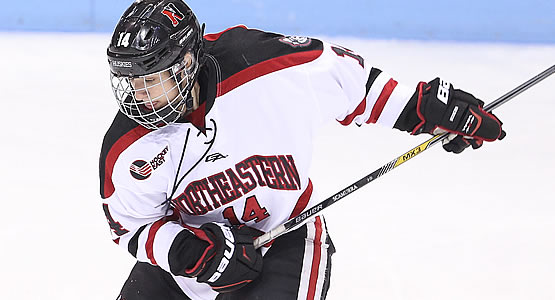 Junior forward Hayley Scamurra scored two goals for the Huskies
| | | | | | | |
| --- | --- | --- | --- | --- | --- | --- |
| Prd | Time | Team | Score | Type | Scored By | Assists |
| 1st | 17:45 | NOE | 1-0 | EV | Jordan Krause (3) | Paige Savage/8 |
| 2nd | 0:31 | NOE | 2-0 | EV | Hayley Scamurra (8) | Ainsley MacMillan/6, Lauren Kelly/12 |
| 2nd | 9:25 | UNH | 1-2 | EV | Jonna Curtis (11) | - |
| 2nd | 13:48 | UNH | 2-2 | EV | Jonna Curtis (12) | Amy Boucher/8 |
| 2nd | 15:21 | NOE | 3-2 | EV GW | Shelby Herrington (9) | Kasidy Anderson/7, Jordan Krause/14 |
| 2nd | 18:45 | NOE | 4-2 | EV | Hayley Scamurra (9) | Tori Hickel/5, Denisa Křížová/24 |
| | | | | |
| --- | --- | --- | --- | --- |
| Scoring | 1st | 2nd | 3rd | Final |
| New Hampshire | 0 | 2 | 0 | 2 |
| Northeastern | 1 | 3 | 0 | 4 |
| | | | | |
| --- | --- | --- | --- | --- |
| Shots on Goal | 1st | 2nd | 3rd | SOG |
| New Hampshire | 8 | 9 | 8 | 25 |
| Northeastern | 13 | 17 | 5 | 35 |
| | | | |
| --- | --- | --- | --- |
| Team Stats and Records | PP | PIM | SHGF |
| New Hampshire (8-15-1) | 0/2 | 2/4 | 0 |
| Northeastern (16-4-1) | 0/2 | 2/4 | 0 |
| | | | | | | |
| --- | --- | --- | --- | --- | --- | --- |
| New Hampshire Goaltending | MIN | GA | 1 | 2 | 3 | Saves |
| Kyra Smith (L, 7-7-1) | 60:00 | 4 | 12 | 14 | 5 | 31 |
| | | | | | | |
| --- | --- | --- | --- | --- | --- | --- |
| Northeastern Goaltending | MIN | GA | 1 | 2 | 3 | Saves |
| Sarah Foss (W, 5-1-0) | 59:46 | 2 | 8 | 7 | 8 | 23 |
| Empty Net | 0:14 | 0 | | | | |
BOSTON - Junior Hayley Scamurra scored two goals and classmate Sarah Foss turned away 23 shots to lift the No. 8 Northeastern women's hockey team (16-4-1, 11-2-0 WHEA) to its fifth straight win, 4-2, over New Hampshire (8-15-1, 5-9-0 WHEA) on Saturday at Matthews Arena.
Senior Jordan Krause chipped in a goal and an assist for her seventh multi-point effort of the season, and sophomore Shelby Herrington netted the eventual game-winner as NU scored three goals in the second period to claim a hard-earned win.
Goal Recaps
- Northeastern took a 1-0 lead late in the first period following some hard work by redshirt junior Paige Savage in the UNH zone. After picking off an attempted clearance, Savage skated in on goal and tested UNH netminder Kyra Smith (31 saves) with a pair of shots in close. Smith could not corral the loose puck, which popped out to Krause at the right circle for a blast that tipped off the right post and in at the 17:45 mark.
- The Huskies wasted no time adding to the lead out of the intermission, tacking on a second goal 31 seconds into the middle frame. After some good offensive zone pressure, sophomore Ainsley MacMillan threw the puck towards the front of the net for Scamurra to redirect home in heavy traffic.
- UNH quickly erased the deficit with two goals by Jonna Curtis in a span of 4:23 to tie the score at 2-2 late in the second.
- Northeastern turned the tides back in its favor, however, with two goals in a span of 3:24 to reestablish a two-goal cushion. Herrington notched the first at 15:21 of the second period with a wrister from between the circles to make it 3-2. Scamurra then netted her second of the game at 18:45 when she fired home a rebound following a shot by senior Tori Hickel.
Stats of the Game
- Northeastern outshot UNH by a 35-25 margin.
- Both teams went 0-for-2 on the PP; Northeastern has successfully killed 45 of its opponents' last 48 power plays.
- Scamurra notched her third multi-goal game of the season.
- Krause recorded her seventh multi-point effort of the campaign.
- Foss earned her fourth straight win; over that span, the junior has posted a 1.50 GAA and has stopped 100 of 106 shots (.943 save percentage).
- Senior Kendall Coyne was held off the scoresheet for just the second time this season, and still sits two points back of Hilary Witt for the most points in program history.
Up Next
Northeastern returns to action Sunday at UNH for a 2 p.m. faceoff. The game will be televised live on FCS Atlantic, DirecTV channel 608, and Dish channel 448.