Saturday, January 9, 2016
Providence Nets Final Three Goals To Top RIT, 3-1
Senior defenseman Lexi Romanchuk scores game-winning goal for Friars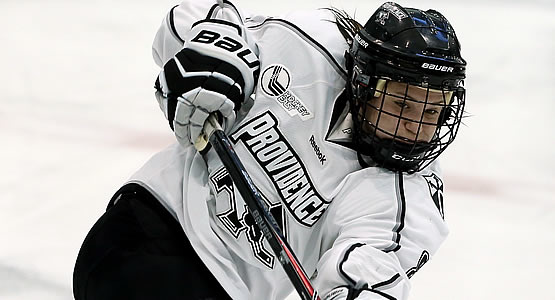 Senior defenseman Lexi Romanchuk scored the game-winning goal for the Friars
| | | | | | | |
| --- | --- | --- | --- | --- | --- | --- |
| Prd | Time | Team | Score | Type | Scored By | Assists |
| 2nd | 0:14 | RIT | 1-0 | EV | Kendall Cornine (4) | Reagan Rust/8 |
| 2nd | 18:40 | PRV | 1-1 | EV | Brooke Boquist (10) | Blair Parent/6, Kendra Goodrich/2 |
| 3rd | 5:29 | PRV | 2-1 | PP GW | Lexi Romanchuk (4) | Cassidy Carels/11, Blair Parent/7 |
| 3rd | 16:04 | PRV | 3-1 | EV | Christina Putigna (6) | - |
| | | | | |
| --- | --- | --- | --- | --- |
| Scoring | 1st | 2nd | 3rd | Final |
| RIT | 0 | 1 | 0 | 1 |
| Providence | 0 | 1 | 2 | 3 |
| | | | | |
| --- | --- | --- | --- | --- |
| Shots on Goal | 1st | 2nd | 3rd | SOG |
| RIT | 5 | 6 | 11 | 22 |
| Providence | 20 | 11 | 6 | 37 |
| | | | |
| --- | --- | --- | --- |
| Team Stats and Records | PP | PIM | SHGF |
| RIT (4-17-1) | 0/8 | 5/10 | 0 |
| Providence (8-13-0) | 1/5 | 8/16 | 0 |
| | | | | | | |
| --- | --- | --- | --- | --- | --- | --- |
| RIT Goaltending | MIN | GA | 1 | 2 | 3 | Saves |
| Jetta Rackleff (L, 0-4-1) | 57:39 | 3 | 20 | 10 | 4 | 34 |
| Empty Net | 2:21 | 0 | | | | |
| | | | | | | |
| --- | --- | --- | --- | --- | --- | --- |
| Providence Goaltending | MIN | GA | 1 | 2 | 3 | Saves |
| Madison Myers (W, 7-8-0) | 59:37 | 1 | 5 | 5 | 11 | 21 |
| Empty Net | 0:23 | 0 | | | | |
PROVIDENCE, R.I. - The Providence College women's hockey team edged the RIT Tigers, 3-1. The Friars came back from a 1-0 deficit to defeat the Tigers and sweep the non-conference series. Providence improves to 8-13-0 and RIT moves to 4-17-1.
In the first period, the Friars outshot the Tigers 20 to five but neither team was able to convert and the game remained scoreless.
The Tigers started the second period with a spark, scoring just 14 seconds into the period with a goal from Kendall Cornine.
Providence battled back and evened the score with 1:20 remaining. Kendra Goodrich (Apple Valley, Minn.) carried the puck into the slot and took a shot that rebounded to Brooke Boquist (Thunder Bay, Ontario). Boquist quickly shot into the open net and tied the game at one.
The Friars netted a power play goal from Lexi Romanchuk (San Jose, Calif.) less than two minutes into the third period. Blair Parent (Anoka, Minn.) carried the puck into the offensive zone and moved it up to Cassidy Carels (Bruxelles, Manitoba) in the slot. Carels passed to Romanchuk at the center of the blue line and Romanchuk quickly took a slap shot that beat RIT's Jetta Rackleff.
Christina Putigna (Grimsby, Ontario) collected her sixth goal of the season after picking up the puck from a defensive zone face off. Putigna beat RIT's defensemen out of the zone to give herself a breakaway and backhanded the puck around Rackleff. The Putigna goal gave the Friars a 3-1 lead with 14:31 remaining.
The Friars ran into some penalty trouble when the team faced a five-on-three with 12 minutes left in regulation. Yet, the Friars went perfect on the penalty kill, killing all eight of their penalties.
Madison Myers (Colchester, Vt.) made 21 saves to help lift the Friars over RIT.
The Friars resume Hockey East play at 7:00 pm on January 16 at Schneider Arena to face #8 Northeastern.