Saturday, January 2, 2016
Providence College Defeated By Robert Morris, 6-1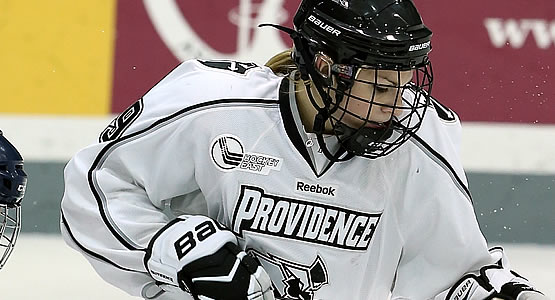 Junior forward Cassidy Carels scored a goal for the Friars
| | | | | | | |
| --- | --- | --- | --- | --- | --- | --- |
| Prd | Time | Team | Score | Type | Scored By | Assists |
| 1st | 16:16 | RMU | 1-0 | PP | Kirsten Welsh (4) | Sarah Quaranta/13, Mackenzie Johnston/10 |
| 2nd | 1:26 | RMU | 2-0 | PP GW | Mackenzie Johnston (6) | Jessica Dodds/1 |
| 2nd | 8:18 | PRV | 1-2 | EV | Cassidy Carels (5) | Christina Putigna/13 |
| 2nd | 13:38 | RMU | 3-1 | EV | Natalie Fraser (2) | Amber Rennie/5, Jessica Gazzola/4 |
| 2nd | 19:14 | RMU | 4-1 | EV | Sarah Quaranta (4) | Brittany Howard/17, Caitlyn Sadowy/2 |
| 3rd | 8:17 | RMU | 5-1 | PP | Maeve Garvey (3) | Anissa Gamble/1, Katherine Murphy/9 |
| 3rd | 18:50 | RMU | 6-1 | PP | Katherine Murphy (1) | Mackenzie Johnston/11, Brittany Howard/18 |
| | | | | |
| --- | --- | --- | --- | --- |
| Scoring | 1st | 2nd | 3rd | Final |
| Providence | 0 | 1 | 0 | 1 |
| Robert Morris | 1 | 3 | 2 | 6 |
| | | | | |
| --- | --- | --- | --- | --- |
| Shots on Goal | 1st | 2nd | 3rd | SOG |
| Providence | 7 | 18 | 8 | 33 |
| Robert Morris | 8 | 8 | 11 | 27 |
| | | | |
| --- | --- | --- | --- |
| Team Stats and Records | PP | PIM | SHGF |
| Providence (6-12-0) | 0/5 | 7/14 | 0 |
| Robert Morris (11-6-4) | 4/6 | 6/12 | 0 |
| | | | | | | |
| --- | --- | --- | --- | --- | --- | --- |
| Providence Goaltending | MIN | GA | 1 | 2 | 3 | Saves |
| Madison Myers (L, 5-7-0) | 59:50 | 6 | 7 | 5 | 9 | 21 |
| Empty Net | 0:10 | 0 | | | | |
| | | | | | | |
| --- | --- | --- | --- | --- | --- | --- |
| Robert Morris Goaltending | MIN | GA | 1 | 2 | 3 | Saves |
| Jessica Dodds (W, 11-5-3) | 60:00 | 1 | 7 | 17 | 8 | 32 |
PITTSBURGH, Pa. - The Providence College women's hockey team was defeated by the Robert Morris Colonials, 6-1. The Colonials scored four power play goals to propel them over the Friars. Providence moves to 6-12-0 and Robert Morris improves to 11-6-4.
Madison Myers (Colchester, Vt.) started in net for the Friars and made seven saves in the first period.
Robert Morris struck first off a power play tally by Kristen Welsh with less than for minutes remaining in the first period.
The Colonials opened the second period with another power play tally, just 1:26 into the period from Mackenzie Johnston.
The Friars answered seven minutes later to make it 2-1 when Christina Putigna (Grimsby, Ontario) snuck a puck past the Colonial defense and to a wide open and breaking Cassidy Carels (Bruxelles, Manitoba). Carels deked around Robert Morris's Jessica Dodds to slip the puck into the net.
The Colonials scored two more goals in the second period. At 13:38 Natalie Fraser scored and at 19:14 Sarah Quaranta scored to push the Robert Morris lead to 4-1.
The Friars allowed two more power play goals in the third period, totaling four power play goals against in the game. At 8:17 Maeve Garvey scored and at 18:50 Katherine Murphy scored to finish the game at 6-1.
The Friars outshot the Colonials 33 to 27.
The Friars are back in action on Jan. 3 at 2:00 p.m. to conclude the non-conference series at Robert Morris.