Providence College Topped By Wisconsin In San Jose, 5-1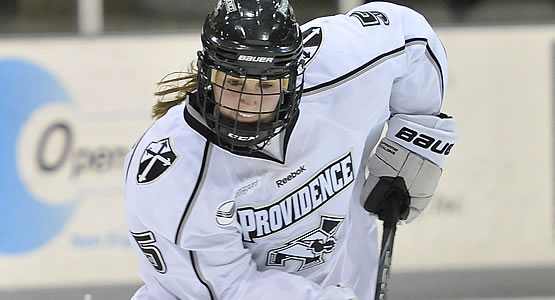 Providence College senior forward Courtney Kukowski (pictured)
| | | | | | | |
| --- | --- | --- | --- | --- | --- | --- |
| Prd | Time | Team | Score | Type | Scored By | Assists |
| 1st | 8:39 | PRV | 1-0 | EV | Kate Friesen (1) | Cassidy Carels/1, Blair Parent/1 |
| 1st | 18:46 | WIS | 1-1 | EV | Annie Pankowski (1) | Jenny Ryan/1, Mellissa Channell/1 |
| 2nd | 1:27 | WIS | 2-1 | EV GW | Sarah Nurse (1) | Sydney McKibbon/1, Mellissa Channell/2 |
| 2nd | 2:30 | WIS | 3-1 | EV | Mikayla Johnson (1) | Lauren Williams/1, Kim Drake/1 |
| 2nd | 16:09 | WIS | 4-1 | EV | Molly Doner (1) | Maddie Rolfes/1, Mikayla Johnson/1 |
| 2nd | 19:51 | WIS | 5-1 | EV | Kaitlyn Harding (1) | Courtney Burke/1, Mikayla Johnson/2 |
| | | | | |
| --- | --- | --- | --- | --- |
| Scoring | 1st | 2nd | 3rd | Final |
| Providence | 1 | 0 | 0 | 1 |
| Wisconsin | 1 | 4 | 0 | 5 |
| | | | | |
| --- | --- | --- | --- | --- |
| Shots on Goal | 1st | 2nd | 3rd | SOG |
| Providence | 9 | 8 | 2 | 19 |
| Wisconsin | 16 | 15 | 7 | 38 |
| | | | |
| --- | --- | --- | --- |
| Team Stats and Records | PP | PIM | SHGF |
| Providence (0-1-0) | 0/5 | 5/10 | 0 |
| Wisconsin (1-0-0) | 0/5 | 6/12 | 0 |
| | | | | | | |
| --- | --- | --- | --- | --- | --- | --- |
| Providence Goaltending | MIN | GA | 1 | 2 | 3 | Saves |
| Sarah Bryant (L, 0-1-0) | 60:00 | 5 | 15 | 11 | 7 | 33 |
| | | | | | | |
| --- | --- | --- | --- | --- | --- | --- |
| Wisconsin Goaltending | MIN | GA | 1 | 2 | 3 | Saves |
| Ann-Renée Desbiens (W, 1-0-0) | 60:00 | 1 | 8 | 8 | 2 | 18 |
SAN JOSE, Calif. - The Providence College women's ice hockey team was defeated by No. 3 Wisonsin, 5-1, in their season opener in San Jose, Calif. Providence drops to 0-1-0 and Wisconsin improves to 1-0-0.
The Friars got on the board first, with 12:21 left in the first period. Freshman defender Kate Friesen (Altona, Manitoba) notched her first collegiate goal. After collecting her own rebound, Friesen passed to Cassidy Carels (Bruxelles, Manitoba) who then fed Blair Parent (Anoka, Minn.) in the slot. Parent then found a breaking Friesen who put the puck past Wisconsin's Ann-Renee Desbiens' glove.
Providence held its lead until 2:14 left in the first when Wisconsin's Annie Pankowski notched her first goal of the season. Wisconsin collected 16 shots and the Friars had nine to close the first period.
The Friars and Badgers began the second period tied at 1-1, but Wisconsin pulled ahead with four unanswered goals. Sarah Nurse scored less than two minutes into the period and Melissa Channell added her second assist of the game. Mikayla Johnson notched the Badger's third goal at just over a minute later. The Badgers scored two more goals, from Molly Doner (16:09) and then Katy Harding (19:51).
Senior netminder Sarah Bryant (Bethlehem, Pa.) made 33 saves, while Desbiens stopped 18 shots.
The Friars went 0-for-4 on the power-play while Wisconsin finished the game 1-for-5.
Providence and Wisconsin will face off again at 3:00 p.m. EST on Saturday, Oct. 3 in San Jose, Calif. At the Sharks Ice to close the opening weekend series.