Saturday, November 28, 2015
New Hampshire Notches 2-1 Win At Rensselaer
Sophomore forward Amy Boucher scores two goals for Wildcats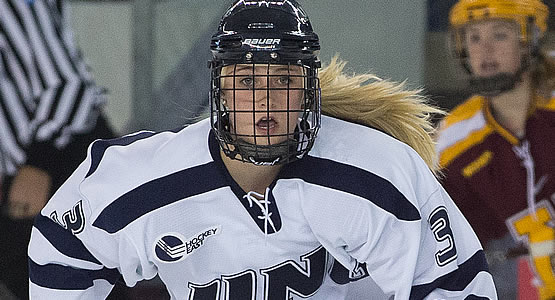 Senior forward Haley Breedlove had two assists for the Wildcats
| | | | | | | |
| --- | --- | --- | --- | --- | --- | --- |
| Prd | Time | Team | Score | Type | Scored By | Assists |
| 1st | 15:57 | UNH | 1-0 | EV | Amy Boucher (7) | Haley Breedlove/3, Cassandra Vilgrain/3 |
| 3rd | 6:37 | REN | 1-1 | EV | Alexa Gruschow (8) | Josefine Hansen/2, Taylor Schwalbe/2 |
| 3rd | 11:41 | UNH | 2-1 | PP GW | Amy Boucher (8) | Amy Schlagel/4, Haley Breedlove/4 |
| | | | | |
| --- | --- | --- | --- | --- |
| Scoring | 1st | 2nd | 3rd | Final |
| New Hampshire | 1 | 0 | 1 | 2 |
| Rensselaer | 0 | 0 | 1 | 1 |
| | | | | |
| --- | --- | --- | --- | --- |
| Shots on Goal | 1st | 2nd | 3rd | SOG |
| New Hampshire | 4 | 13 | 12 | 29 |
| Rensselaer | 4 | 7 | 5 | 16 |
| | | | |
| --- | --- | --- | --- |
| Team Stats and Records | PP | PIM | SHGF |
| New Hampshire (4-13-1) | 1/4 | 3/6 | 0 |
| Rensselaer (4-8-2) | 0/3 | 4/8 | 0 |
| | | | | | | |
| --- | --- | --- | --- | --- | --- | --- |
| New Hampshire Goaltending | MIN | GA | 1 | 2 | 3 | Saves |
| Kyra Smith (W, 3-5-1) | 60:00 | 1 | 4 | 7 | 4 | 15 |
| | | | | | | |
| --- | --- | --- | --- | --- | --- | --- |
| Rensselaer Goaltending | MIN | GA | 1 | 2 | 3 | Saves |
| Lovisa Selander (L, 3-7-2) | 58:29 | 2 | 3 | 13 | 11 | 27 |
| Empty Net | 1:31 | 0 | | | | |
TROY, N.Y. - Amy Boucher (Edmonton, Alberta) scored two goals and Haley Breedlove (Plano, Texas) recorded two assists to lift the University of New Hampshire women's ice hockey team to Saturday afternoon's 2-1 victory against Rensselaer Polytechnic Institute at Houston Field House.
UNH improved to 4-0-1 lifetime against the Engineers to improve to 4-13-1 overall this season. Rensselaer, which rallied for Friday's 3-3 tie vs. the Wildcats, is now 4-8-2.
New Hampshire returns to action Dec. 4 (7 p.m.) vs. Merrimack College. Tickets for that game and all other UNH women's ice hockey home games are available by calling 603-862-4000, ext. 5 or visiting www.unhwildcats.com.
Boucher, who had two assists Friday, matched her career high of two goals for the second time the past four games. Breedlove's career-high two assists matched her personal best of two points. Cassandra Vilgrain (Calgary, Alberta) and Amy Schlagel (Blaine, Minn.) were both credited with an assist.
Kyra Smith (Littleton, Colo.) made seven of her 15 saves in the second period. RPI counterpart Lovisa Selander stopped 27 shots, including 13 in the second stanza and 11 in the third. Alexa Gruschow netted the Engineers' goal; she scored all four of the team's goals in the weekend series.
UNH took a 1-0 lead at 15:57 of the first period when Breedlove's shot from the left point was deflected into the cage by Boucher, who was positioned just outside the top of the crease. Vilgrain recorded the secondary assist with her pass to Breedlove.
The Wildcats took that one-goal advantage into the first intermission with the shots even at 4-4. The teams combined for 20 shots in the second stanza, but both goalies were perfect to keep the score 1-0 in favor of the 'Cats.
Gruschow tied the score, 1-1, at 6:37 of the third period when she one-timed a loose puck in the left faceoff dot past Smith. Josefine Hansen, whose initial shot was blocked, and Taylor Schwalbe set up the goal.
Boucher scored her team-leading eighth goal of the season with her fourth power play tally - another team high - to give New Hampshire a 2-1 lead at 11:41. Stationed in the high slot, Boucher collected Schlagel's pass and snapped a shot past Selander stick-side. Breedlove earned a secondary assist.
Rensselaer pulled Selander in favor of an extra skater with 1:31 remaining in regulation and called time out with 73 seconds to play. The Wildcats kept the Engineers at bay, however, and did not allow a shot the rest of the way.