Saturday, January 7, 2017
Boston College And Boston University Skate To 1-1 Tie
Senior forward Kristyn Capizzano scores game-tying goal for Eagles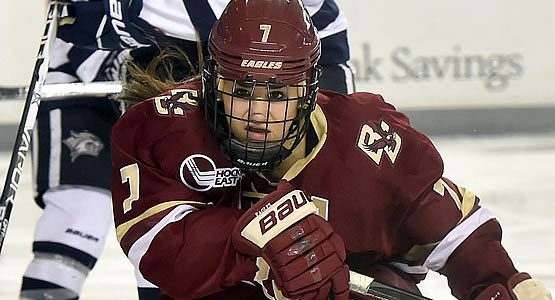 Senior forward Kristyn Capizzano scored te game-tying goal for the Eagles
| | | | | | | |
| --- | --- | --- | --- | --- | --- | --- |
| Prd | Time | Team | Score | Type | Scored By | Assists |
| 2nd | 8:34 | BU | 1-0 | PP | Nina Rodgers (6) | Abby Cook/6, Deziray De Sousa/6 |
| 3rd | 1:54 | BC | 1-1 | PP GT | Kristyn Capizzano (11) | Caitrin Lonergan/13, Grace Bizal/11 |
| | | | | | |
| --- | --- | --- | --- | --- | --- |
| Scoring | 1st | 2nd | 3rd | OT | Final |
| Boston University | 0 | 1 | 0 | 0 | 1 |
| Boston College | 0 | 0 | 1 | 0 | 1 |
| | | | | | |
| --- | --- | --- | --- | --- | --- |
| Shots on Goal | 1st | 2nd | 3rd | OT | SOG |
| Boston University | 7 | 14 | 8 | 0 | 29 |
| Boston College | 10 | 13 | 14 | 9 | 46 |
| | | | |
| --- | --- | --- | --- |
| Team Stats and Records | PP | PIM | SHGF |
| Boston University (12-7-2) | 1/5 | 7/14 | 0 |
| Boston College (13-3-4) | 1/6 | 6/12 | 0 |
| | | | | | | | |
| --- | --- | --- | --- | --- | --- | --- | --- |
| Boston University Goaltending | MIN | GA | 1 | 2 | 3 | OT | Saves |
| Victoria Hanson (T, 8-4-1) | 65:00 | 1 | 10 | 13 | 13 | 9 | 45 |
| | | | | | | | |
| --- | --- | --- | --- | --- | --- | --- | --- |
| Boston College Goaltending | MIN | GA | 1 | 2 | 3 | OT | Saves |
| Katie Burt (T, 11-3-4) | 65:00 | 1 | 7 | 13 | 8 | 0 | 28 |
CHESTNUT HILL, Mass. - Senior Kristyn Capizzano scored midway through the third period to tie the score as the No. 6 Boston College women's hockey team and cross-town rival Boston University played to a final 1-1 score line at Kelley Rink on Saturday afternoon.
After neither side managed a go-ahead goal in the third period, the teams played a five-minute overtime period in which the Eagles out-shot BU 9-0. However, Terriers goaltender Victoria Hanson stopped all nine shots and pushed her game total to 45 saves as the teams ended knotted.
BC goalie Katie Burt made 28 saves.
Boston University took a 1-0 lead midway through the second period when Nina Rogers put the Terriers ahead on a power-play goal. Capizzano's game-tying strike also came on the power play just 1:54 into the third period.
Boston College (13-3-4, 10-2-2 HEA) extended its unbeaten streak to eight games - 6-0-2 - with the draw. Boston University (12-7-2, 7-6-1 HEA) earned its first point at Kelley Rink since a 5-5 tie on Nov. 3, 2012.
Follow the #BCEagles all season at @bc_whockey on Twitter and Instagram.
No. 6 Boston College 1, Boston University 1
Saturday, January 7, 2017
Kelley Rink at Conte Forum | Chestnut Hill, Mass.
HOW IT HAPPENED
2nd, 11:17 | 1-0 - BU GOAL (PPG): Deziray de Souza stopped BC's clear attempt from the neutral zone for the Terriers. De Souza dumped the puck to Abby Cook, who found Nina Rogers in open space beyond the neutral zone. Rogers struck it to the top-right corner over Katie Burt's glove for the score.
3rd, 18:06 | 1-1 - BC GOAL (PPG): Caitrin Lonergan worked the puck up the right-center on the power play. She passed it across the front of BU goalie Victoria Hanson to Kristyn Capizzano, who slapped it in for her fourth goal in two games.
NOTES
- With the tie, Boston College moved to 24-17-6 all-time against Boston University since the Terriers elevated to a varsity program ... the Eagles are now 10-7-3 at home against the Terriers and extended their home unbeaten run against BU to eight games (6-0-2) dating back to the 2012-13 season
- The tie extended the Eagles' unbeaten run overall to a season-best eight games (6-0-2) since Nov. 11
- Overall, BC is 10-1-2 in its last 13 games
- BC out-shot Boston University 46-29 in the game, which matched the team's season high ... the team also posted 46 shots in a 3-0 win at UConn on Oct. 28
- The Eagles held BU shot-less in the overtime period, out-shooting the Terriers 9-0 in the extra stanza
- Today was the first time BC was held to fewer than two goals since then-No. 3 Quinnipiac and the Eagles played to a 0-0 draw at Kelley Rink on Oct. 21, 2016 - a span of 13 games
- The Eagles converted on the power play for the 15th game of 20 this season ... overall, BC now has 27 power-play goals on the season - a total that leads the nation
- BC went 4-for-5 on the penalty kill today, allowing a power-play goal for the second time in as many games ... this is just the third time this season BC has allowed back-to-back opponents to score PPGs
- Both teams were short a coach on its bench for today's game ... Boston College associate head coach Courtney Kennedy and Boston University assistant coach Katie Lachapelle are both on the U.S. Under-18 National Team coaching staff at the 2017 IIHF Under-18 World Championships in Czech Republic ... the U.S. opened play earlier today with a 6-1 victory over Russia.
- Kristyn Capizzano netted her 11th goal of the season to tie the game up in the third period ... it was her fourth goal in the last two games and second power-play strike in that run
- Capizzano's goal total matched her single-season high of 11, which she also set in 2013-14 and 2014-15 in her freshman and sophomore seasons.
- Capizzano's power-play goal was the eighth of her career, and her third this season ... she's now matched her freshman-year total of three, which was her best season to date entering this year
- Capizzano now has 94 points and is six points back of reaching the 100-point mark
- Caitrin Lonergan returned to the ice for the first time since Dec. 3 and picked up her 13th assist on the year on Capizzano's game-tying goal
- Grace Bizal matched her freshman-season assist total - 11 - tonight with a helper on Capizzano's third period goal ... she as 11 assists in 20 games this season, after using all 41 games to reach 11 assists last year
- With 9 shots in the game, Andie Anastos set a new personal single-game high ... she bested her previous total of 8, which she recorded on Oct. 30, 2015 in a 4-0 win at UConn
- Katie Burt made 28 saves en route to the tie ... it matched her second-highest total this season
TEAM RECORDS
Boston University 12-7-2, 7-6-1 HEA
Boston College: 13-3-4, 10-2-2 HEA
UP NEXT
Boston College takes its game outdoors on Tuesday, Jan. 10, when the Eagles will face Harvard at Fenway Park in Boston as part of the 10-day Frozen Fenway festivities. The BC-Harvard game is scheduled for 8 p.m. and will be streamed live on bceagles.tv.