Tuesday, January 31, 2017
Boston College Edges Boston University In Women's Beanpot Opener, 3-2
Sophomore forward Makenna Newkirk posts two goals and assist for Eagles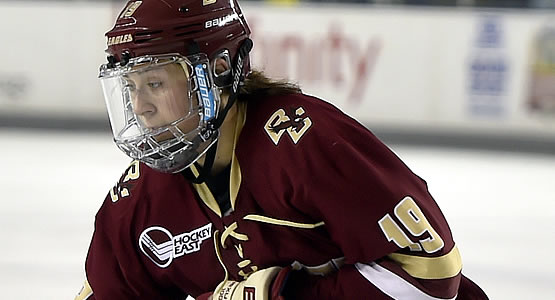 Sophomore forward Makenna Newkirk had two goals and an assist for the Eagles
| | | | | | | |
| --- | --- | --- | --- | --- | --- | --- |
| Prd | Time | Team | Score | Type | Scored By | Assists |
| 1st | 1:17 | BC | 1-0 | EV | Makenna Newkirk (11) | Caitrin Lonergan/16, Erin Connolly/4 |
| 2nd | 7:34 | BU | 1-1 | PP | Nina Rodgers (9) | Sammy Davis/13, Sarah Steele/7 |
| 2nd | 9:51 | BU | 2-1 | PP | Maddie Elia (8) | Mary Parker/15, Victoria Bach/20 |
| 3rd | 7:49 | BC | 2-2 | PP | Makenna Newkirk (12) | Kenzie Kent/12, Erin Connolly/5 |
| 3rd | 17:12 | BC | 3-2 | EV GW | Caitrin Lonergan (10) | Megan Keller/17, Makenna Newkirk/21 |
| | | | | |
| --- | --- | --- | --- | --- |
| Scoring | 1st | 2nd | 3rd | Final |
| Boston College | 1 | 0 | 2 | 3 |
| Boston University | 0 | 2 | 0 | 2 |
| | | | | |
| --- | --- | --- | --- | --- |
| Shots on Goal | 1st | 2nd | 3rd | SOG |
| Boston College | 14 | 5 | 12 | 31 |
| Boston University | 8 | 15 | 4 | 27 |
| | | | |
| --- | --- | --- | --- |
| Team Stats and Records | PP | PIM | SHGF |
| Boston College (20-3-4) | 1/3 | 3/6 | 0 |
| Boston University (13-10-5) | 2/3 | 3/6 | 0 |
| | | | | | | |
| --- | --- | --- | --- | --- | --- | --- |
| Boston College Goaltending | MIN | GA | 1 | 2 | 3 | Saves |
| Katie Burt (W, 18-3-4) | 59:40 | 2 | 8 | 13 | 4 | 25 |
| Empty Net | 0:20 | 0 | | | | |
| | | | | | | |
| --- | --- | --- | --- | --- | --- | --- |
| Boston University Goaltending | MIN | GA | 1 | 2 | 3 | Saves |
| Victoria Hanson (L, 9-7-4) | 58:55 | 3 | 13 | 5 | 10 | 28 |
| Empty Net | 1:05 | 0 | | | | |
BOSTON - Behind third-period goals from Makenna Newkirk and Caitrin Lonergan, the sixth-ranked Boston College women's hockey team advanced to its fifth-straight Beanpot championship game with a 3-2 win over Boston University on Tuesday night.
Entering the final stanza down 2-1 after the Terriers converted two power plays in the second, Newkirk evened the score at 7:49 before Lonergan notched the go-ahead and game-winning goal at 17:12 to take the victory over the Terriers in the tournament's first round at Northeastern's Matthews Arena.
Newkirk scored two goals and added an assist on the game-winner. Lonergan picked up a goal and an assist while Erin Connolly had two assists.
Katie Burt made 25 saves, including four in the third period, to claim her 83rd career win and move into a tie for 10th place on the NCAA career wins chart as a junior.
BC advances to its 16th championship game in 39 editions of the tournament, and will play for its seventh title next week against the winner of the Northeastern-Harvard first-round game that followed the BC-BU tilt.
Newkirk staked the Eagles to a 1-0 lead less than two minutes into the game and BC carried the lead into the second period. However, BU scored on back-to-back power-play chances within 2:30 of each other to take a 2-1 advantage into the third period.
Newkirk's second of the game leveled the score and minutes later she hit a pipe on a 2-on-1 with Lonergan. Lonergan then found the game-winner with less than 3:00 to play and BC blocked all three of BU's shots with the extra attacker in the final 1:05 to shield Burt and advance to the final.
Follow the #BCEagles all season at @bc_whockey on Twitter and Instagram.
2017 Beanpot | First Round
No. 6 Boston College 3, Boston University 2
Tuesday, January 31, 2017
Matthews Arena | Boston, Mass.
HOW IT HAPPENED
1st, 1:17 | 1-0, BC GOAL - The Eagles wasted little time staking a 1-0 lead as BC struck on the second shift of the game. Erin Connolly played the puck ahead from her own zone to Caitrin Lonergan at the opposite blue line, and the freshman shoveled the puck across to Newkirk for a 2-on-1 break. Newkirk threw a low wrister at Victoria Hanson, beating her stick side.
2nd, 7:34 | 1-1, BU GOAL (PPG) - Less than 20 seconds after BC started serving a penalty, the Terriers converted and evened up the score. Sammy Davis collected Sarah Steele's shot from the point and Burt made the save. The rebound popped out wide to her right, but Nina Rodgers was off the post and put the rebound into an open net.
2nd, 9:51 | 1-2, BU GOAL (PPG) - With just two seconds left on another BC penalty, Victoria Bach's shot was saved by Burt and Mary Parker pushed the puck wide just off the crease. Maddie Elia crashed the net and got her stick on the puck in traffic, pushing it under Burt with players collapsing on the crease.
3rd, 7:49 | 2-2, BC GOAL (PPG) - Kenzie Kent put a shot on from the low point and Connolly dug out the rebound off the edge of the net. Newkirk picked up the puck behind the goal and fed it to Kent, off Connolly's skate. Kent gave it back to Newkirk at the halfboards, and the sophomore curled in and scored with a shot off the underside of the post to give the game new life.
3rd, 17:12 | 3-2, BC GOAL - Lonergan dumped the puck to Newkirk, who was just off the halfboards, and she then found Keller at the far point. Keller launched a shot that was blocked, but it fell to Lonergan's feet in the high slot. She twirled around inside a trio of defenders and got her stick to it first, pushing it under Hanson to give the Eagles the lead with less than 3:00 to play
GAME NOTES
- BC advanced to its 16th Beanpot championship game and its sixth-straight final ... BC is the defending champion, having won in 2016
- BC is now 35-37-1 all-time in Beanpot play, and 28-15-1 as a varsity program (1995 to present)
- BC extended its nation-leading unbeaten run to 15 games (13-0-2) that dates back to Nov. 11 ... BC's last loss was a 5-3 defeat at BU on Nov. 5
- The Eagles are now 19-8-1 against BU in the Beanpot and now 9-2-0 in the first round against the Terriers
- Overall, BC improved to 25-17-6 all-time against BU since both teams elevated to varsity play (since 2005-06) ... the Eagles are 2-1-1 against the Terriers this season after going 1-1-1 in Hockey East regular-season play this season
- Makenna Newkirk notched her ninth multiple-point game of the season with her two-goal, one assist night
- Makenna Newkirk scored her team leading fourth and fifth goals in Beanpot action ... she now has three-point games in each of her first three Beanpot games of her career
- Newkirk extended her point streak to seven games ... it's now tied for the second-longest streak on the team this season - matching Kristyn Capizzano's seven-game streak from Oct 29 through Nov. 20, and one shy of Caitrin Lonergan's eight-game run from Oct. 22 through Nov. 12
- Lonergan recorded her sixth multiple-point game of the season and her first since a four-point outing at New Hampshire on Nov. 11
- Lonergan recorded her 16th assist of the season on Newkirk's first-period goal, and her goal was her first since Nov. 11 - a span of 11 games
- Katie Burt's win was the 83rd victory of her career and moved her into a tie for 10th place on the NCAA career wins list, matching former Minnesota goalie Judy Horak '05
- Megan Keller pushed her point streak to four games (2-5-7) with her assist on Lonergan's game-winner
- BC now has a pair of freshman with at least 25 points as Lonergan has 26 points and Delaney Belinskas has 25 points this season
- Erin Connolly recorded her first-career multiple-assist game, setting up Newkirk's two goals ... this was her third multiple-point game of her career and her first since Jan. 10 against Harvard at Fenway Park (two goals)
- Today's game marked the first time this season BC allowed two (or more) power-play goals in a game ... of the 10 power-play goals the Eagles have allowed the season, Boston University has scored five of them
- Newkirk's second goal was the Eagles' nation-leading 32nd power-play goals this year
- The Eagles are now 2-1-1 this season when trailing after two periods ... this is the second time in the last four games that BC has won when trailing after two (at Vermont on Jan. 20)
- BC moved to 12-1-1 on the season in one-goal games ... the Eagles are now also 18-1-1 when scoring three or more goals
- BC capped a near-perfect January with an 8-0-1 record
- The win tonight gave BC its 10th 20-win season and its seventh-straight campaign with 20 or more wins
TEAM RECORDS
Boston College: 20-3-4, 15-2-2 HEA
Boston University: 13-10-5, 8-8-4 HEA
THREE STARS
1. Makenna Newkirk, BC
2. Maddie Elia, BU
3. Katie Burt, BC
UP NEXT
BC returns to the ice on Friday, Feb. 3, when the Eagles host Connecticut at 7 p.m. at Kelley Rink. The game will be the team's annual Skating Strides Against Breast Cancer game in conjunction with Hockey East.