Anastos Nets Hat Trick As Boston College Downs UConn, 3-0
Senior forward Andie Anastos scores hat trick for Eagles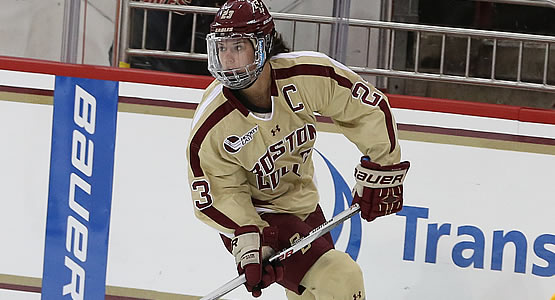 Senior forward Andie Anastos scored a hat trick for the Eagles
| | | | | | | |
| --- | --- | --- | --- | --- | --- | --- |
| Prd | Time | Team | Score | Type | Scored By | Assists |
| 1st | 18:02 | BC | 1-0 | PP GW | Andie Anastos (2) | Caitrin Lonergan/5, Makenna Newkirk/3 |
| 2nd | 7:28 | BC | 2-0 | PP | Andie Anastos (3) | Makenna Newkirk/4, Toni Ann Miano/4 |
| 2nd | 18:23 | BC | 3-0 | PP | Andie Anastos (4) | Makenna Newkirk/5 |
| | | | | |
| --- | --- | --- | --- | --- |
| Scoring | 1st | 2nd | 3rd | Final |
| Boston College | 1 | 2 | 0 | 3 |
| Connecticut | 0 | 0 | 0 | 0 |
| | | | | |
| --- | --- | --- | --- | --- |
| Shots on Goal | 1st | 2nd | 3rd | SOG |
| Boston College | 19 | 15 | 12 | 46 |
| Connecticut | 7 | 8 | 2 | 17 |
| | | | |
| --- | --- | --- | --- |
| Team Stats and Records | PP | PIM | SHGF |
| Boston College (5-2-2) | 3/5 | 1/2 | 0 |
| Connecticut (4-3-1) | 0/1 | 5/10 | 0 |
| | | | | | | |
| --- | --- | --- | --- | --- | --- | --- |
| Boston College Goaltending | MIN | GA | 1 | 2 | 3 | Saves |
| Katie Burt (W, 5-2-2) | 59:43 | 0 | 7 | 8 | 2 | 17 |
| Empty Net | 0:17 | 0 | | | | |
| | | | | | | |
| --- | --- | --- | --- | --- | --- | --- |
| Connecticut Goaltending | MIN | GA | 1 | 2 | 3 | Saves |
| Annie Belanger (L, 2-3-1) | 60:00 | 3 | 18 | 13 | 12 | 43 |
STORRS, Conn. - The University of Connecticut women's ice hockey team struggled on special teams Friday in the 3-0 loss to Boston College, giving up three power play goals to Eagles in game one of the home-and-home series.
Junior goaltender Annie Belanger (Sherbrooke, Quebec) stopped an impressive, season-high 43 pucks in UConn's Hockey East debut. That total was just five saves short of her career-best of 48 saves.
The Huskies are now 4-3-1 overall, heading into game two with the Eagles, and are 0-1 in league games. Boston College jumps to 5-2-2 overall and 4-1 in Hockey East play.
FIRST PERIOD
Belanger made her sixth start of the season Friday against the Eagles, who outshot UConn 19-7 in the first period. Belanger turned away 18 shots in the first frame, the most of all three periods.
UConn successfully killed off its first penalty of the game after sophomore Rebecca Lindblad (Winnetka, Ill.) was sent to the box 12:40 into the first, but the Huskies weren't as successful the second time around.
The Eagles took a late 1-0 lead into the first break after Andie Anastos scored on the power play with 1:58 remaining in the period.
SECOND PERIOD
UConn came out alert at the start of the second period, recording five shots, three of which were on net, in the first five minutes of the frame.
Trouble came for the Huskies after freshman Tristyn Svetek (Burlington, Ont.) was called for tripping 5:52 into the second. Anastos scored her second power play goal of the game 1:36 into the penalty to give the Eagles a 2-0 lead.
BC scored its third and final goal of the game with 1:37 left to play in the second after UConn sophomore Kayla Mee (Stonewall, Manitoba) was charged with hitting from behind. Anastos scored five seconds into the BC power play, earning her a hat trick with three power play goals.
THIRD PERIOD
The Huskies received their first power play opportunity of the game 5:52 into the final frame when BC's Erin Connolly was called for holding, but UConn could not find the back of the net.
UConn successfully killed off one other power play late in the third to preserve the score at 3-0. This is the fewest goals UConn has allowed against Boston College since the Hockey East semifinals in the 2014-15 season.
Boston College held an overall advantage on shots 46-17, tallying double-digit shot totals in all three periods.
UP NEXT...
The Huskies hit the road where they will face two separate Hockey East opponents, beginning at Merrimack on Saturday, Nov. 5 followed by New Hampshire on Sunday, Nov. 6.