Saturday, October 15, 2016
Late Přibylová Goal Lifts Maine To 3-2 Win Over Boston College
Freshman forward Vendula Přibylová scores game-winning goal at 19:23 of third period for Black Bears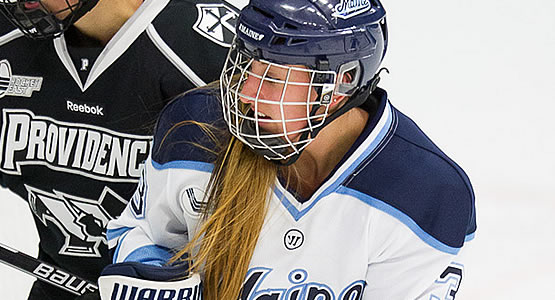 Junior forward Brooke Stacey scored a goal for the Black Bears
| | | | | | | |
| --- | --- | --- | --- | --- | --- | --- |
| Prd | Time | Team | Score | Type | Scored By | Assists |
| 2nd | 3:33 | BC | 1-0 | PP | Caitrin Lonergan (4) | Kali Flanagan/4, Katie Burt/2 |
| 2nd | 12:20 | MNE | 1-1 | EV | Morgan Sakundiak (3) | Tereza Vanišová/2 |
| 3rd | 4:03 | MNE | 2-1 | EV | Brooke Stacey (1) | Tereza Vanišová/3, Ebba Strandberg/3 |
| 3rd | 14:41 | BC | 2-2 | EV | Toni Ann Miano (1) | Megan Keller/6, Kenzie Kent/3 |
| 3rd | 19:23 | MNE | 3-2 | EV GW | Vendula Přibylová (1) | Kara Washer/1, Lydia Murray/1 |
| | | | | |
| --- | --- | --- | --- | --- |
| Scoring | 1st | 2nd | 3rd | Final |
| Boston College | 0 | 1 | 1 | 2 |
| Maine | 0 | 1 | 2 | 3 |
| | | | | |
| --- | --- | --- | --- | --- |
| Shots on Goal | 1st | 2nd | 3rd | SOG |
| Boston College | 11 | 9 | 10 | 30 |
| Maine | 5 | 8 | 8 | 21 |
| | | | |
| --- | --- | --- | --- |
| Team Stats and Records | PP | PIM | SHGF |
| Boston College (3-2-1) | 1/5 | 3/6 | 0 |
| Maine (2-6-0) | 0/3 | 5/10 | 0 |
| | | | | | | |
| --- | --- | --- | --- | --- | --- | --- |
| Boston College Goaltending | MIN | GA | 1 | 2 | 3 | Saves |
| Katie Burt (L, 3-2-1) | 59:54 | 3 | 5 | 7 | 6 | 18 |
| Empty Net | 0:06 | 0 | | | | |
| | | | | | | |
| --- | --- | --- | --- | --- | --- | --- |
| Maine Goaltending | MIN | GA | 1 | 2 | 3 | Saves |
| Carly Jackson (W, 1-5-0) | 59:56 | 2 | 11 | 8 | 9 | 28 |
| Empty Net | 0:04 | 0 | | | | |
AUBURN, Maine - The Maine Black Bears Women's Ice Hockey team traveled down to the Norway Savings Bank Arena in Auburn to face conference foe and #5 ranked Boston College in their third matchup of the season. It was a game that saw many Maine Freshmen on the score sheet, including a game winner by Freshman Forward Vendula Pribylova with her first collegiate goal.
The game started off slow; no goals were scored in the first period as BC out-shot Main 11-5. Each team had 2 penalties in the first period, with neither team able to convert.
The second period started off going all BC's way as they got another power play where Catrin Lonergan scored the power play goal to give BC a 1-0 lead 3:33 into the 2nd period. Maine would answer back 12:20 into the period as Tereza Vanisova skated the puck into the offensive zone with Morgan Sakundiak flanking the goaltender Katie Burt on the fast-break; Vanisova threaded a past the reach of Burt and off of Sakundiak's stick to tie the game at 1-all.
The Black Bears would enter the third period tied with BC 1-1 when they took their first lead of the game, 4:03 into the period as once again Tereza Vanisova skated the puck into the offensive zone but this time found Brooke Stacey who was able to slap it past Burt, giving Maine a 2-0 lead early in the final period. They would hold that lead for 10 minutes, killing off 2 BC power plays, but eventually Toni Ann Miano found an opening past Maine Goaltender Carly Jackson, and tied the game back up at 2-2 with just under 5 minutes to play.
The Black Bears kept fighting and eventually got control of the puck in their offensive zone long enough for Kara Washer to get a shot on net, which was then tipped into the net by Vendula Pribylova to seal the victory for the Black Bears 19:23 into the third period. Although BC would pull their goaltender shortly after, the Black Bears held on for a victory.
Carly Jackson gets her first career win, saving 28 of 30 shots she faced. Her record is now 1-5-0. Katie Burt for BC stopped 18 of 21 shots, her record is now 3-2-1.
The Black Bears are now on the board in conference play with a 1-3-0 record. After a two week break they are back in action to face Providence College in Providence on the 28th. They return to Alfond Arena Sunday October 30th at 2pm to face Vermont.