Saturday, November 12, 2016
Belinskas Nets Hat Trick As Boston College Defeats New Hampshire, 7-1
Freshman forward Delaney Belinskas notched hat trick for Eagles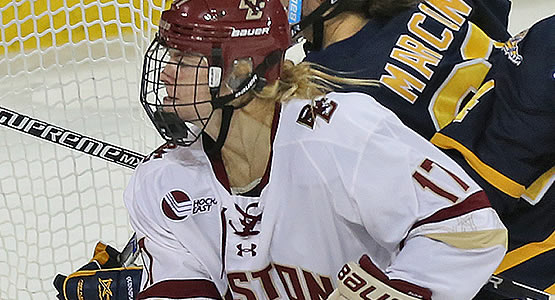 Freshman forward Delaney Belinskas scored a hat trick for the Eagles
| | | | | | | |
| --- | --- | --- | --- | --- | --- | --- |
| Prd | Time | Team | Score | Type | Scored By | Assists |
| 1st | 8:17 | BC | 1-0 | EV | Delaney Belinskas (9) | Andie Anastos/5, Kali Flanagan/6 |
| 1st | 10:42 | BC | 2-0 | PP GW | Delaney Belinskas (10) | Erin Connolly/2, Kenzie Kent/7 |
| 2nd | 1:13 | BC | 3-0 | PP | Andie Anastos (6) | Caitrin Lonergan/11, Kali Flanagan/7 |
| 2nd | 2:40 | BC | 4-0 | EV | Andie Anastos (7) | Kenzie Kent/8, Toni Ann Miano/6 |
| 2nd | 10:37 | BC | 5-0 | EV | Kristyn Capizzano (4) | Toni Ann Miano/7, Grace Bizal/8 |
| 3rd | 0:56 | BC | 6-0 | EV | Kristyn Capizzano (5) | Makenna Newkirk/10, Toni Ann Miano/8 |
| 3rd | 15:32 | BC | 7-0 | EV | Delaney Belinskas (11) | Kenzie Kent/9, Grace Bizal/9 |
| 3rd | 18:19 | UNH | 1-7 | EV | Carlee Toews (3) | Tori Howran/2, Abby Chapman/1 |
| | | | | |
| --- | --- | --- | --- | --- |
| Scoring | 1st | 2nd | 3rd | Final |
| New Hampshire | 0 | 0 | 1 | 1 |
| Boston College | 2 | 3 | 2 | 7 |
| | | | | |
| --- | --- | --- | --- | --- |
| Shots on Goal | 1st | 2nd | 3rd | SOG |
| New Hampshire | 9 | 6 | 6 | 21 |
| Boston College | 12 | 8 | 11 | 31 |
| | | | |
| --- | --- | --- | --- |
| Team Stats and Records | PP | PIM | SHGF |
| New Hampshire (3-10-0) | 0/4 | 7/14 | 0 |
| Boston College (9-3-2) | 2/5 | 6/12 | 0 |
| | | | | | | |
| --- | --- | --- | --- | --- | --- | --- |
| New Hampshire Goaltending | MIN | GA | 1 | 2 | 3 | Saves |
| Kyra Smith (L, 1-6-0) | 22:35 | 4 | 10 | 0 | 0 | 10 |
| Hilary Cashin | 37:20 | 3 | 0 | 5 | 9 | 14 |
| Empty Net | 0:05 | 0 | | | | |
| | | | | | | |
| --- | --- | --- | --- | --- | --- | --- |
| Boston College Goaltending | MIN | GA | 1 | 2 | 3 | Saves |
| Gabriella Switaj (W, 2-0-0) | 46:06 | 0 | 9 | 6 | 2 | 17 |
| Molly Barrow | 13:54 | 1 | 0 | 0 | 3 | 3 |
CHESTNUT HILL, Mass. - Freshman Delaney Belinskas recorded her second hat trick of the season while Andie Anastos and Kristyn Capizzano each scored twice as the sixth-ranked Boston College women's hockey team claimed a 7-1 win over New Hampshire at Kelley Rink on Saturday afternoon.
BC jumped out to a 2-0 lead after the first period behind Belinskas' first two goals, and then Anastos scored a pair less than 90 seconds apart to push the lead to 4-0 as the second period started.
Capizzano added one more goal midway through the second half, then struck 56 seconds into the third to stake BC to a 6-0 lead. Belinskas' third came at 15:32 before UNH scored on Molly Barrow with less than two minutes to play.
Boston College (9-3-2, 8-2-0 HEA) earned its 12th straight game against New Hampshire (3-10-0, 3-5-0 HEA) and pushed its home undefeated streak to 58 games (56-0-2) dating back to October 2013.
BC out-shot the Wildcats 32-21 in the game as Gabri Switaj made 17 saves before giving way to Barrow late in the third. She stopped three of the four shots she saw.
Follow the #BCEagles all season at @bc_whockey on Twitter and Instagram.
No. 6 Boston College 7, New Hampshire 1
Saturday, November 12, 2016
Kelley Rink at Conte Forum | Chestnut Hill, Mass.
HOW IT HAPPENED
1st, 8:17 | 1-0, BC GOAL - Boston College attacked first on a nice bang-bang play in the crease. Kali Flanagan shot it in from the point and Andie Anastos crashed the rebound on UNH goaltender Kyra Smith. The original attempted was blocked, but Delaney Belinskas was parked in front of the goalmouth to bat in the carom at 8:17 to draw first blood.
1st, 10:42 | 2-0, BC GOAL (PPG) - Shortly after BC's first strike, New Hampshire's Amy Schlagel was cited for hooking at 10:13 and the Eagles cashed in 29 seconds later for the 2-0 lead. Erin Connolly quarterbacked the play, jutting it out to Kenzie Kent on the near post for the first attempt. Kent shot it on Smith and Connolly was able to swat Kent's rebound to the other post where Belinskas was in almost the same spot two and a half minutes later to hammer home the power play tally and her second goal of the afternoon.
2nd, 1:13 | 3-0, BC GOAL (PPG) - UNH's Meghara McManus took a late slashing penalty to close out the first frame and the Eagles made them pay in the waning moments of the power play to start the second at 1:13. Kali Flanagan sent the puck out of Boston College's zone to Caitrin Lonergan waiting on UNH's blue line. Lonergan perfectly timed the onsides, skated it into New Hampshire's territory and connected with Andie Anastos on the right circle. Anastos took one stride and picked her spot on Smith for the 3-0 lead and BC's second power play goal of the day.
2nd, 2:40 | 4-0, BC GOAL - Just over a minute later, Anastos struck again in transition at 2:40 of the second stanza. Toni Ann Miano relayed the puck to Kent on the red line and Anastos took over from there. Anastos gained the zone and skated in on Smith, stuffing the puck ones on her left pad and then finally breaking through for her second goal of the day with the second effort. Following Anastos's second goal, UNH head coach Hilary Witt yanked Smith and opted for backup goaltender Hilary Cashin.
2nd, 10:37 | 5-0, BC GOAL - Boston College continued to call upon its speed and tally its fifth of the day in transition as Grace Bizal cycled the puck out of Boston College's end to Miano already in motion. Miano carved the about half the sheet with a perfect pass to Kristyn Capizzano who was already ahead of the Wildcat defense. Capizzano sped into UNH's end and beat Hilary Cashin in tight for the 5-0 lead at 10:37 of the second period.
3rd, 00:57 | 6-0, BC GOAL - The Eagles wasted no time on extending their lead to start the third after Miano stole the puck in a Wildcat breakout and switched sides over to Makenna Newkirk on the far side. Newkirk carved across the goalmouth and triggered on Cashin but the puck bounced off her right pad right where Capizzano streaked in to bang home the rebound 57 seconds into the third for a 6-0 lead.
3rd, 15:32 | 7-0, BC GOAL - Belinskas capped off her hat trick with a rip from between the circles after a nice move off the near boards. Kent snared the puck off the boards and Belinskas kicked it to Bizal on the red line. Kent rounded back into the play, grabbed the pass from Bizal and connected with Belinskas in the slot. Belinskas let off a quick snap shot to beat Cashin at 15:32 for the 7-0 lead.
3rd, 15:32 | 7-1, UNH GOAL - New Hampshire broke up the Eagles' shutout bid after Carlee Toews tipped a slap shot from Tori Howran within the blue line. Abby Chapman worked the puck off the near boards up to Howran at the top of the zone and she let loose a hard shot from the point. Toews was in position for the tip and snuck it past freshman Molly Barrow, who played the last 13:54 of regulation.
GAME NOTES
- Boston College moved to 21-39-5 all-time against New Hampshire ... the Eagles have now won their last 12 against the Wildcats, which includes six games in Chestnut Hill
- Delaney Belinskas registered her second hat trick of the season tonight ... her last one came as part of a four-goal effort against Maine on Oct. 9 ... it was her third multiple-point game of the season
- Belinskas now has 11 goals on the season to lead all freshmen nationally ... second nationally is teammate Caitrin Lonergan with 9
- Andie Anastos recorded her second multiple-goal game of the season tonight with her two-goal effort ... it was the seventh multiple-goal effort of her career
- Anastos pushed her career scoring total to 114 points and leapfrogged Mary Restuccia for 11th place on the Eagles' career scoring chart ... she is now 11 points back of 10th place, currently held by Laura Traynham '97 who had 125 career points
- Kristyn Capizzano netted her first two-goal game of the season and her third multiple-point game of the year ... it was her sixth two-goal game of her career
- Capizzano now has a five-game point streak intact during which time she's recorded eight points
- Capizzano pushed her career scoring total to 88 points ... she is now 12 points back of the 100-point plateau
- Kenzie Kent picked up a career-high four assists in today's game ... she pushed her career scoring total to 91 points, just nine points back of the 100-point plateau
- Caitrin Lonergan extended her team-best point streak to seven games during which time she's collected 14 points
- Toni Ann Miano notched three assists, which was a career-best for her
- Kali Flanagan recorded two assists to push her career total to 31 ... it was her first points in three games
- Grace Bizal picked up two assists to push her season point total to 11 in 14 games, matching her 41-game freshman season total
- Gabri Switaj made her second start of the season, making 17 saves en route to the win ... she is now 9-0-0 on her career
- Molly Barrow made her first-career appearance ... the freshman made three saves and allowed one goal in 13:54 of action
- BC scored two power-play goals to push its season total to 21 on the season ... this is the 12th game of 14 that BC has scored at least one power-play goal and the seventh time this season BC has scored two or more PPGs in a game
THREE STARS
1. Delaney Belinskas, BC
2. Andie Anastos, BC
3. Gabri Switaj, BC
TEAM RECORDS
New Hampshire (3-10-0, 3-5-0 HEA)
Boston College (9-3-2, 8-2-0 HEA)
UP NEXT
The Eagles return to the ice next Sunday, Nov. 20, when they head to Northeastern for the first of two games at Matthews Arena during the week of Thanksgiving. Sunday's faceoff is set for 2 p.m., and the teams will meet again on Saturday, Nov. 26, at 2 p.m.