Saturday, November 26, 2016
Parker's Overtime Goal Sends Boston University Past Princeton, 4-3
Senior forward Mary Parker scores 37 seconds into overtime for Terriers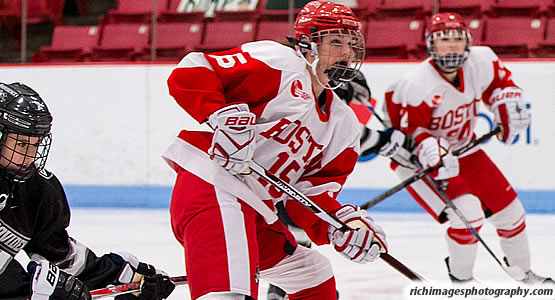 Senior forward Mary Parker scored 37 seconds into overtime for the Terriers
| | | | | | | |
| --- | --- | --- | --- | --- | --- | --- |
| Prd | Time | Team | Score | Type | Scored By | Assists |
| 1st | 4:26 | BU | 1-0 | EV | Rebecca Leslie (5) | Sammy Davis/10, Sarah Steele/6 |
| 1st | 16:04 | PRN | 1-1 | EV | Karlie Lund (10) | Kiersten Falck/5, Cassidy Tucker/5 |
| 1st | 17:34 | PRN | 2-1 | PP | Carly Bullock (4) | Stephanie Sucharda/6, Julia Edgar/3 |
| 2nd | 12:53 | BU | 2-2 | EV | Maddie Elia (7) | - |
| 2nd | 16:35 | PRN | 3-2 | EV | Carly Bullock (5) | Cassidy Tucker/6, Kelsey Koelzer/9 |
| 3rd | 16:02 | BU | 3-3 | EV | Abby Cook (1) | Samantha Sutherland/6, Maddie Elia/10 |
| OT | 0:37 | BU | 4-3 | EV GW | Mary Parker (15) | Victoria Bach/13, Nina Rodgers/11 |
| | | | | | |
| --- | --- | --- | --- | --- | --- |
| Scoring | 1st | 2nd | 3rd | OT | Final |
| Princeton | 2 | 1 | 0 | 0 | 3 |
| Boston University | 1 | 1 | 1 | 1 | 4 |
| | | | | | |
| --- | --- | --- | --- | --- | --- |
| Shots on Goal | 1st | 2nd | 3rd | OT | SOG |
| Princeton | 13 | 4 | 14 | 1 | 32 |
| Boston University | 10 | 12 | 15 | 1 | 38 |
| | | | |
| --- | --- | --- | --- |
| Team Stats and Records | PP | PIM | SHGF |
| Princeton (5-6-1) | 1/4 | 3/6 | 0 |
| Boston University (10-5-1) | 0/3 | 4/8 | 0 |
| | | | | | | | |
| --- | --- | --- | --- | --- | --- | --- | --- |
| Princeton Goaltending | MIN | GA | 1 | 2 | 3 | OT | Saves |
| Steph Neatby (L, 0-1-0) | 60:37 | 4 | 9 | 11 | 14 | 0 | 34 |
| | | | | | | | |
| --- | --- | --- | --- | --- | --- | --- | --- |
| Boston University Goaltending | MIN | GA | 1 | 2 | 3 | OT | Saves |
| Victoria Hanson (W, 7-2-0) | 60:37 | 3 | 11 | 3 | 14 | 1 | 29 |
BOSTON - Graduate student Mary Parker scored her 15th goal of the season just 37 seconds into overtime to lift the Boston University women's ice hockey team to a 4-3 victory over Princeton on Saturday afternoon at Walter Brown Arena.
THE RUNDOWN
Final Score: Boston University 4, Princeton 3 (OT)
Records: BU (10-5-1, 6-5-0 WHEA), Princeton (5-6-1, 3-4-1 ECAC)
Location: Walter Brown Arena - Boston, Mass.
TURNING POINT
- Freshman Abby Cook's (Kelowna, B.C.) first collegiate goal tied the game, 3-3, with 3:58 remaining in regulation.
GOAL-BY-GOAL
- BU opened the scoring just 4:26 into the proceedings when junior Rebecca Leslie's shot deflected off a Princeton stick and past Tiger goaltender Steph Neatby (34 saves).
- Karlie Lund and Carly Bullock scored for Princeton to give the Tigers a 2-1 lead after 20 minutes.
- Senior Maddie Elia notched her seventh goal of the season with a great individual effort at the 12:53 mark of the second stanza. She forced a turnover behind the Princeton net, won a battle for the puck, duped a defender in the process and then wrapped around the left post to score.
- The Tigers regained their lead with 3:25 left in the middle frame and held that advantage until Cook's goal. It came off a faceoff play, with Elia winning the puck to Samantha Sutherland. The senior dished to Cook at the right point, and her shot sailed through traffic and into the net.
- Parker's winner came as the Terriers capitalized on a 2-on-1. Junior Nina Rodgers deftly poked the puck past a Princeton attacker and out of the BU zone. Junior Victoria Bach then collected the puck at the Princeton blue line and had Parker with her on the right wing. Bach's pass got by a defender and onto the tape of Parker's stick, with the graduate student finishing the play.
GAME NOTES
- BU has now won five straight games.
- This is the second overtime win in three games for the Terriers. They also defeated Harvard, 4-3, in overtime on Tuesday.
- Rodgers and Bach also factored on that winner, with Bach scoring and Rodgers recording the primary assist at Harvard.
- Parker extended her point streak to nine games (9g, 5a) and has now scored a goal in each of her last eight contests.
- Sophomore Sammy Davis and senior Sarah Steele each assisted on Leslie's fifth goal of the season.
- Elia recorded a goal and an assist in each game against Princeton this weekend.
- Senior Victoria Hanson made 29 saves, including 14 in the third period and one in overtime, to secure her fifth straight win.
- Parker is second in the country with 15 goals, just one behind Minnesota's Dani Cameranesi.
- Nobody has scored in more games this season (12) than Parker.
UP NEXT
- The Terriers will return to league play next weekend when they skate against UConn in a home-and-home series that begins Friday night in Storrs, Connecticut.