Boston University Skates Past Providence, 5-2
Junior forward Rebecca Leslie records 100th career point for Terriers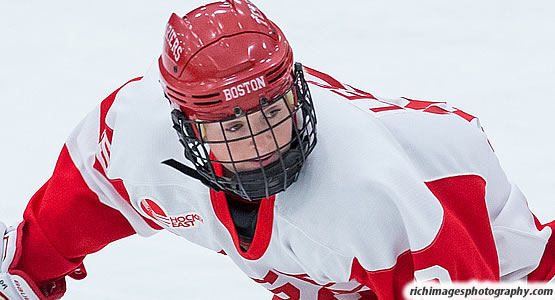 Junior forward Rebecca Leslie notched her 100th career point for the Terriers
| | | | | | | |
| --- | --- | --- | --- | --- | --- | --- |
| Prd | Time | Team | Score | Type | Scored By | Assists |
| 1st | 8:49 | BU | 1-0 | EV | Rebecca Leslie (8) | Victoria Bach/17 |
| 1st | 9:42 | BU | 2-0 | EV | Anna Streifel (1) | Rebecca Leslie/12, Victoria Bach/18 |
| 1st | 16:21 | PRV | 1-2 | PP | Neve Van Pelt (3) | Whitney Dove/15, Emily Landry/2 |
| 2nd | 8:47 | BU | 3-1 | EV GW | Nina Rodgers (7) | Victoria Bach/19 |
| 3rd | 10:02 | PRV | 2-3 | EV | Lauren Klein (2) | Whitney Dove/16 |
| 3rd | 15:53 | BU | 4-2 | EV | Nina Rodgers (8) | Samantha Sutherland/11, Abby Cook/7 |
| 3rd | 17:38 | BU | 5-2 | EV EN | Abby Cook (3) | - |
| | | | | |
| --- | --- | --- | --- | --- |
| Scoring | 1st | 2nd | 3rd | Final |
| Providence | 1 | 0 | 1 | 2 |
| Boston University | 2 | 1 | 2 | 5 |
| | | | | |
| --- | --- | --- | --- | --- |
| Shots on Goal | 1st | 2nd | 3rd | SOG |
| Providence | 8 | 7 | 11 | 26 |
| Boston University | 12 | 9 | 7 | 28 |
| | | | |
| --- | --- | --- | --- |
| Team Stats and Records | PP | PIM | SHGF |
| Providence (12-12-2) | 1/5 | 4/8 | 0 |
| Boston University (13-8-5) | 0/4 | 5/10 | 0 |
| | | | | | | |
| --- | --- | --- | --- | --- | --- | --- |
| Providence Goaltending | MIN | GA | 1 | 2 | 3 | Saves |
| Clare Minnerath (L, 2-1-0) | 57:59 | 4 | 10 | 8 | 5 | 23 |
| Empty Net | 2:01 | 1 | | | | |
| | | | | | | |
| --- | --- | --- | --- | --- | --- | --- |
| Boston University Goaltending | MIN | GA | 1 | 2 | 3 | Saves |
| Victoria Hanson (W, 9-5-4) | 60:00 | 2 | 7 | 7 | 10 | 24 |
BOSTON - Junior Rebecca Leslie notched her 100th career point and redshirt sophomore Anna Streifel scored her first collegiate goal to lead the Boston University women's ice hockey team to a 5-2 victory over Providence on Sunday afternoon at Walter Brown Arena.
THE RUNDOWN
Final Score: Boston University 5, Providence 2
Records: BU (13-8-5, 8-7-4 WHEA), Providence (12-12-2, 7-7-2 WHEA)
Location: Walter Brown Arena - Boston, Mass.
GOAL-BY-GOAL
- Leslie opened the scoring for BU just 8:49 into the proceedings. Junior Victoria Bach won an offensive-zone draw back to Leslie, who then created space for herself and ripped a shot into the top corner past Clare Minnerath (23 saves).
- Streifel made it 2-0 less than a minute later during a 3-on-1 chance with Leslie and Bach. Leslie skated into the Friar zone, but her initial pass was blocked by a diving PC defender. Streifel was in perfect position, however, to collect the loose puck and quickly fire home her first collegiate goal.
- Providence got a goal back with 3:39 left in the opening period during a 5-on-3 power play.
- Junior Nina Rodgers regained a two-goal advantage for the Terriers at the 8:47 mark of the second period. Bach intercepted a pass in the Friar zone and dished the puck to Rodgers, who completed the play for her seventh goal of the season.
- The Friars got a goal back midway through the third period to cut the Terrier lead to 3-2.
- Rodgers' second goal of the day put the game out of reach with 4:07 to play. Freshman Abby Cook and senior Samantha Sutherland helped get the puck out of the zone, with Sutherland eventually skating into the PC zone and dropping the puck to Rodgers, who kicked the puck to her stick and quickly found the back of the net.
- Cook added an empty-netter to seal the result with 2:22 remaining in regulation.
GAME NOTES
- With Streifel's goal, every skater for the Terriers has recorded at least one point this season.
- Leslie became the 11th Terrier in program history to record 100 points at BU, joining Bach as players to achieve that feat this season.
- Bach matched a career high with three assists on Sunday and finished the weekend with six points (3g, 3a).
- Cook recorded the first multi-point game of her career thanks to the goal and assist.
- Rodgers scored two goals in a game for the second time in her career and for the first time as a Terrier.
- Senior goaltender Victoria Hanson made 24 saves to earn her ninth win of the season.
UP NEXT
BU will head to North Andover, Massachusetts, to face Merrimack on Saturday, Jan. 28, at 7 p.m.