Saturday, October 15, 2016
Lum Scores Twice As UConn Topples Rennselaer, 4-1
Junior defenseman Leah Lum records two goals and assist for Huskies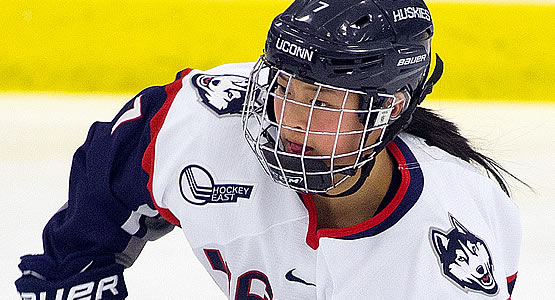 Junior defenseman Leah Lum scored two goals and an assist for the Huskies
| | | | | | | |
| --- | --- | --- | --- | --- | --- | --- |
| Prd | Time | Team | Score | Type | Scored By | Assists |
| 1st | 7:51 | CON | 1-0 | EV | Leah Lum (1) | Briana Colangelo/3, Theresa Knutson/2 |
| 1st | 19:25 | CON | 2-0 | EV GW | Leah Lum (2) | Briana Colangelo/4, Theresa Knutson/3 |
| 3rd | 5:05 | REN | 1-2 | EV | Aly Tremblay (1) | - |
| 3rd | 10:54 | CON | 3-1 | EV | Theresa Knutson (3) | Leah Lum/1, Briana Colangelo/5 |
| 3rd | 18:57 | CON | 4-1 | PP EN | Madison Badeau (1) | Erica D'Errico/1, Kelly Harris/2 |
| | | | | |
| --- | --- | --- | --- | --- |
| Scoring | 1st | 2nd | 3rd | Final |
| Connecticut | 2 | 0 | 2 | 4 |
| Rensselaer | 0 | 0 | 1 | 1 |
| | | | | |
| --- | --- | --- | --- | --- |
| Shots on Goal | 1st | 2nd | 3rd | SOG |
| Connecticut | 16 | 7 | 12 | 35 |
| Rensselaer | 2 | 11 | 9 | 22 |
| | | | |
| --- | --- | --- | --- |
| Team Stats and Records | PP | PIM | SHGF |
| Connecticut (3-2-0) | 1/4 | 3/6 | 0 |
| Rensselaer (2-5-1) | 0/3 | 4/8 | 0 |
| | | | | | | |
| --- | --- | --- | --- | --- | --- | --- |
| Connecticut Goaltending | MIN | GA | 1 | 2 | 3 | Saves |
| Morgan Fisher (W, 1-0-0) | 60:00 | 1 | 2 | 11 | 8 | 21 |
| | | | | | | |
| --- | --- | --- | --- | --- | --- | --- |
| Rensselaer Goaltending | MIN | GA | 1 | 2 | 3 | Saves |
| Lovisa Selander (L, 2-4-1) | 58:56 | 3 | 14 | 7 | 10 | 31 |
| Empty Net | 1:04 | 1 | | | | |
TROY, N.Y. - Two first period goals from junior Leah Lum (Richmond, B.C.) lifted the UConn women's ice hockey team (3-2) past RPI (2-5-1) 4-1 Saturday in game two of the weekend series at Houston Field House.
It was a game of firsts for freshman goaltender Morgan Fisher (Vernon, Conn.), who made her first collegiate appearance, first career start in net and walked away with her first career win. She finished with 21 total saves with one goal against the Engineers.
The Huskies were hot out of the gate, outshooting the Engineers 7-0 in the first five minutes of the game and 16-2 in the entire first period. UConn outshot RPI 35-22 overall.
Lum grabbed her first of the game and first of the season eight minutes into the first to put the Huskies up 1-0. Junior Theresa Knutson (Onalaska, Wis.) fed the puck up to freshman Briana Colangelo (Whitby, Ont.) who passed it cross-crease where Lum was waiting to bury it back door.
With less than a minute left on the clock in the first, the exact same trio as the first goal capitalized again for the Huskies. Lum scored her second of the game with 35 seconds left in the period, with assists from Colangelo and Knutson, giving UConn a 2-0 lead going into the break.
After a scoreless second period, RPI got on the board five minutes into the third, cutting UConn's lead in half, 2-1, with plenty of time left to battle in the game.
The Husky trifecta was back it again in the back half of the third period. Knutson took credit for the goal this time with Lum and Colangelo on the assists to solidify UConn's lead 3-1 with nine minutes to go. RPI pulled their goalie in a last minute effort to close the gap, but junior Madison Badeau (Courtice, Ont.) found the back of the empty net, putting UConn on top 4-1 in the end.
UP NEXT ...
The Huskies return to the Mark Edward Freitas Ice Forum for a two-game home series with Penn State on Friday, Oct. 21 and Saturday, Oct. 22.