Saturday, February 18, 2017
New Hampshire Sweeps Weekend Series With 4-1 Win At UConn
Senior forward Jonna Curtis records two goals and assist for Wildcats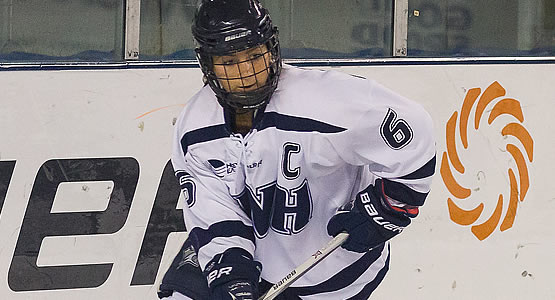 Senior forward Jonna Curtis had two goals and an assist for the Wildcats
| | | | | | | |
| --- | --- | --- | --- | --- | --- | --- |
| Prd | Time | Team | Score | Type | Scored By | Assists |
| 2nd | 11:46 | UNH | 1-0 | SH | Jonna Curtis (19) | Julia Fedeski/15, Kate Haslett/4 |
| 2nd | 14:44 | CON | 1-1 | EV | Briana Colangelo (9) | Leah Lum/11, Jesssica Stott/10 |
| 2nd | 15:19 | UNH | 2-1 | EV GW | Carlee Toews (6) | Jonna Curtis/19, Amy Schlagel/10 |
| 3rd | 6:18 | UNH | 3-1 | EV | Carlee Turner (3) | Nicole Dunbar/5, Julia Fedeski/16 |
| 3rd | 18:24 | UNH | 4-1 | EV EN | Jonna Curtis (20) | - |
| | | | | |
| --- | --- | --- | --- | --- |
| Scoring | 1st | 2nd | 3rd | Final |
| New Hampshire | 0 | 2 | 2 | 4 |
| Connecticut | 0 | 1 | 0 | 1 |
| | | | | |
| --- | --- | --- | --- | --- |
| Shots on Goal | 1st | 2nd | 3rd | SOG |
| New Hampshire | 10 | 10 | 10 | 30 |
| Connecticut | 11 | 9 | 10 | 30 |
| | | | |
| --- | --- | --- | --- |
| Team Stats and Records | PP | PIM | SHGF |
| New Hampshire (13-17-2) | 0/4 | 4/8 | 1 |
| Connecticut (14-16-4) | 0/4 | 4/8 | 0 |
| | | | | | | |
| --- | --- | --- | --- | --- | --- | --- |
| New Hampshire Goaltending | MIN | GA | 1 | 2 | 3 | Saves |
| Hilary Cashin (W, 12-8-1) | 60:00 | 1 | 11 | 8 | 10 | 29 |
| | | | | | | |
| --- | --- | --- | --- | --- | --- | --- |
| Connecticut Goaltending | MIN | GA | 1 | 2 | 3 | Saves |
| Annie Belanger (L, 11-14-4) | 58:53 | 3 | 10 | 8 | 8 | 26 |
| Empty Net | 1:07 | 1 | | | | |
STORRS, Conn. - Freshman Briana Colangelo (Whitby, Ont.) kept the Huskies alive in the second period after she scored her ninth goal of her rookie season to tie the game up 1-1. However, Colangelo's goal was not enough for UConn in game two and the Huskies were swept by New Hampshire Saturday with another 4-1 decision in the 2016-17 regular season finale.
After Saturday's loss to the Wildcats, UConn (14-16-4) finishes seventh in the league with a 9-13-2 conference record and will travel to Northeastern for the first round of the Hockey East championship. UNH improves to 13-17-2 overall record and awaits its post-season fate, pending the result of the Providence game.
UConn and UNH were evenly matched throughout the entire game with shots on goal even 30-30 in the end. The Huskies outshot the Wildcats by one in a scoreless first period.
UNH struck first in the second period when the team's leading scorer, Jonna Curtis, scored a short-handed goal immediately as she came out of the penalty box to give New Hampshire the 1-0 advantage.
Freshman Briana Colangelo tied the game up less than three minutes later to keep the Huskies in it 1-1 with plenty of time out in front of them, but Carlee Toews reclaimed the lead for UNH less than a one minute after Colangelo's equalizer.
Junior Leah Lum (Richmond, B.C.) and senior Jessica Stott (Niverville, Manitoba) both picked up assists on Colangelo's second period goal.
Despite shots on goal being even 10-10 in the third period, the scoring momentum shifted in favor of UNH 6:18 into the third stanza when New Hampshire's Carlee Turner gave UNH the first two-goal lead of the afternoon. Curtis then solidified the win for the Wildcats with an empty-netter under the two minute mark.
UP NEXT...
It will be the battle of the Huskies in the Hockey East quarterfinals as UConn will travel to Northeastern for a best-of-three series, beginning on Friday, Feb. 24 at Matthews Arena in Boston.