Friday, September 30, 2016
Knutson Scores Twice To Lead UConn Past Union, 5-1
Junior forward Theresa Knutson scores two goals for Huskies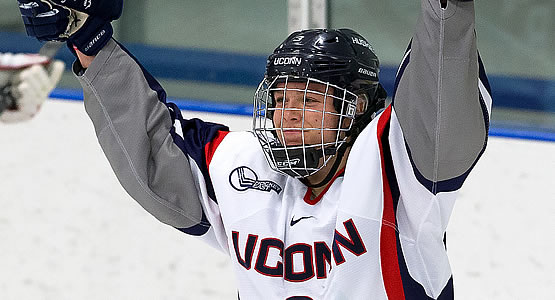 Junior forward Theresa Knutson scored two goals for the Huskies
| | | | | | | |
| --- | --- | --- | --- | --- | --- | --- |
| Prd | Time | Team | Score | Type | Scored By | Assists |
| 1st | 10:25 | CON | 1-0 | EV | Leona Sim (1) | Lindsay Roethke/1, Tristyn Svetek/1 |
| 2nd | 7:05 | CON | 2-0 | EV GW | Erica D'Errico (1) | Jesssica Stott/1, Jaime Fox/1 |
| 3rd | 4:21 | CON | 3-0 | EV | Theresa Knutson (1) | Jesssica Stott/2, Briana Colangelo/1 |
| 3rd | 6:33 | CON | 4-0 | PP | Theresa Knutson (2) | Briana Colangelo/2 |
| 3rd | 15:48 | UNI | 1-4 | PP | Caitlyn McLaren (1) | Alli Devins/1, Haley Shugart/1 |
| 3rd | 16:16 | CON | 5-1 | EV | Briana Colangelo (1) | - |
| | | | | |
| --- | --- | --- | --- | --- |
| Scoring | 1st | 2nd | 3rd | Final |
| Connecticut | 1 | 1 | 3 | 5 |
| Union | 0 | 0 | 1 | 1 |
| | | | | |
| --- | --- | --- | --- | --- |
| Shots on Goal | 1st | 2nd | 3rd | SOG |
| Connecticut | 7 | 12 | 11 | 30 |
| Union | 8 | 7 | 7 | 22 |
| | | | |
| --- | --- | --- | --- |
| Team Stats and Records | PP | PIM | SHGF |
| Connecticut (1-0-0) | 1/4 | 5/10 | 0 |
| Union (0-1-0) | 1/5 | 4/8 | 0 |
| | | | | | | |
| --- | --- | --- | --- | --- | --- | --- |
| Connecticut Goaltending | MIN | GA | 1 | 2 | 3 | Saves |
| Annie Belanger (W, 1-0-0) | 60:00 | 1 | 8 | 7 | 6 | 21 |
| | | | | | | |
| --- | --- | --- | --- | --- | --- | --- |
| Union Goaltending | MIN | GA | 1 | 2 | 3 | Saves |
| CÚline Tessier (L, 0-1-0) | 60:00 | 5 | 6 | 11 | 8 | 25 |
SCHENECTADY, N.Y. - The University of Connecticut women's ice hockey team opened its 2016-17 regular season with a 5-1 victory at Union Friday. Junior goaltender Annie Belanger (Sherbrooke, Quebec) boasted 21 saves in her 23rd career start.
Three freshmen, Leona Sim (Vancouver, B.C.), Erica D'Errico (Concord, N.H.) and Briana Colangelo (Whitby, Ont.), scored their first career goals in their first collegiate appearances as Huskies. Classmate Tristyn Svetek (Burlington, Ont.) also picked up her first career point, tallying an assist on Sim's goal.
UConn opened the scoring halfway through the first period when Sim tipped one in off a pass from Svetek at the point. Junior Lindsay Roethke (Buffalo, Minn.) also took credit for an assist.
D'Errico gave UConn a two-goal lead 7:05 into the second frame. Senior captain Jessica Stott (Niverville, Manitoba) and sophomore Jaime Fox (Unionville, Ont.) each earned an assist from out on the blue line and UConn held onto its 2-0 lead going into the second intermission.
Less than five minutes into the third, junior Theresa Knutson (Onalaska, Wis.) got on the board for the first time this season. However, one was not enough for Knutson, because two minutes later she scored her second goal of the game to give UConn a commanding 4-0 lead with less than 15 minutes remaining.
Union snuck one past Belanger under the five minute mark to close the gap 4-1, but Colangelo capitalized on her first collegiate goal 30 seconds later to restore a four-goal lead for UConn. The Huskies outshot the Dutchwomen 30-22 on the evening.
UP NEXT...
UConn is back in action at Messa Rink tomorrow, Oct. 1 to take on Union in game-two of the weekend series. Puck drop is scheduled for 3 p.m.