Saturday, January 28, 2017
Lum's Two Goals Propel UConn Past Vermont, 2-1
Junior forward Leah Lum scores two goals for Huskies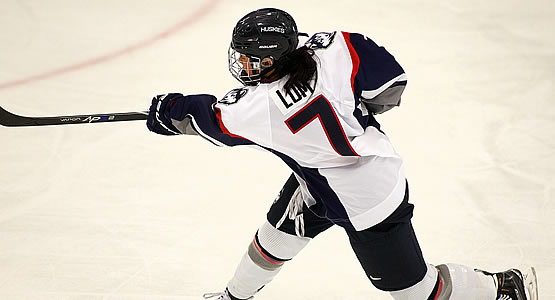 Junior forward Leah Lum scored two goals for the Huskies
| | | | | | | |
| --- | --- | --- | --- | --- | --- | --- |
| Prd | Time | Team | Score | Type | Scored By | Assists |
| 1st | 10:21 | CON | 1-0 | EV | Leah Lum (16) | Kayla Mee/8, Erica D'Errico/3 |
| 2nd | 7:10 | CON | 2-0 | PP GW | Leah Lum (17) | Briana Colangelo/14, Justine Fredette/8 |
| 3rd | 8:31 | VER | 1-2 | EV | Kourtney Menches (5) | Casey Leveillee/3, Sarah Kelly/2 |
| | | | | |
| --- | --- | --- | --- | --- |
| Scoring | 1st | 2nd | 3rd | Final |
| Vermont | 0 | 0 | 1 | 1 |
| Connecticut | 1 | 1 | 0 | 2 |
| | | | | |
| --- | --- | --- | --- | --- |
| Shots on Goal | 1st | 2nd | 3rd | SOG |
| Vermont | 14 | 12 | 13 | 39 |
| Connecticut | 8 | 10 | 8 | 26 |
| | | | |
| --- | --- | --- | --- |
| Team Stats and Records | PP | PIM | SHGF |
| Vermont (11-10-7) | 0/4 | 3/6 | 0 |
| Connecticut (12-13-3) | 1/3 | 4/8 | 0 |
| | | | | | | |
| --- | --- | --- | --- | --- | --- | --- |
| Vermont Goaltending | MIN | GA | 1 | 2 | 3 | Saves |
| Melissa Black (L, 4-6-3) | 58:48 | 2 | 7 | 9 | 8 | 24 |
| Empty Net | 1:12 | 0 | | | | |
| | | | | | | |
| --- | --- | --- | --- | --- | --- | --- |
| Connecticut Goaltending | MIN | GA | 1 | 2 | 3 | Saves |
| Annie Belanger (W, 9-11-3) | 59:54 | 1 | 14 | 12 | 12 | 38 |
| Empty Net | 0:06 | 0 | | | | |
STORRS, Conn. - Two goals from junior Leah Lum (Richmond, B.C.) snapped the Huskies' five-game losing streak and lifted UConn past Vermont 2-1 on Saturday at the Mark Edward Freitas Ice Forum.
UConn improves to 12-13-3 overall with a 7-10-1 record in league games after splitting the series with Vermont, who is now 11-10-7 overall and 7-6-5 in Hockey East play.
Lum has scored at least one point in the last four consecutive contests. Saturday marked her seventh multi-point game of the season.
Junior goaltender Annie Belanger (Sherbrooke, Quebec) stopped 38 shots to help lead the Huskies to victory.
FIRST PERIOD
UConn held a 1-0 lead after the first period after Lum scored 10:21 into the frame to put the Huskies up 1-0.
Freshman Erica D'Errico (Concord, N.H.) passed the puck up to sophomore Kayla Mee (Stonewall, Manitoba) who fired a shot towards the net and Lum tipped it in right in front. That is Mee's eighth assist this season and D'Errico's third of her rookie year.
UConn successfully killed off a penalty after junior Lindsay Roethke (Buffalo, Minn.) was called for hooking just over a minute after the Huskies took the lead.
The Catamounts outshot the Huskies 14-8 in the first period, but UConn maintained a 1-0 lead into the break.
SECOND PERIOD
UConn extended its lead to 2-0 in the second period after Lum notched her second of the day, her sixth power play goal of the season.
After UConn killed off a penalty early in the second, Vermont was called for interference 5:36 into the middle frame.
With less than 30 seconds remaining in the Vermont penalty, Lum cleaned up a rebound in front to give the Huskies a two-goal lead. Freshman Briana Colangelo (Whitby, Ont.) and junior Justine Fredette (Winnipeg, Manitoba) took credit for the assists.
The Huskies successfully killed off two more penalties in the back half of the second to preserve their 2-0 shutout through two periods.
THIRD PERIOD
Vermont got on the board 8:31 into the third period when Courtney Menches knocked in a rebound to cut UConn's lead in half, 2-1.
The Catamounts pulled their goaltender with 1:40 up on the clock, but were then called for hooking during the six-on-five advantage and could not find the equalizer. UConn snapped its five-game loss streak after claiming the 2-1 victory in the end.
UP NEXT...
The Huskies will kick off February with a four-game road stretch beginning on Friday, Feb. 3 at Boston College. UConn will not have a home game until Friday, Feb. 17.