Saturday, January 7, 2017
Providence College Defeated By Cornell, 5-1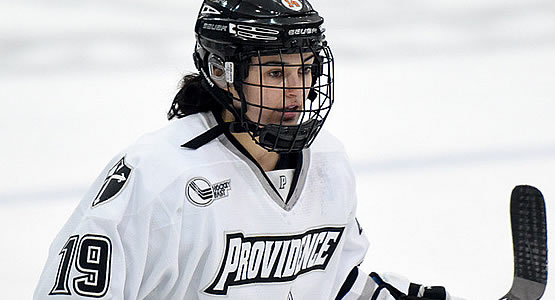 Junior forward Brooke Boquist had an assist for the Friars
| | | | | | | |
| --- | --- | --- | --- | --- | --- | --- |
| Prd | Time | Team | Score | Type | Scored By | Assists |
| 1st | 7:25 | COR | 1-0 | EV | Paige Lewis (1) | Sydney Smith/2, Brianna Veerman/4 |
| 1st | 11:11 | COR | 2-0 | EV GW | Kaitlin Doering (2) | Valerie Audet/2, Pippy Gerace/5 |
| 2nd | 5:04 | COR | 3-0 | PP | Pippy Gerace (3) | Diana Buckley/2, Erin O'Connor/2 |
| 2nd | 15:51 | COR | 4-0 | PP | Brianna Veerman (1) | - |
| 3rd | 11:11 | COR | 5-0 | PP | Hanna Bunton (4) | Erin O'Connor/3, Pippy Gerace/6 |
| 3rd | 16:37 | PRV | 1-5 | EV | Avery Fransoo (1) | Brooke Boquist/9 |
| | | | | |
| --- | --- | --- | --- | --- |
| Scoring | 1st | 2nd | 3rd | Final |
| Providence | 0 | 0 | 1 | 1 |
| Cornell | 2 | 2 | 1 | 5 |
| | | | | |
| --- | --- | --- | --- | --- |
| Shots on Goal | 1st | 2nd | 3rd | SOG |
| Providence | 6 | 10 | 12 | 28 |
| Cornell | 11 | 8 | 6 | 25 |
| | | | |
| --- | --- | --- | --- |
| Team Stats and Records | PP | PIM | SHGF |
| Providence (10-11-1) | 0/6 | 7/25 | 0 |
| Cornell (9-5-1) | 3/7 | 7/25 | 0 |
| | | | | | | |
| --- | --- | --- | --- | --- | --- | --- |
| Providence Goaltending | MIN | GA | 1 | 2 | 3 | Saves |
| Madison Myers (L, 5-8-1) | 60:00 | 5 | 9 | 6 | 5 | 20 |
| | | | | | | |
| --- | --- | --- | --- | --- | --- | --- |
| Cornell Goaltending | MIN | GA | 1 | 2 | 3 | Saves |
| Marlene Boissonnault (W, 5-1-1) | 59:48 | 1 | 6 | 10 | 11 | 27 |
| Empty Net | 0:12 | 0 | | | | |
ITHACA, N.Y. - The Providence College women's hockey team was defeated by the Cornell University Big Red, 5-1. The Friars move to 10-11-1 and Cornell improves to 9-5-1 overall.
Madison Myers (Colchester, Vt.) started in net for the Friars and made nine saves in the opening period.
Cornell took a 2-0 lead in the first period by way of Paige Lewis at 7:25 and Kaitlin Doering at 11:11.
The Big Red extended their lead to 4-0 in the second period with two power play goals. At 5:04 Pippy Gerace scored and Brianna Veerman scored at 15:51.
Cornell added a third power play goal at 11:11 of the third period from Hanna Bunton.
Providence's Avery Fransoo (North Battleford, Saskatchewan) scored her first collegiate goal with 3:23 remaining in the game. Brooke Boquist (Thunder Bay, Ontario) skated towards the Cornell goal and dropped a pass to Fransoo just above the crease, who lifted a shot past Cornell's Marlene Boissonnault.
Boquist's assist extends her point streak to three games and totals four points on two goals and two assists.
Myers finished with 20 saves, while the Friars recorded 28 shots on goal.
The Friars are back in action on Jan. 14 to resume Hockey East play at the University of Connecticut for 2:00 p.m. puck drop.