Krizova Scores Twice As Northeastern Upends Lindenwood, 5-0
Junior forward Denisa Křížová nets two goals for Huskies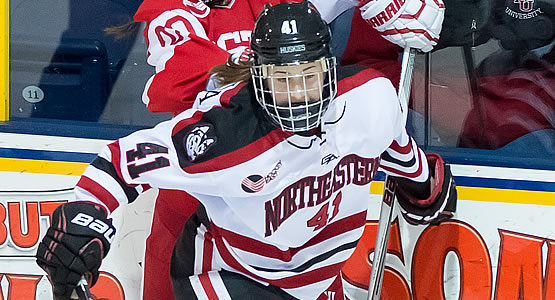 Junior forward Denisa Křížová scored two goals for the Huskies
| | | | | | | |
| --- | --- | --- | --- | --- | --- | --- |
| Prd | Time | Team | Score | Type | Scored By | Assists |
| 1st | 1:00 | NOE | 1-0 | PP GW | Hayley Scamurra (2) | Codie Cross/2, Paige Savage/1 |
| 1st | 18:04 | NOE | 2-0 | SH | Denisa Křížová (2) | - |
| 2nd | 10:02 | NOE | 3-0 | EV | Denisa Křížová (3) | Lauren Kelly/1, Ainsley MacMillan/1 |
| 3rd | 3:53 | NOE | 4-0 | EV | Matti Hartman (1) | Kasidy Anderson/1, Heather Mottau/3 |
| 3rd | 13:43 | NOE | 5-0 | PP | Paige Savage (1) | McKenna Brand/1, Codie Cross/3 |
| | | | | |
| --- | --- | --- | --- | --- |
| Scoring | 1st | 2nd | 3rd | Final |
| Northeastern | 2 | 1 | 2 | 5 |
| Lindenwood | 0 | 0 | 0 | 0 |
| | | | | |
| --- | --- | --- | --- | --- |
| Shots on Goal | 1st | 2nd | 3rd | SOG |
| Northeastern | 9 | 8 | 17 | 34 |
| Lindenwood | 4 | 5 | 1 | 10 |
| | | | |
| --- | --- | --- | --- |
| Team Stats and Records | PP | PIM | SHGF |
| Northeastern (1-2-0) | 2/7 | 4/8 | 1 |
| Lindenwood (0-3-0) | 0/4 | 7/14 | 0 |
| | | | | | | |
| --- | --- | --- | --- | --- | --- | --- |
| Northeastern Goaltending | MIN | GA | 1 | 2 | 3 | Saves |
| Brittany Bugalski (W, 1-1-0) | 60:00 | 0 | 4 | 5 | 1 | 10 |
| | | | | | | |
| --- | --- | --- | --- | --- | --- | --- |
| Lindenwood Goaltending | MIN | GA | 1 | 2 | 3 | Saves |
| Jolene deBruyn (L, 0-2-0) | 59:29 | 5 | 7 | 7 | 15 | 29 |
| Empty Net | 0:31 | 0 | | | | |
WENTZVILLE, Mo. - Junior Denisa Krizova scored two goals and sophomore Brittany Bugalski pitched a 10-save shutout as the Northeastern women's hockey team (1-2-0) picked up its first win of the season in a 5-0 triumph at Lindenwood (0-3-0) on Friday evening at the Lindenwood Ice Arena.
Senior Hayley Scamurra, freshman Matti Hartman and senior Paige Savage also scored for NU, while freshman Codie Cross dished out two assists.
Northeastern scored two power-play goals, two even-strength goals and one shorthanded goal to earn its first victory over Lindenwood in program history.
Goal Recaps
- Northeastern took the lead just one minute into the game on a power-play goal by Scamurra. After a faceoff win at the left dot, Savage dug out the puck and slid a pass back to the point for Cross. The rookie quickly unleashed a rising shot that Scamurra was able to deflect inside the right post to make it 1-0.
- Special teams was again a factor on NU's second goal, which came shorthanded at 18:04 of the first period. After forcing a turnover in the neutral zone, Krizova raced in alone on goal, before deking forehand to backhand for a beautiful individual goal.
- Krizova tacked on her second goal of the night at 10:02 of the second period when she stashed home a rebound in the crease following a shot by junior Lauren Kelly.
- Hartman scored her first collegiate goal on a twisted wrister from the left circle that beat Lindenwood netminder Jolene deBruyn at the 3:53 mark of the third period.
- Savage added a fifth goal at 13:43 of the third period. After some great puck movement on the power play, Cross picked up the disc at the top of the zone and fed junior McKenna Brand along the left-wing boards. Brand quickly centered for a streaking Savage, who blasted home a one-timer to round out the scoring.
Noteworthy
- Krizova recorded career points No. 98 and 99 on Friday. With one more point, Krizova would become the 25th player in program history to hit the century mark.
- Matti Hartman scored her first collegiate goal.
- Cross dished out two assists for her first collegiate two-point game.
- Cross has three helpers this season, all of which have come on the power play.
- Northeastern earned its first-ever win over Lindenwood.
- The Huskies held a 34-10 advantage in shots on goal and held the Lady Lions to just one shot on target in the third period.
Up Next
Northeastern will look for the weekend sweep on Saturday against Lindenwood at 8 p.m. ET.