Sunday, September 25, 2016
Vermont Edged By McGill In Overtime, 3-2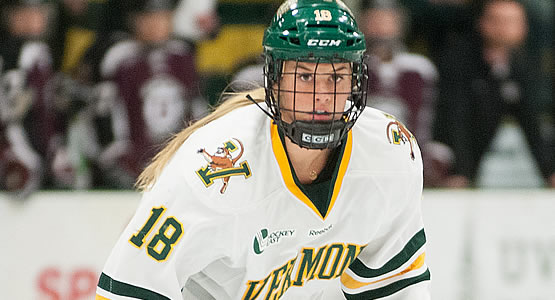 Senior forward Cassidy Campeau had a goal and an assist for the Catamounts
| | | | | | | |
| --- | --- | --- | --- | --- | --- | --- |
| Prd | Time | Team | Score | Type | Scored By | Assists |
| 2nd | 0:13 | VER | 1-0 | EV | Alyssa Gorecki | Cassidy Campeau, Bridget Baker |
| 2nd | 16:41 | VER | 2-0 | PP | Cassidy Campeau | Daria O'Neill, Taylor Willard |
| 2nd | 18:14 | MCG | 1-2 | PP | Nicole Howlett | Jade Downie, Mélodie Daoust |
| 3rd | 8:54 | MCG | 2-2 | PP | Jade Downie | Olivia Atkinson, Mélodie Daoust |
| OT | 2:51 | MCG | 3-2 | EV GW | Léa Dumais | Sidonie Chard, Mélodie Daoust |
| | | | | | |
| --- | --- | --- | --- | --- | --- |
| Scoring | 1st | 2nd | 3rd | OT | Final |
| McGill | 0 | 1 | 1 | 1 | 3 |
| Vermont | 0 | 2 | 0 | 0 | 2 |
| | | | | | |
| --- | --- | --- | --- | --- | --- |
| Shots on Goal | 1st | 2nd | 3rd | OT | SOG |
| McGill | 13 | 7 | 11 | 4 | 35 |
| Vermont | 10 | 16 | 11 | 0 | 37 |
| | | | |
| --- | --- | --- | --- |
| Team Stats and Records | PP | PIM | SHGF |
| McGill | 2/8 | 8/16 | 0 |
| Vermont | 1/8 | 8/16 | 0 |
| | | | | | | | |
| --- | --- | --- | --- | --- | --- | --- | --- |
| McGill Goaltending | MIN | GA | 1 | 2 | 3 | OT | Saves |
| Tricia Deguire (W) | 62:51 | 2 | 10 | 14 | 11 | 0 | 35 |
| | | | | | | | |
| --- | --- | --- | --- | --- | --- | --- | --- |
| Vermont Goaltending | MIN | GA | 1 | 2 | 3 | OT | Saves |
| Madison Litchfield | 20:00 | 0 | 13 | 0 | 0 | 0 | 13 |
| Sydney Scobee | 20:00 | 1 | 0 | 6 | 0 | 0 | 6 |
| Melissa Black (L) | 22:51 | 2 | 0 | 0 | 10 | 3 | 13 |
BURLINGTON, Vt. - Cassidy Campeau notched a power play goal along with an assist and Madison Litchfield and Melissa Black each made 13 saves, but a late comeback combined with Lea Dumais' overtime goal lifted McGill over the Vermont women's hockey team 3-2 in Sunday's exhibition contest at Gutterson Fieldhouse.
After a scoreless first frame, Vermont took a 1-0 lead just 13 seconds into the second period on a goal from Alyssa Gorecki. Campeau sent a pass from the right circle towards Gorecki, who was on the doorstep and lifted the puck over the right pad of McGill goalie Tricia Deguire.
UVM moved the score to 2-0 in a sequence beginning with Taylor Willard. Willard skated along the far boards and found Daria O'Neill at the point, whose shot attempt was turned aside by Deguire. The rebound was corralled by Campeau, who tapped the puck over the goal line at the 16:41 mark of the period for the power play tally.
The Martlets began the rally effort late in the second period, beginning with a power play goal by Nicole Howlett. Jade Downie received a centering pass from Melodie Daoust, firing an initial shot from the circle. Freshman Sydney Scobee made the save, but the rebound was sent through the five-hole by Howlett.
McGill then tied the game at two-apiece with just over 11 minutes remaining in regulation. Olivia Atkinson took a wrist shot from the left circle, seeing the attempt redirected on a block by O'Neill. The puck wound up on the stick of Downie, who sent it into the back of the net while on the man advantage.
The game was decided in the extra period with 2:09 to play. Amanda Drobot and Eve-Audrey Picard each blocked centering passes from behind the net, but Sidonie Chard ultimately found Dumais in front, who went stick-side for the game-winner.
Litchfield recorded the start between the pipes for the Catamounts before being relieved in the second period by Scobee, who made six stops. Black entered for the third stanza and finished the game in goal. Deguire finished the day with 35 stops for the Martlets.
Vermont now prepares to embark on the regular season schedule, meeting Union in Schenectady, New York on Tuesday, Oct. 4. Puck drop is slated for 7 p.m.