Friday, February 17, 2017
Ade Goal Sends Vermont Past Merrimack, 4-3
Senior defenseman Rachael Ade has game-winning goal and assist for Catamounts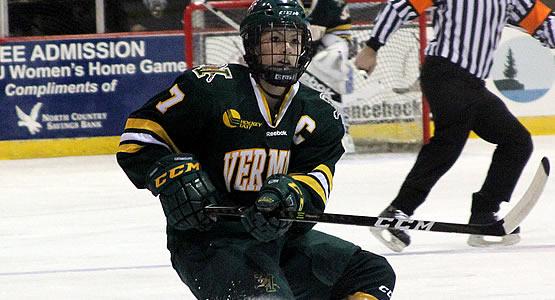 Senior defenseman Rachael Ade had the game-winning goal and an assist for the Catamounts
| | | | | | | |
| --- | --- | --- | --- | --- | --- | --- |
| Prd | Time | Team | Score | Type | Scored By | Assists |
| 2nd | 19:25 | VER | 1-0 | EV | Katherine Pate (2) | Daria O'Neill/12, Bridget Baker/5 |
| 3rd | 1:37 | VER | 2-0 | EV | Bridget Baker (10) | Amanda Drobot/6 |
| 3rd | 2:55 | MER | 1-2 | EV | Paige Voight (14) | Emily Volpe/2 |
| 3rd | 4:20 | VER | 3-1 | EV | Ève-Audrey Picard (12) | Rachael Ade/7 |
| 3rd | 6:13 | MER | 2-3 | PP | Katelyn Rae (18) | Paige Voight/11, Mikyla Grant-Mentis/17 |
| 3rd | 11:03 | MER | 3-3 | PP | Chloe Cook (1) | Annie Boeckers/10, Jackie Pieper/9 |
| 3rd | 11:33 | VER | 4-3 | EV GW | Rachael Ade (7) | Ève-Audrey Picard/12, Cassidy Campeau/7 |
| | | | | |
| --- | --- | --- | --- | --- |
| Scoring | 1st | 2nd | 3rd | Final |
| Merrimack | 0 | 0 | 3 | 3 |
| Vermont | 0 | 1 | 3 | 4 |
| | | | | |
| --- | --- | --- | --- | --- |
| Shots on Goal | 1st | 2nd | 3rd | SOG |
| Merrimack | 7 | 5 | 14 | 26 |
| Vermont | 8 | 13 | 8 | 29 |
| | | | |
| --- | --- | --- | --- |
| Team Stats and Records | PP | PIM | SHGF |
| Merrimack (10-20-3) | 2/5 | 2/4 | 0 |
| Vermont (13-11-9) | 0/2 | 5/10 | 0 |
| | | | | | | |
| --- | --- | --- | --- | --- | --- | --- |
| Merrimack Goaltending | MIN | GA | 1 | 2 | 3 | Saves |
| Léa-Kristine Demers (L, 7-14-1) | 58:59 | 4 | 8 | 12 | 5 | 25 |
| Empty Net | 1:01 | 0 | | | | |
| | | | | | | |
| --- | --- | --- | --- | --- | --- | --- |
| Vermont Goaltending | MIN | GA | 1 | 2 | 3 | Saves |
| Madison Litchfield (W, 8-4-6) | 60:00 | 3 | 7 | 5 | 11 | 23 |
BURLINGTON, Vt. - Senior Rachael Ade broke a 3-3 tie with 8:27 remaining in the third period and Bridget Baker and Ève-Audrey Picard also had multi-point efforts as Vermont picked up a key 4-3 win over Merrimack at Gutterson Fieldhouse on Friday night.
Friday's result, which was Vermont's first-ever win against the Warriors, puts UVM at 13-11-9 on the season and 9-7-7 against Hockey East foes. Merrimack is now 10-20-3 and 6-17-0 in conference. UVM now has amassed 25 points in the standings and has vaulted itself into fourth place in Hockey East ahead of Providence, which was idle Friday night.
"I'm really pleased that we returned to our strong forecheck game tonight," said head coach Jim Plumer. "I thought our second period was our best of the last few weeks and we showed our trademark resilience by responding every time they scored. I want to see a full 60-minute effort tomorrow."
Madison Litchfield recorded 23 saves for UVM to preserve the win and Merrimack's Léa-Kristine Demers collected 25 stops on the night.
After outshooting Merrimack 8-7 in a scoreless first period, Katherine Pate finally gave the Catamounts a 1-0 lead in the final minute of the second. Baker won a puck battle in the far right corner and found Daria O'Neill at the left point. O'Neill passed to Pate who took two steps in and whipped the puck into traffic, only to see it wind up in the back of the net. The tally with 34.6 seconds remaining was Pate's second of the season.
Shortly after intermission the Catamounts caught Merrimack in the middle of a change and doubled their lead to 2-0 as a result. Amanda Drobot tracked down the puck in the neutral zone and dished to Baker, who walked in alone and beat Demers glove-side at 1:37, earning her 10th tally of her senior campaign.
After Merrimack's Paige Voight buried a centering pass to narrow the score to 2-1, Picard extended the Catamounts' lead back to a pair at 4:20. Ade backhanded the puck on goal from the left circle, and while Demers got a piece of the shot, it ultimately trickled through, allowing Picard to finish the opportunity.
The Warriors then used two power play goals to even the score at three-apiece. Katelyn Rae netted her 18th of the season on a doorstep rebound, then Chloe Cook registered her first collegiate goal to bring things to a tie with just under nine minutes left.
Ade needed just 30 seconds to restore UVM's advantage. Picard slapped the puck wide of the net before the carom came back to Ade at the right point. Her shot sailed toward goal before being redirected home by a Merrimack defenseman for what later stood as the game-winning goal. The secondary assist on the play went to Cassidy Campeau.
In the final minute of regulation the Warriors made a valiant effort to force overtime with Demers pulled for an extra skater. However, the Catamounts stepped up defensively and Litchfield made a key save with less than 10 seconds remaining, collectively keeping the equalizer out and sealing the victory.
Friday night also marked senior Sarah Kelly's 139th career game played with the Green and Gold. That figure leads her teammates and sits just one short of former teammate Dayna Colang for the program's all-time lead. Colang laced up in 140 contests from 2012-16.
The regular season concludes Saturday (Feb. 18) for the Catamounts as UVM hosts Merrimack on Senior Day. Puck drop is scheduled for 4 p.m. at Gutterson Fieldhouse and will be preceded by a special pregame ceremony recognizing Vermont's seven-member Class of 2017.