Sunday, September 25, 2016
Fujimagari, Maine Shut Out Rensselaer, 2-0
Senior goaltender Mariah Fujimagari posts 20-save shutout for Black Bears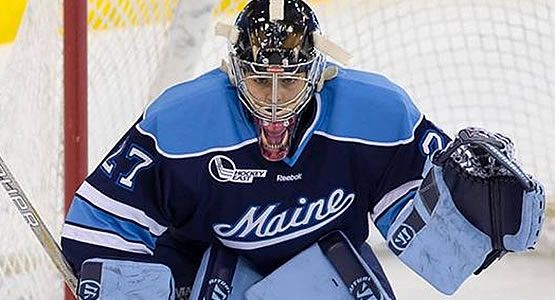 Senior goaltender Mariah Fujimagari had 20 saves for the Black Bears
| | | | | | | |
| --- | --- | --- | --- | --- | --- | --- |
| Prd | Time | Team | Score | Type | Scored By | Assists |
| 2nd | 0:22 | MNE | 1-0 | PP GW | Kara Washer (1) | Tereza Vanišová/1, Vendula Přibylová/1 |
| 3rd | 9:41 | MNE | 2-0 | EV | Tereza Vanišová (1) | Vendula Přibylová/2, Victoria Hummel/1 |
| | | | | |
| --- | --- | --- | --- | --- |
| Scoring | 1st | 2nd | 3rd | Final |
| Rensselaer | 0 | 0 | 0 | 0 |
| Maine | 0 | 1 | 1 | 2 |
| | | | | |
| --- | --- | --- | --- | --- |
| Shots on Goal | 1st | 2nd | 3rd | SOG |
| Rensselaer | 3 | 7 | 10 | 20 |
| Maine | 16 | 7 | 8 | 31 |
| | | | |
| --- | --- | --- | --- |
| Team Stats and Records | PP | PIM | SHGF |
| Rensselaer (1-1-0) | 0/6 | 6/12 | 0 |
| Maine (1-1-0) | 1/6 | 6/12 | 0 |
| | | | | | | |
| --- | --- | --- | --- | --- | --- | --- |
| Rensselaer Goaltending | MIN | GA | 1 | 2 | 3 | Saves |
| Lovisa Selander (L, 1-1-0) | 59:00 | 2 | 16 | 6 | 7 | 29 |
| Empty Net | 1:00 | 0 | | | | |
| | | | | | | |
| --- | --- | --- | --- | --- | --- | --- |
| Maine Goaltending | MIN | GA | 1 | 2 | 3 | Saves |
| Mariah Fujimagari (W, 1-0-0) | 59:45 | 0 | 3 | 7 | 10 | 20 |
| Empty Net | 0:15 | 0 | | | | |
ORONO, Maine - After dropping game 1 of the series, Maine bounced back on Sunday to defeat RPI 2-0 getting their first win of the season with all scoring plays involving Freshmen players in their first goals/assists.
For the second game in a row, the game remained scoreless in the first period, but Maine was in control from the start, outshooting RPI 16-3 in the first period. The second period started off with a bang as Freshman Forward Kara Washer got her first goal of the season and of her career, assisted by her linemates and fellow freshmen Tereza Vanisova and Vendula Pribylova with their first career assists. The goal came just 22 seconds into the period on a power play. Maine led 1-0 after 2 periods.
Vanisova and Pribylova would combine again in the 3rd period, 9:41 into the period, as Pribylova fed Vanisova in the neutral zone and Vanisova ducked and weaved through the RPI defense to sneak one past RPI Goaltender Lovisa Selander. It was Vanisovas first career goal, and Pribylova's 2nd career assist.
Maine Goaltender Mariah Fujimagari got her first start of the year, and is credited with the shutout, saving all 20 shots she faced. Her record starts off at 1-0-0. On the other end of the ice, Lovisa Selander stopped 29 of 31 shots faced, getting her first loss of the season and falling to 1-1-0.
Maine will travel to Quinnipiac for a two game series next weekend, and then to BC the following weekend. They return to the Alfond October 14th to face Merrimack.