Wednesday, November 30, 2016
Brand's Four Points Lead Northeastern Past Providence, 5-3
Junior forward McKenna Brand records two goals and two assists for Huskies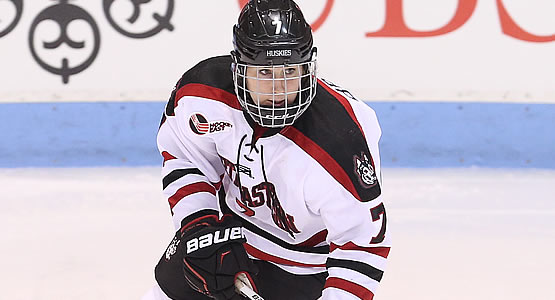 Junior forward McKenna Brand had two goals and two assists for the Huskies
| | | | | | | |
| --- | --- | --- | --- | --- | --- | --- |
| Prd | Time | Team | Score | Type | Scored By | Assists |
| 1st | 12:00 | PRV | 1-0 | PP | Blair Parent (8) | Cassidy MacPherson/8, Madison Sansone/5 |
| 1st | 18:25 | NOE | 1-1 | EV | Heather Mottau (4) | Paige Savage/10, Maddie Hartman/7 |
| 1st | 18:51 | PRV | 2-1 | EV | Cassidy Carels (11) | Avery Fransoo/5, Neve Van Pelt/5 |
| 2nd | 6:40 | NOE | 2-2 | EV | Heather Mottau (5) | Denisa Křížová/13, McKenna Brand/6 |
| 2nd | 12:46 | PRV | 3-2 | EV | Cassidy Carels (12) | Madison Sansone/6, Avery Fransoo/6 |
| 2nd | 16:41 | NOE | 3-3 | EV | Denisa Křížová (10) | Ainsley MacMillan/4, McKenna Brand/7 |
| 3rd | 1:46 | NOE | 4-3 | EV GW | McKenna Brand (15) | Denisa Křížová/14, Hayley Scamurra/10 |
| 3rd | 18:17 | NOE | 5-3 | EV EN | McKenna Brand (16) | Hayley Scamurra/11, Ainsley MacMillan/5 |
| | | | | |
| --- | --- | --- | --- | --- |
| Scoring | 1st | 2nd | 3rd | Final |
| Northeastern | 1 | 2 | 2 | 5 |
| Providence | 2 | 1 | 0 | 3 |
| | | | | |
| --- | --- | --- | --- | --- |
| Shots on Goal | 1st | 2nd | 3rd | SOG |
| Northeastern | 9 | 15 | 13 | 37 |
| Providence | 15 | 5 | 8 | 28 |
| | | | |
| --- | --- | --- | --- |
| Team Stats and Records | PP | PIM | SHGF |
| Northeastern (11-4-3) | 0/4 | 3/6 | 0 |
| Providence (8-9-1) | 1/3 | 4/8 | 0 |
| | | | | | | |
| --- | --- | --- | --- | --- | --- | --- |
| Northeastern Goaltending | MIN | GA | 1 | 2 | 3 | Saves |
| Brittany Bugalski (W, 11-3-3) | 60:00 | 3 | 13 | 4 | 8 | 25 |
| | | | | | | |
| --- | --- | --- | --- | --- | --- | --- |
| Providence Goaltending | MIN | GA | 1 | 2 | 3 | Saves |
| Madison Myers (L, 4-6-1) | 58:36 | 4 | 8 | 13 | 11 | 32 |
| Empty Net | 1:24 | 1 | | | | |
PROVIDENCE, R.I. - The Providence College women's hockey team was defeated by the No. 10 Northeastern Huskies on Wednesday, Nov. 30. Providence moves to 8-9-1 (4-5-1 HE) and Northeastern improves to 11-4-3 (7-2-2 HE).
Blair Parent (Blaine, Minn.) tallied the first goal of the game and put the Friars up, 1-0, eight minutes into the first period. After working the puck around in the offensive zone, Madison Sansone (Lockport, N.Y.) moved the puck from the half wall to Cassidy MacPherson (Oakville, Ontario) in the slot who immediately moved the puck to Parent, who redirected the puck home.
Northeastern scored with 1:35 remaining in the opening period from Heather Mottau.
Cassidy Carels (Bruxelles, Manitoba) responded 16 seconds later with her first goal of the game, scoring on a breakaway. The Carels goal gave Providence the lead, 2-1, to end the first period. Neve Van Pelt (Mitchell, Ontario) and Avery Fransoo (North Battleford, Saskatchewan) both assisted on the play.
Mottau added her second goal, 6:40 minutes into the second period and evened the score, 2-2.
After Northeastern tied the game at 2-2, Carels scored again at 12:46 of the second period. Sansone picked up the puck in the neutral zone and skated in on a three-on-two. Sansone threaded a pass through the defense and to Carels on the backdoor, who backhanded the puck just inside the near post to put the Friars up 3-2. Fransoo also assisted on the play.
The Huskies evened the score 3-3 to end the second period, when Denisa Krizova scored at 16:41.
Northeastern tallied the go-ahead goal 1:46 into the third period from McKenna Brand and Providence was unable to get the equalizer.
With 1:44 remaining in the game, Northeastern's Brand tallied an empty net goal to extend their lead to 5-3.
Providence is back in action on Dec. 3 at Schneider Arena to host No. 6 Boston College at 2:00 p.m.