Friday, September 30, 2016
Northeastern Shut Out By St. Lawrence, 5-0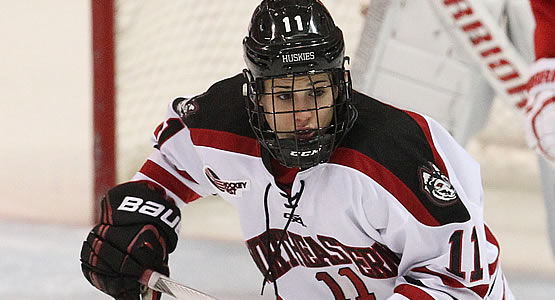 Northeastern junior forward Christina Zalewski (pictured)
| | | | | | | |
| --- | --- | --- | --- | --- | --- | --- |
| Prd | Time | Team | Score | Type | Scored By | Assists |
| 1st | 2:14 | STL | 1-0 | EV GW | Brooke Webster (1) | Kennedy Marchment/1, Hannah Miller/1 |
| 1st | 6:41 | STL | 2-0 | EV | Kalie Grant (1) | Nadine Edney/1, Maggie McLaughlin/1 |
| 1st | 7:17 | STL | 3-0 | EV | Brooke Webster (2) | Kennedy Marchment/2, Hannah Miller/2 |
| 2nd | 9:43 | STL | 4-0 | EV | Brooke Webster (3) | Hannah Miller/3, Kennedy Marchment/3 |
| 3rd | 1:55 | STL | 5-0 | EV | Justine Reyes (1) | Kayla Vespa/1, Emily Middagh/1 |
| | | | | |
| --- | --- | --- | --- | --- |
| Scoring | 1st | 2nd | 3rd | Final |
| St. Lawrence | 3 | 1 | 1 | 5 |
| Northeastern | 0 | 0 | 0 | 0 |
| | | | | |
| --- | --- | --- | --- | --- |
| Shots on Goal | 1st | 2nd | 3rd | SOG |
| St. Lawrence | 16 | 10 | 9 | 35 |
| Northeastern | 6 | 6 | 13 | 25 |
| | | | |
| --- | --- | --- | --- |
| Team Stats and Records | PP | PIM | SHGF |
| St. Lawrence (1-0-0) | 0/6 | 5/10 | 0 |
| Northeastern (0-1-0) | 0/5 | 7/14 | 0 |
| | | | | | | |
| --- | --- | --- | --- | --- | --- | --- |
| St. Lawrence Goaltending | MIN | GA | 1 | 2 | 3 | Saves |
| Grace Harrison (W, 1-0-0) | 60:00 | 0 | 6 | 6 | 13 | 25 |
| | | | | | | |
| --- | --- | --- | --- | --- | --- | --- |
| Northeastern Goaltending | MIN | GA | 1 | 2 | 3 | Saves |
| Brittany Bugalski (L, 0-1-0) | 60:00 | 5 | 13 | 9 | 8 | 30 |
BOSTON - The visiting St. Lawrence Saints (1-0-0) scored three goals in a five-minute span in the first period to race past the No. 9 Northeastern women's hockey team (0-1-0), 5-0, on Friday evening at Matthews Arena.
Brooke Webster notched a hat trick for the Saints, while linemates Kennedy Marchment and Hannah Miller each recorded three assists.
Sophomore netminder Brittany Bugalski made 30 saves as St. Lawrence held a 35-25 advantage in shots on goal.
Goal Recaps
- St. Lawrence took the lead just 2:14 into the game when Webster found a loose puck at the top of the crease and shoveled a backhand past a sprawling Bugalski through heavy traffic.
- Kalie Grant doubled the St. Lawrence lead at 6:41 on a tic-tac-toe setup from Maggie McLaughlin and Nadine Edney in the low slot.
- Webster tacked on a third goal in a span of 5:03 when she picked up the puck in the left corner, cut hard to the net, and lifted a backhand over the shoulder of Bugalski to make it 3-0 at 7:17.
- Webster then completed the hat trick at 9:43 of the second period when she roofed a centering pass from Kennedy Marchment that was tipped at the top of the crease by Hannah Miller.
- St. Lawrence made it 5-0 just 1:55 into the third period. After Bugalski stoned Kayla Vespa on a breakaway, Vespa was able to collect the puck behind the NU net and center for Justine Reyes to fire home at the left of the cage.
Noteworthy
- The Huskies killed off all five St. Lawrence power plays.
- Senior Heather Mottau led NU with five shots on goal.
- The Huskies held a 32-20 advantage in faceoff wins, including an 8-for-11 performance in the circle from freshman Matti Hartman.
- Prior to the game, Northeastern honored alumna Kendall Coyne with a banner ceremony celebrating her 2016 Patty Kazmaier Memorial Award win.
Up Next
The Huskies will look to salvage the weekend split on Saturday against St. Lawrence at 2 p.m.