Northeastern, Syracuse Play To 2-2 Tie
Junior forwards Denisa Křížová and McKenna Brand score goals for Huskies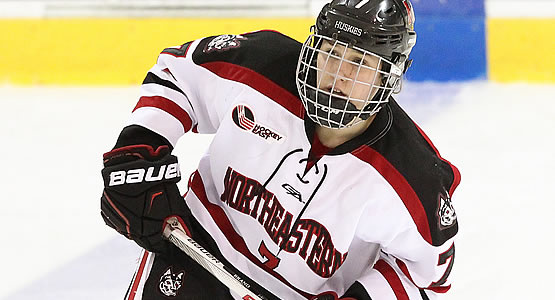 Junior forward McKenna Brand scored a goal for the Huskies
| | | | | | | |
| --- | --- | --- | --- | --- | --- | --- |
| Prd | Time | Team | Score | Type | Scored By | Assists |
| 2nd | 3:28 | NOE | 1-0 | PP | Denisa Křížová (4) | Hayley Scamurra/2, Paige Savage/2 |
| 2nd | 4:38 | SYR | 1-1 | PP | Savannah Rennie (1) | Lindsay Eastwood/1, Jessica Sibley/1 |
| 3rd | 0:30 | NOE | 2-1 | EV | McKenna Brand (4) | Maddie Hartman/1 |
| 3rd | 10:12 | SYR | 2-2 | PP GT | Alysha Burriss (1) | Stephanie Grossi/1, Megan Quinn/1 |
| | | | | | |
| --- | --- | --- | --- | --- | --- |
| Scoring | 1st | 2nd | 3rd | OT | Final |
| Syracuse | 0 | 1 | 1 | 0 | 2 |
| Northeastern | 0 | 1 | 1 | 0 | 2 |
| | | | | | |
| --- | --- | --- | --- | --- | --- |
| Shots on Goal | 1st | 2nd | 3rd | OT | SOG |
| Syracuse | 6 | 12 | 10 | 0 | 28 |
| Northeastern | 7 | 7 | 6 | 5 | 25 |
| | | | |
| --- | --- | --- | --- |
| Team Stats and Records | PP | PIM | SHGF |
| Syracuse (0-2-1) | 2/7 | 7/14 | 0 |
| Northeastern (2-2-1) | 1/7 | 7/14 | 0 |
| | | | | | | | |
| --- | --- | --- | --- | --- | --- | --- | --- |
| Syracuse Goaltending | MIN | GA | 1 | 2 | 3 | OT | Saves |
| Abbey Miller (T, 0-1-1) | 64:41 | 2 | 7 | 6 | 5 | 5 | 23 |
| Empty Net | 0:19 | 0 | | | | | |
| | | | | | | | |
| --- | --- | --- | --- | --- | --- | --- | --- |
| Northeastern Goaltending | MIN | GA | 1 | 2 | 3 | OT | Saves |
| Brittany Bugalski (T, 2-1-1) | 64:48 | 2 | 6 | 11 | 9 | 0 | 26 |
| Empty Net | 0:12 | 0 | | | | | |
BOSTON - Goals by juniors Denisa Krizova and McKenna Brand helped the Northeastern women's hockey team (2-2-1) skate to a 2-2 tie against Syracuse (0-2-1) in a penalty-laden affair on Friday evening at Matthews Arena.
The Huskies and Orange combined for 28 penalty minutes and three power-play goals, including the opening strike from Krizova and both Syracuse tallies.
Sophomore goaltender Brittany Bugalski made 26 saves, while SU netminder Abbey Miller stopped 23 pucks, including a breakaway opportunity from sophomore Kasidy Anderson early in overtime.
Goal Recaps
- Northeastern struck first on a power-play goal by Krizova at the 3:28 mark of the second period. After a net-mouth scramble, senior Hayley Scamurra was able to force Miller into a sprawling save, resulting in a loose puck at the left of the net. Krizova quickly spotted the disc and roofed a shot into the upper right corner of the goal to make it 1-0.
- Syracuse tied the game just 1:10 later when Savannah Rennie collected a rebound at the right of the cage and stashed the puck under the crossbar.
- NU pulled back ahead just 30 seconds into the third period when Brand redirected a Maddie Hartman point shot under the bar to bring the score to 2-1.
- The Orange again had an answer at 10:12 of the final frame when Alysha Burriss wristed a shot home on the power play from the bottom of the right circle.
Noteworthy
- Both Krizova and Brand extended their point-streaks to four games.
- Krizova has four goals and three assists in her last four, while Brand has four goals and two assists over that span.
- The Orange held a 28-25 advantage in shots on goal, however the Huskies had all five shots on net in overtime.
- Hartman registered her first point of the season with an assist on Brand's goal.
Up Next
The teams will square off once again on Saturday with the opening faceoff scheduled for 2 p.m. at Matthews Arena.