Saturday, October 22, 2016
Providence College Falls To Princeton, 4-2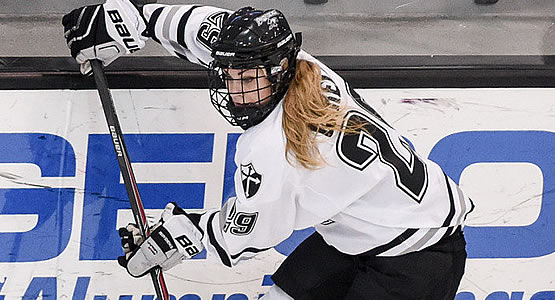 Senior forward Cassidy Carels scored a goal for the Friars
| | | | | | | |
| --- | --- | --- | --- | --- | --- | --- |
| Prd | Time | Team | Score | Type | Scored By | Assists |
| 2nd | 11:09 | PRV | 1-0 | EV | Christina Putigna (3) | Natasia Burzynski/1, Danielle Hardy/1 |
| 2nd | 13:31 | PRN | 1-1 | EV | Molly Contini (1) | Keiko DeClerck/1, Kiersten Falck/1 |
| 3rd | 12:34 | PRN | 2-1 | EV | Karlie Lund (1) | Carly Bullock/1, Fiona McKenna/1 |
| 3rd | 15:25 | PRV | 2-2 | PP | Cassidy Carels (6) | Madison Sansone/3, Kate Friesen/4 |
| 3rd | 15:56 | PRN | 3-2 | EV GW | Sylvie Wallin (1) | Karlie Lund/1 |
| 3rd | 18:51 | PRN | 4-2 | EV EN | Molly Contini (2) | Stephanie Sucharda/1 |
| | | | | |
| --- | --- | --- | --- | --- |
| Scoring | 1st | 2nd | 3rd | Final |
| Princeton | 0 | 1 | 3 | 4 |
| Providence | 0 | 1 | 1 | 2 |
| | | | | |
| --- | --- | --- | --- | --- |
| Shots on Goal | 1st | 2nd | 3rd | SOG |
| Princeton | 9 | 15 | 11 | 35 |
| Providence | 11 | 9 | 11 | 31 |
| | | | |
| --- | --- | --- | --- |
| Team Stats and Records | PP | PIM | SHGF |
| Princeton (1-0-0) | 0/8 | 6/12 | 0 |
| Providence (3-4-0) | 1/5 | 8/16 | 0 |
| | | | | | | |
| --- | --- | --- | --- | --- | --- | --- |
| Princeton Goaltending | MIN | GA | 1 | 2 | 3 | Saves |
| Alysia DaSilva (W, 1-0-0) | 60:00 | 2 | 11 | 8 | 10 | 29 |
| | | | | | | |
| --- | --- | --- | --- | --- | --- | --- |
| Providence Goaltending | MIN | GA | 1 | 2 | 3 | Saves |
| Alanna Serviss (L, 1-1-0) | 59:34 | 3 | 9 | 14 | 8 | 31 |
| Empty Net | 0:26 | 1 | | | | |
PROVIDENCE, R.I. - The Providence College women's hockey team was defeated by the Princeton University Tigers, 4-2, on Oct. 22 at Schneider Arena. Providence moves to 3-4-0 overall and Princeton improves to 1-0-0.
The Friars and Tigers skated through the first period scoreless. Providence held the advantage in shots, 11-9, and Alanna Serviss (Chicago, Ill.) turned aside all nine shots she faced.
Providence got on the board midway through the second period when Christina Putigna (Grimsby, Ontario) found the back of the net for the third time in the 2016-17 season. Danielle Hardy (Naniamo, British Columbia) moved the puck from the corner to Natasia Burzynski (Rye, N.H.) in the slot. Burzynski moved the puck along and across the slot to Putigna to tap in the bouncing puck for a 1-0 Friar lead.
Princeton evened the score two minutes later from Molly Contini.
The Tigers took the lead at 12:34 in the third period with a goal from Karlie Lund.
Two minutes later Cassidy Carels (Bruxelles, Manitoba) scored a power-play goal and her sixth of the season. Kate Friesen (Altona, Manitoba) moved the puck down the half wall to Madison Sansone (Lockport, N.Y.) who then moved the puck across the slot to Carels on the back door, for a one-timer into the open net.
Less than 30 seconds later, Princeton's Sylive Wallin scored off of the faceoff and gave Princeton the 3-2 lead.
With under 1:30 remaining in regulation, Providence had a power play opportunity and pulled Serviss for the extra-man advantage but was unable to convert. Molly Contini's penalty expired and she came out of the box to score an empty net goal to lift the Tigers over the Friars, 4-2.
Serviss finished the game with a career-high 31 saves in the game.
The two teams will face off again on Oct. 23 at Schneider Arena at 2:00 p.m. to finish the non-conference series.