Tuesday, October 18, 2016
Providence College Defeats Union, 4-2
Sophomore forward Christina Putigna has goal and two assists for Friars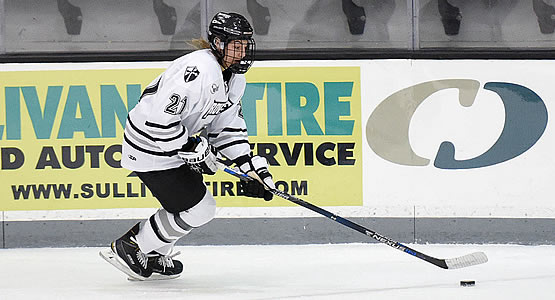 Sophomore forward Christina Putigna had a goal and two assists for the Friars
| | | | | | | |
| --- | --- | --- | --- | --- | --- | --- |
| Prd | Time | Team | Score | Type | Scored By | Assists |
| 2nd | 1:40 | PRV | 1-0 | EV | Madison Sansone (2) | Cassidy MacPherson/1, Whitney Dove/4 |
| 2nd | 12:42 | UNI | 1-1 | EV | Haley Shugart (3) | Jordi Naidrich/1, Brandy Streeter/1 |
| 3rd | 3:57 | PRV | 2-1 | EV | Christina Putigna (2) | Meaghan Rickard/1, Whitney Dove/5 |
| 3rd | 14:59 | UNI | 2-2 | EV | Arianna Kosakowski (1) | Alli Devins/2, Jordi Naidrich/2 |
| 3rd | 16:30 | PRV | 3-2 | PP GW | Cassidy Carels (5) | Christina Putigna/2, Rachel Rockwell/4 |
| 3rd | 19:26 | PRV | 4-2 | EV EN | Brooke Boquist (3) | Christina Putigna/3, Avery Fransoo/3 |
| | | | | |
| --- | --- | --- | --- | --- |
| Scoring | 1st | 2nd | 3rd | Final |
| Union | 0 | 1 | 1 | 2 |
| Providence | 0 | 1 | 3 | 4 |
| | | | | |
| --- | --- | --- | --- | --- |
| Shots on Goal | 1st | 2nd | 3rd | SOG |
| Union | 10 | 7 | 3 | 20 |
| Providence | 14 | 12 | 11 | 37 |
| | | | |
| --- | --- | --- | --- |
| Team Stats and Records | PP | PIM | SHGF |
| Union (2-6-0) | 0/9 | 7/14 | 0 |
| Providence (3-3-0) | 1/6 | 10/20 | 0 |
| | | | | | | |
| --- | --- | --- | --- | --- | --- | --- |
| Union Goaltending | MIN | GA | 1 | 2 | 3 | Saves |
| CÚline Tessier (L, 0-2-0) | 58:57 | 3 | 14 | 11 | 8 | 33 |
| Empty Net | 1:03 | 1 | | | | |
| | | | | | | |
| --- | --- | --- | --- | --- | --- | --- |
| Providence Goaltending | MIN | GA | 1 | 2 | 3 | Saves |
| Alanna Serviss (W, 1-0-0) | 59:49 | 2 | 10 | 6 | 2 | 18 |
| Empty Net | 0:11 | 0 | | | | |
PROVIDENCE, R.I. - The Providence College women's hockey team defeated the Union College Dutchwomen, 4-2, on Oct. 18. The Friars improve to 3-3-0 and the Dutchwomen move to 2-6-0.
The teams skated through a scoreless first period with the Friars outshooting the Dutchwomen 14-10. Alanna Serviss (Chicago, Ill.) turned aside all 10 shots in her first start of the 2016 season.
Madison Sansone (Lockport, N.Y.) started off the scoring just under two minutes into the period. Blair Parent (Blaine, Minn.) picked up the puck along the boards and moved it to Cassidy MacPherson (Oakville, Ontario) behind the net. MacPherson passed to Sansone, who took a hard shot that deflected off a Union defender and into the net for a 1-0 Providence lead.
Union evened the score at the 12:42 mark of the second period with a goal from Haley Shugart.
The Friars regained the lead nearly four minutes into the third period. Whitney Dove (Port Moody, British Columbia) broke out the puck to Meaghan Rickard (Coventry, Conn.) along the defensive blue line. Rickard made a stretch pass to Christina Putigna (Grimsby, Ontario) through the neutral zone and Putigna skated into the offensive zone and took a shot off Union's goaltender Celine Tessier's pads. Putigna rushed the zone, collected her own rebound and tapped the puck into an open net.
Union closed the gap once more with a goal from Airanna Kosakowski at 14:59 in the third. The Friars responded with a power-play goal 1:31 seconds later. Rachel Rockwell (Broadview Heights, Ohio) moved the puck out of the defensive zone to Putigna, who rushed the zone and flipped the puck in front of the net and Cassidy Carels (Bruxelles, Manitoba) knocked the puck into the net for a 3-2 lead.
Providence added an empty net goal when Brooke Boquist (Thunder Bay, Ontario) scored with 33 seconds remaining in regulation. Union pulled its goaltender with 1:04 remaining to play and Avery Fransoo (North Battleford, Saskatchewan) banked the puck of the boards to Putigna. Putigna carried the puck into the offensive zone and moved the puck to Boquist from behind the net for a one-time empty net goal.
Serviss finished the game with 18 saves and the Friars registered 37 shots.
Providence is back in action on Oct. 22 at 2:00 p.m. against the Princeton Tigers at Schneider Arena.