Saturday, February 25, 2017
Vermont Skates Past Providence To Even Series, 5-1
Sophomore forward Alyssa Gorecki registers three assists for Catamounts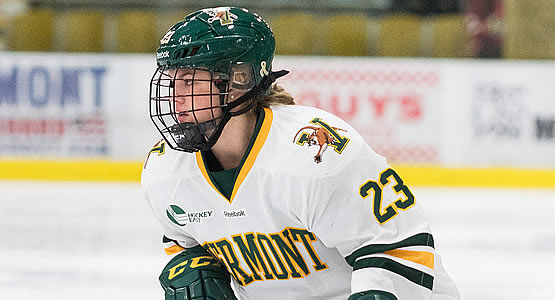 Sophomore forward Alyssa Gorecki had three assists for the Catamounts
| | | | | | | |
| --- | --- | --- | --- | --- | --- | --- |
| Prd | Time | Team | Score | Type | Scored By | Assists |
| 2nd | 4:44 | VER | 1-0 | PS | Ève-Audrey Picard (14) | - |
| 2nd | 11:51 | VER | 2-0 | EV GW | Taylor Willard (3) | Alyssa Gorecki/11, Victoria Andreakos/8 |
| 3rd | 13:00 | PRV | 1-2 | PP | Kate Friesen (10) | Avery Fransoo/16, Cassidy Carels/17 |
| 3rd | 14:30 | VER | 3-1 | EV | Bridget Baker (12) | Kourtney Menches/3 |
| 3rd | 19:15 | VER | 4-1 | EV EN | Saana Valkama (6) | - |
| 3rd | 19:50 | VER | 5-1 | PP | Cassidy Campeau (7) | Alyssa Gorecki/12 |
| | | | | |
| --- | --- | --- | --- | --- |
| Scoring | 1st | 2nd | 3rd | Final |
| Vermont | 0 | 2 | 3 | 5 |
| Providence | 0 | 0 | 1 | 1 |
| | | | | |
| --- | --- | --- | --- | --- |
| Shots on Goal | 1st | 2nd | 3rd | SOG |
| Vermont | 11 | 7 | 17 | 35 |
| Providence | 7 | 11 | 13 | 31 |
| | | | |
| --- | --- | --- | --- |
| Team Stats and Records | PP | PIM | SHGF |
| Vermont (14-13-9) | 1/5 | 2/4 | 0 |
| Providence (17-16-3) | 1/2 | 6/12 | 0 |
| | | | | | | |
| --- | --- | --- | --- | --- | --- | --- |
| Vermont Goaltending | MIN | GA | 1 | 2 | 3 | Saves |
| Madison Litchfield (W, 9-6-6) | 60:00 | 1 | 7 | 11 | 12 | 30 |
| | | | | | | |
| --- | --- | --- | --- | --- | --- | --- |
| Providence Goaltending | MIN | GA | 1 | 2 | 3 | Saves |
| Madison Myers (L, 11-12-3) | 58:18 | 4 | 11 | 5 | 14 | 30 |
| Empty Net | 1:42 | 1 | | | | |
PROVIDENCE, R.I. - The Providence College women's ice hockey team was defeated, 5-1, by the Vermont Catamounts in the second game of the Hockey East Quarterfinals. The Friars move to 17-16-3 and Vermont improves to 14-13-9.
Madison Myers (Colchester, Vt.) made 11 saves in the first period, while Vermont's Madison Litchfield made seven to keep both teams scoreless through the first period for the second consecutive game.
Vermont took a 2-0 lead in the second period. On a penalty shot, Eve-Audrey Picard scored at 4:44. Then Taylor Willard added to the lead at 11:51.
Providence battled back in the third period with a power play goal at 13:00. Kate Friesen (Altona, Manitoba) took a slap shot from the point that it the far post and in, to cut the Vermont lead. Cassidy Carels (Bruxelles, Manitoa) moved the puck to Avery Fransoo (North Battleford, Saskatechwan), who made a few moves on the point to create space and fed Friesen.
Vermont scored one minute and 30 seconds later from Bridget Baker.
The Friars sustained offensive pressure, with a 6-on-5 situation but were unable to net a second goal. Vermont scored an empty netter at 19:15 from Saana Valkama and then added a final power play goal with 10 seconds remaining in the game.
The Friars and Catamounts will finish the series tomorrow, Feb. 26 at 2:00 p.m.