Saturday, October 22, 2016
Vermont Clipped By St. Lawrence, 2-1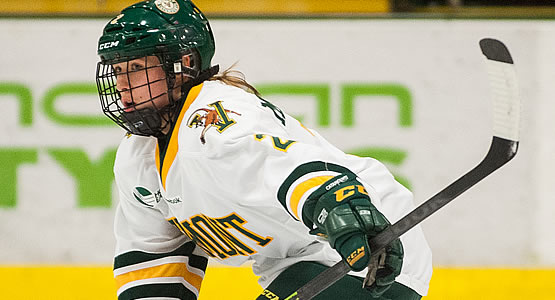 Junior forward Kourtney Menches scored a goal for the Catamounts
| | | | | | | |
| --- | --- | --- | --- | --- | --- | --- |
| Prd | Time | Team | Score | Type | Scored By | Assists |
| 1st | 12:30 | VER | 1-0 | EV | Kourtney Menches (2) | - |
| 2nd | 10:03 | STL | 1-1 | SH | Kennedy Marchment (2) | - |
| 3rd | 19:28.1 | STL | 2-1 | EV GW | Hannah Miller (5) | Brooke Webster/4, Alex Moore/2 |
| | | | | |
| --- | --- | --- | --- | --- |
| Scoring | 1st | 2nd | 3rd | Final |
| St. Lawrence | 0 | 1 | 1 | 2 |
| Vermont | 1 | 0 | 0 | 1 |
| | | | | |
| --- | --- | --- | --- | --- |
| Shots on Goal | 1st | 2nd | 3rd | SOG |
| St. Lawrence | 9 | 10 | 8 | 27 |
| Vermont | 9 | 2 | 6 | 17 |
| | | | |
| --- | --- | --- | --- |
| Team Stats and Records | PP | PIM | SHGF |
| St. Lawrence (5-0-1) | 0/3 | 5/10 | 1 |
| Vermont (2-3-1) | 0/5 | 3/6 | 0 |
| | | | | | | |
| --- | --- | --- | --- | --- | --- | --- |
| St. Lawrence Goaltending | MIN | GA | 1 | 2 | 3 | Saves |
| Grace Harrison (W, 5-0-1) | 60:00 | 1 | 8 | 2 | 6 | 16 |
| | | | | | | |
| --- | --- | --- | --- | --- | --- | --- |
| Vermont Goaltending | MIN | GA | 1 | 2 | 3 | Saves |
| Madison Litchfield (L, 1-1-0) | 59:48 | 2 | 9 | 9 | 7 | 25 |
| Empty Net | 0:12 | 0 | | | | |
BURLINGTON, Vt. - Hannah Miller broke a 1-1 tie with 31 seconds remaining as No. 7/6 St. Lawrence escaped from Gutterson Fieldhouse with a 2-1 victory over the Vermont women's hockey team on Saturday afternoon.
"It was certainly a game that had momentum swings," said head coach Jim Plumer. "They're an excellent team. It's hard to lose a game when you play well, but I think that was the best game we've played of our last four. I certainly feel that was a step in the right direction."
St. Lawrence moves to 5-0-1 with the win, while the Catamounts are now 2-3-1 on the season.
UVM grabbed a 1-0 lead with 7:30 to play in the first period. After St. Lawrence tracked down a loose puck in the corner, an errant pass found its way to Kourtney Menches in the right circle. Menches fired towards a screened Grace Harrison and lit the lamp for the second time after a lucky bounce directed the puck into the net.
After a tripping call against SLU's Kalie Grant, the Saints used a shorthanded goal to tie the score at one-apiece in the middle of the second stanza. Kennedy Marchment corralled the puck at the Saints blue line, then skated in on a breakaway and went glove-side at 10:03 for her second goal of the season.
The Catamounts entered into a clearing attempt in the final minute, but SLU's Alex Moore intercepted a pass in the neutral zone. She passed to Brooke Webster at the blue line, who then found Miller in the left faceoff circle, where the latter tucked the puck inside the top left corner to give SLU the game-winner.
UVM had one final chance when Saana Valkama skated in along the right wing, dropping back to Bridget Baker. Baker fired from the right faceoff circle, but the shot was knocked away in traffic.
Madison Litchfield made 25 saves on the afternoon, including several spectacular stops down the stretch. Grace Harrison finished with 16 saves for St. Lawrence.
"Madison really hung in there," Plumer added. "Our whole team played so much better than we did last night."
Next on the docket for Vermont is a four-game Hockey East road swing, beginning with New Hampshire on Friday, Oct. 28. Opening draw is slated for 7 p.m. from the Whittemore Center.