UCONN 2017-2018 SCHEDULE AND RESULTS
0-0-0 Overall (0-0-0 Hockey East)
| | | | |
| --- | --- | --- | --- |
| 09/23 | vs. WHITBY WOLVES | 3:00 | |
| 09/29 | at St. Cloud State | 6:07 CT | |
| 09/30 | at St. Cloud State | 3:07 CT | |
| 10/07 | vs. VERMONT * | 2:00 | |
| 10/13 | vs. UNION | 7:00 | |
| 10/14 | vs. UNION | 3:00 | |
| 10/20 | vs. BOSTON COLLEGE * | 6:00 | |
| 10/22 | at Boston University * | 3:00 | |
| 11/03 | vs. RENSSELAER | 7:00 | |
| 11/04 | vs. RENSSELAER | 3:00 | |
| 11/10 | at Boston University * | 7:00 | |
| 11/12 | at Maine * | 2:00 | |
| 11/17 | at Boston College * | TBA | |
| 11/18 | vs. BOSTON COLLEGE * | 3:00 | |
| 11/24 | vs. PENN STATE | 6:00 | |
| 11/25 | vs. QUINNIPIAC/YALE | 3:00 /6:00 | |
| 12/01 | vs. PROVIDENCE * | 7:00 | |
| 12/02 | at Providence * | 7:00 | |
| 12/08 | vs. NEW HAMPSHIRE * | 7:00 | |
| 12/31 | at Dartmouth | 3:00 | |
| 01/05 | at Merrimack * | 7:00 | |
| 01/06 | vs. BROWN | 3:00 | |
| 01/09 | at Northeastern * | TBA | |
| 01/13 | at New Hampshire * | 2:00 | |
| 01/14 | at New Hampshire * | 2:00 | |
| 01/19 | at Northeastern * | 7:00 | |
| 01/21 | vs. BOSTON UNIVERSITY * | 2:00 | |
| 01/26 | vs. MAINE * | 7:00 | |
| 01/27 | vs. MAINE * | 3:00 | |
| 02/02 | vs. NORTHEASTERN * | 7:00 | |
| 02/03 | vs. PROVIDENCE * | 3:00 | |
| 02/09 | at Vermont * | 7:00 | |
| 02/10 | at Vermont * | 4:00 | |
| 02/16 | vs. MERRIMACK * | 7:00 | |
| 02/17 | vs. MERRIMACK * | 2:00 | |
| | | | |
| --- | --- | --- | --- |
| Records | Hockey East | Non-League | Overall |
| Overall | 0- 0- 0 | 0- 0- 0 | 0- 0- 0 |
| Home | 0- 0- 0 | 0- 0- 0 | 0- 0- 0 |
| Away | 0- 0- 0 | 0- 0- 0 | 0- 0- 0 |
| Neutral | 0- 0- 0 | 0- 0- 0 | 0- 0- 0 |
| GF-GA | Hockey East | Non-League | Overall |
| Overall | 0- 0 | 0- 0 | 0- 0 |
| Home | 0- 0 | 0- 0 | 0- 0 |
| Away | 0- 0 | 0- 0 | 0- 0 |
| Neutral | 0- 0 | 0- 0 | 0- 0 |
UCONN 2017-2018 STATISTICS
UCONN 2017-2018 TEAM ROSTER
No.
Name
Cl
P
Hometown /
Last Team
3
Theresa Knutson
Sr
F
Onalaska, WI / Team Wisconsin Tier 1
4
Cydnee Cook
Sr
D
Winnipeg, MB / Shaftesbury Prep
6
Nora Maclaine
Jr
F
Easton, MA / Oliver Ames
7
Leah Lum
Sr
F
Richmond, BC / Pacific Steelers
8
Rebecca Lindblad
Jr
F
Winnetka, IL / New Trier
9
Natalie Snodgrass
Fr
F
Eagan, MN / Team USA U18
10
Lindsay Roethke
Sr
F
Buffalo, MN / Buffalo
13
Marisa Maccario
Sr
F
Marblehead, MA / Boston Shamrocks
14
Justine Fredette
Sr
F
Winnipeg, MB / Shaftesbury Prep
16
Taylor Wabick
Fr
D
Winnipeg, MB / Balmoral Hall Blazers
17
Savannah Bouzide
Fr
F
Amherstburg, ON / Southwest Wildcats
18
Shavonne Leacy
Fr
D
Hillsborough, NJ / MN Revolution
19
Leona Sim
So
F
Vancouver, BC / Pacific Steelers
21
Erica D'Errico
So
F
Concord, NH / Northern Cyclones
24
Morgan Fisher
So
G
Vernon, CT / Mid Fairfield Stars
27
Morgan Wabick
Fr
F
Winnipeg, MB / Balmoral Hall Blazers
28
Kayla Mee
Jr
D
Winnipeg, MB / Shaftesbury
31
Stephanie Maiolo
So
G
Enfield, CT / New England Jr. Falcons
41
Annie Belanger
Sr
G
Sherbrooke, ON / Team Quebec U-18
44
Tristyn Svetek
So
D
Burlington, ON / Nepean Jr. Wildcats
47
Jaime Fox
Jr
D
Unionville, ON / Unionville
61
Briana Colangelo
So
F
Whitby, ON / Whitby Jr. Wolves
71
Carley Olivier
Fr
D
Sudbury, ON / KW Rangers
74
Emily Reid
So
D
Whitby, ON / Whitby Jr. Wolves
91
Madison Badeau
Sr
F
Courtice, ON / Holy Trinity Catholic
97
Catherine Crawley
So
F
Washingtonville, NY / Mid Fairfield Stars
Captain: Justine Fredette
Assistant Captains: Leah Lum, Jaime Fox
Head Coach: Chris MacKenzie (Niagara '00)
Career Record (Entering 2017-2018): 74-106-29 (.423) (6 Seasons)
Record at Connecticut (Entering 2017-2018): 51-75-19 (.417) (4 Seasons)

Assistant Coach: Casey Handrahan (Niagara '04)
Assistant Coach: Carson Duggan (St. Lawrence '09)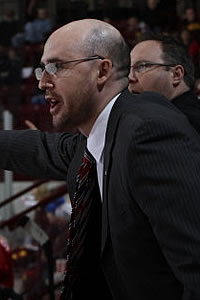 Head Coach:
Chris MacKenzie
Assistant Coaches:
Casey Handrahan, Jaclyn Hawkins
SID/Media:
Bobby Mullen
Arena Manager:
Mike Iacampo
Ticket Manager:
Gerry Lajoie
Hockey Trainer:
Alison O'Connor
Equipment Manager:
Heath Haddix
SID/Media:
Jennifer Greene, UConn Athletic Communications
Phone:
860-486-1496
Fax:
860-486-5085
E-Mail:
jennifer.greene@uconn.edu
Arena:
Freitas Ice Forum
Opened:
1998
Dimensions:
200 X 85
Arena Capacity:
2,000
Directions:
From I-84 – Take Exit 68 (Rte. 195). Take Rte. 195 South, following signs to the university. Once on campus, turn right onto North Eagleville Rd., then left onto Glenbrook Rd, which terminates at Hillside Rd. Turn left onto Hillside Rd. and then right onto Stadium Rd.
Click here for UConn Ticket Information
Official UConn Women's Hockey Website
Athletics Website:
UConnHuskies.com
Hockey-specific Twitter:
@UConnWHOC
Hockey-specific Facebook:
facebook.com/UConnWHOC
Hockey-specific Instagram:
UCONN_WIH
Athletics Twitter:
@UConnHuskies
Athletics Facebook:
facebook.com/UConnHuskies
Athletics Instagram:
uconnhuskies
Athletics YouTube:
UConnHuskies
Live Audio Streaming:
uconnhuskies.com/collegesportslive
Live Video Streaming:
uconnhuskies.com/collegesportslive