VERMONT 2017-2018 SCHEDULE AND RESULTS
0-0-0 Overall (0-0-0 Hockey East)
| | | | |
| --- | --- | --- | --- |
| 09/24 | vs. MONTRéAL | 2:00 | |
| 09/29 | vs. MCGILL | 6:00 | |
| 10/01 | at Providence * | 2:00 | |
| 10/07 | at Connecticut * | 2:00 | |
| 10/10 | vs. UNION | 7:00 | |
| 10/13 | at Quinnipiac | 6:00 | |
| 10/14 | at Quinnipiac | 7:30 | |
| 10/20 | vs. NEW HAMPSHIRE * | 7:00 | |
| 10/22 | vs. BOSTON COLLEGE * | 2:00 | |
| 10/27 | at Merrimack * | 7:00 | |
| 10/28 | at Merrimack * | 2:00 | |
| 11/03 | at New Hampshire * | 7:00 | |
| 11/04 | at New Hampshire * | 4:00 | |
| 11/10 | vs. CLARKSON | 2:00 | |
| 11/11 | at Clarkson | 3:00 | |
| 11/17 | vs. BOSTON UNIVERSITY * | 7:00 | |
| 11/18 | vs. BOSTON UNIVERSITY * | 4:00 | |
| 11/24 | vs. RIT | 7:00 | |
| 11/25 | vs. COLGATE/UMASS DARTMOUTH | TBA | |
| 12/02 | at Maine * | 12:00 | |
| 12/03 | at Maine * | 2:00 | |
| 12/09 | vs. MAINE * | 2:00 | |
| 12/29 | vs. To Be Announced | TBA | |
| 12/30 | vs. To Be Announced | TBA | |
| 12/31 | vs. To Be Announced | TBA | |
| 01/06 | vs. PROVIDENCE * | 4:00 | |
| 01/07 | vs. PROVIDENCE * | 2:00 | |
| 01/12 | at Minnesota | 6:07 CT | |
| 01/13 | at Minnesota | 4:07 CT | |
| 01/19 | at Boston College * | 7:00 | |
| 01/20 | at Boston College * | 2:00 | |
| 01/26 | vs. NORTHEASTERN * | 7:00 | |
| 01/27 | vs. NORTHEASTERN * | 4:00 | |
| 02/02 | at Boston University * | 7:00 | |
| 02/04 | vs. MERRIMACK * | 1:00 | |
| 02/09 | vs. CONNECTICUT * | 7:00 | |
| 02/10 | vs. CONNECTICUT * | 4:00 | |
| 02/16 | at Northeastern * | 7:00 | |
| | | | |
| --- | --- | --- | --- |
| Records | Hockey East | Non-League | Overall |
| Overall | 0- 0- 0 | 0- 0- 0 | 0- 0- 0 |
| Home | 0- 0- 0 | 0- 0- 0 | 0- 0- 0 |
| Away | 0- 0- 0 | 0- 0- 0 | 0- 0- 0 |
| Neutral | 0- 0- 0 | 0- 0- 0 | 0- 0- 0 |
| GF-GA | Hockey East | Non-League | Overall |
| Overall | 0- 0 | 0- 0 | 0- 0 |
| Home | 0- 0 | 0- 0 | 0- 0 |
| Away | 0- 0 | 0- 0 | 0- 0 |
| Neutral | 0- 0 | 0- 0 | 0- 0 |
VERMONT 2017-2018 STATISTICS
VERMONT 2017-2018 TEAM ROSTER
No.
Name
Cl
P
Hometown /
Last Team
1
Sierra Natzke
Fr
G
Pine, CO / Lansing Spartans
2
Kourtney Menches
Sr
F
Greer, SC / Shattuck-St. Mary's
4
Sammy Kolowrat
Jr
D
Prague, Czech Republic / Choate Rosemary Hall
7
Kristina Shanahan
Fr
F
Sainte-Anne-de-Bellevue, Québec / Dawson College
9
Olivia Kilberg
Fr
F
Edina, MN / Edina
10
Mackenzie MacNeil
Sr
F
Richmond Hill, ON / Toronto Aeros
11
Katherine Pate
Sr
D
Saco, ME / Assabet Valley
12
Amanda Drobot
Sr
D
Churchville, PA / New Jersey Colonials
14
Ali O'Leary
So
F
Reading, MA / Boston Shamrocks
16
Greta Close
Fr
D
Norwich, VT / Kimball Union Academy
19
Val Caldwell
Fr
F
Glenview, IL / Chicago Mission
21
Allie Granato
So
F
Plainfield, IL / Chicago Fury
23
Alyssa Gorecki
Jr
F
Monee, IL / Chicago Mission
24
Saana Valkama
Jr
F
Pirkkala, Finland / Ilves Tampere
25
Alyssa Holmes
Fr
F
Burlington, ON / Stoney Creek
26
Ève-Audrey Picard
So
F
Longueuil, Québec / Saint-Laurent Patriots
27
Taylor Willard
Sr
D
Naperville, IL / Chicago Mission
29
Taylor Flaherty
Jr
D
Lakeville, MN / Lakeville North
Previous College: North Dakota (2016-17)
33
Melissa Black
Jr
G
Newmarket, ON / Aurora Jr. Panthers
Previous College: Union (2015-16)
37
Sydney Scobee
So
G
Minnetrista, MN / Breck School
44
Anna Erickson
Fr
F
Stillwater, MN / Madison Capitols
77
Daria O'Neill
Jr
D
Cochrane, AB / Edge School
Captain: Taylor Willard
Assistant Captains: Sammy Kolowrat, Alyssa Gorecki
Head Coach: Jim Plumer (Colby College '83)
Career Record (Entering 2017-2018): 223-162-41 (.572) (14 Seasons)
Record at Vermont (Entering 2017-2018): 65-93-22 (.422) (5 Seasons)

Associate Head Coach: Jess Koizumi (Minnesota-Duluth '07)
Assistant Coach: Josh Liegl (Marian '01)
Director of Hockey Operations: Josh Graser (SUNY Cortland '15)
Athletic Trainer: Allison Shepherd (Central Connecticut State '92)
Strength and Conditioning Coach: Justin Smith (Colorado State '00)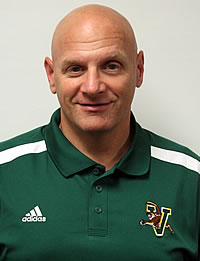 Head Coach:
Jim Plumer
Assistant Coaches:
Kelly Nash, Ashley Salerno
Hockey Trainer:
Allison Shepherd
Equipment Manager:
Charlie Mackey
SID/Media:
Ryan Gallant, Athletic Communications Assistant
Phone:
802-656-3065
E-Mail:
ryan.gallant@uvm.edu
Arena:
Gutterson Field House
Opened:
1963
Dimensions:
200 X 90
Arena Capacity:
4,003
Directions:
From I-89: Take Exit 14W into Burlington and stay in far right lane. Just past stop light (at Sheraton), bear right at East Avenue / Spear Street exit, and stay in lane for Spear Street. Take immediate left around jug handle, proceeding through the traffic light and onto Spear Street. Drive approximately 1/4 mile to Patrick Gym entrance, on your right.
Click here for Vermont Ticket Information
Official Vermont Women's Hockey Website
Athletics Website:
UVMAthletics.com
Hockey-specific Twitter:
@uvmwhockey
Hockey-specific Facebook:
facebook.com/uvmwomenshockey
Athletics Twitter:
@uvmathletics
Athletics Facebook:
facebook.com/uvmathletics
Athletics Instagram:
uvmathletics
Athletics YouTube:
uvmathletics
Athletics Snapchat:
uvm_athletics
Live Video Streaming:
CatamounTV.com