BOSTON COLLEGE SKATES PAST PROVIDENCE, 5-1
Benn Ferriero and Nathan Gerbe each score two goals for Eagles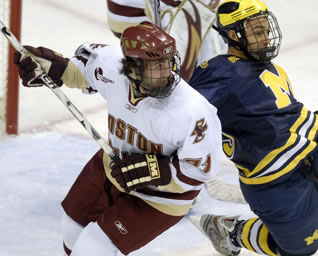 Benn Ferriero scored two goals for the Eagles
CHESTNUT HILL, Mass. - Junior Benn Ferriero and classmate Nathan Gerbe each scored twice and freshman goaltender John Muse recorded 32 saves to lead fourth-seeded Boston College to a 5-1 Hockey East quarterfinal victory over No. 5 seed Providence before 2,788 fans in Kelley Rink.
The Eagles scored twice in the first one minute, 18 seconds of the game and added consecutive scores in the second period for a 4-0 lead.
Senior Pat Gannon netted his fifth score of the season one minute into the contest and Ferriero doubled the BC lead just 18 seconds later.
Ferriero opened the scoring in the second period, registering his second goal at 2:03, which prompted a change in the PC net. Gerbe scored his first goal of two scores - a man-advantage tally - at 12:04.
PC junior Matt Taormina concluded the second-period scoring with the Friars lone tally with 1:43 remaining.
Gerbe netted the game's only goal of the third period, beating sophomore goalie Ryan Simpson on a breakaway at 13:47.
Simpson, who played the final 37:57, stopped 15 shots. Senior Tyler Sims totaled 13 saves in 22:03.
Boston College and Providence totaled 33 shots apiece.
The Eagles and will host the Friars in game two of the best-of-three quarterfinal series on Saturday, March 15 at 7 p.m.