BC CLAIMS EIGHTH HOCKEY EAST TITLE WITH 4-0 WIN OVER VERMONT
BC's Nathan Gerbe named Tournament MVP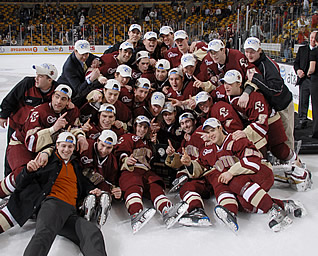 The Eagles claimed their eighth Hockey East title
BOSTON, Mass. - The Cinderella story continued for Boston College freshman goaltender John Muse (East Falmouth, Mass.) Saturday night, as he stopped all 29 shots he faced en route to leading the Eagles to their second consecutive Hockey East tournament championship and third in four seasons, 4-0 over the University of Vermont.
"Winning the three titles in four years is something," said BC Head Coach Jerry York, who also coached the Eagles to three championships in four seasons from 1998 to 2001. "It's something we're very very proud of and it's very hard to do."
It was only the second shutout in Hockey East championship game history and third of Muse's fine freshman season. Originally slated to play junior hockey this season, Muse was a late addition to the BC squad and ended up playing every minute in goal for the Eagles.
The opposing Catamounts controlled play for most of the first period, creating several quality scoring chances while keeping the Eagles mostly on the perimeter. Just six minutes into the game, junior center Brayden Irwin (Toronto, Ont.) nearly gave UVM the early lead when he appeared to glance one off the near post from just inside the left dot. The best chances waited until midway through the first, however, when freshman Jack Downing (New Canaan, Conn.) was stopped on a point-blank opportunity when he attempted to redirect a great centering pass from the corner, only to find a perfectly positioned Muse ready to calmly deflect the attempt with his left leg pad. Downing challenged Muse again minutes later, diving to get good wood on a 2-on-1 chance with sophomore linemate Colin Vock (Plymouth, Mich.), who sent a backhanded rebound shot along the ice, only to be stopped by Muse sliding quickly back across the crease.
At that point, the scoring chances favored UVM, 6-1, and the Catamounts would get another when they forced a turnover and got the puck to a streaking Brian Roloff (West Seneca, N.Y.) Roloff got all of wrister on Muse, but Muse was not fooled and stifled Roloff's rebound attempt as well.
Ultimately, Boston College drew first blood, as sophomore Ben Smith (Avon, Conn.) finished off a great rush by BC sniper Nathan Gerbe (Oxford, Mich.) Gerbe picked up the puck at his own blueline, chipped the puck around a Vermont defender and continued into the offensive zone. Cutitng back across the slot, he slid the puck back to sophomore blueliner Carl Sneep (Nisswa, Minn.), who fired a solid wrister towards a screened Joe Fallon (Bemidji, Minn.) Fallon got a piece of the puck but allowed it to trickle behind him, where Smith tapped in for an easy goal.
That was all the Eagles ended up needing to win this contest, as the shut the door for most of the second period. Five minutes in, junior blueliner Tim Kunes (Huntington, N.Y.) gave the Eagles a 2-0 lead when he intercepted a clearing pass at the blue line, took a stride and fired a strong wrist shot just over Fallon's blocker. Screened again, Fallon had little chance on the play, as Kunes collected his first goal of the season and just the third of his career, unassisted.
The teams swapped power play opportunities midway through the second period, but neither could convert. Boston College was actually able to hold UVM without a shot in the second period until the 13;30 mark, when Viktor Stalberg (Gothenburg, Sweden) chopped down a clearing pass and fired a wrister high off Muse's blocker. Just moments earlier, BC senior defenseman Mike Brennan (Smithtown, N.Y.) scored the hit of the night with a textbook hip check to upend a streaking Stalberg just inside the blueline. On his very next shift, Stalberg sent an excellent pass from behind the net right to Roloff in the slot, but Roloff sent it just wide.
BC was given another power play and converted to make it 3-0 in the final minute of the second period. Junior Kyle Kucharski (Saugus, Mass.) put on an aggressive forecheck, allowing Andrew Orpik (East Amherst, N.Y.) to intercept the puck and find Brian Gibbons (Braintree, Mass.) all alone on the far side for the 13th goal of his rookie season. With Fallon committed to Orpik, Gibbons made an easy switch to his forehand and slid the puck into the open net. Just moments earlier, UVM nearly scored on an unusual 3-on-1 shorthanded break, but trailer Slavomir Tomko (Zvolen, Slovakia) sent the set shot wide to the left.
Forced to start the third period with a three-goal deficit, the Catamounts opened up from their defensive style to create multiple scoring chances. In the first minute, Peter Lenes (Shelburne, Vt.) sprinted behind Muse with the puck and tried to stuff in a wraparound. Given a power play shortly thereafter, the Catamounts managed sustained pressure with the best chance coming when freshman Wahsontiio Stacey (Kahnawake, Que.) deftly repositioned a centering pass with his skate, but Roloff could not settle the rolling puck and it sailed over the net.
Gerbe nearly sealed the contest with the clock winding down, eluding an out-of-position UVM forward during a 4-on-4 and cutting in for a clean chance on Fallon. Fallon's stop merely delayed the inevitable, however, as Gerbe collected an empty-net goal at the 18:55 mark on an unselfish pass from Benn Ferriero (Essex, Mass.) who could have scored easily himself.
With nine points in this year's tournament, Gerbe was selected as the 2008 Bill Flynn Award winner (presented by Pure Hockey) as the tourney's Most Valuable Player, narrowly edging Muse for the honor.
"It's tough for a rookie to come in and play every minute," said Gerbe of Muse. "But he's played well throughout. Our team has confidence in him down the stretch."
Gerbe and Muse were joined on the all-tournament team by fellow Eagles Brennan, Ferriero and Sneep, and by UNH forward Bobby Butler. For Ferriero, it marked his second consecutive appearance on the all-tournament team.