Friday, November 13, 2009
MERRIMACK SKATES PAST BOSTON UNIVERSITY, 6-3
Junior Fraser Allan posts three assists for Warriors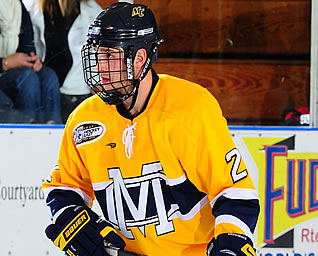 Fraser Allan had three assists for the Warriors
NORTH ANDOVER, MA. - The Merrimack hockey team rattled off five unanswered goals, improving to 6-0 at home with a 6-3 victory over the defending National Champion Boston University in front of a sellout crowd of 2,990 at Lawler Arena Friday night.
With the win, Merrimack improves to 6-3 overall, 3-1 in Hockey East, while the Terriers fall to 2-6 overall, 1-5 in the conference. The teams will rematch Saturday night at Agganis Arena with a 7 p.m. faceoff.
The Warriors' win is their first over Boston University since February 12, 2004, snapping a 15-game losing streak. Merrimack snapped a 22-game skid against Boston College on November 1.
After Wade Megan netted his first collegiate tally 12:30 into the first, the Warriors responded as freshman Brandon Brodhag tallied his third goal in as many games as he put home a rebound off a Chris Barton shot at 17:10 of the first.
The hosts took the lead for good 54 seconds into the second as freshman Stephane Da Costa found a loose puck in front of Kieran Millan and fired it home for his seventh of the season, assisted by Simon Demers and Jeff Velleca.
Matt Moulakelis netted his first since February of 2007 as he took a pretty feed from Elliott Sheen and redirected it into the net just 4:15 later to give Merrimack the two-goal lead.
Merrimack's top-ranked penalty kill then went to work, killing off four minor penalties over a 1:57 span and killed them all as Joe Cannata (Wakefield, MA) made 17 saves on BU's 12 power plays tonight. In all, the Warriors killed 6:24 of a two-man down situation, 4:24 in the second period.
Kyle Bigos picked up the eventual game-winner at 2:34 of the third on the power-play as he wristed a shot through traffic from the point, getting his second of the year, with Fraser Allan earning the primary assist, his third of the night. Sheen ended Millan's night 22 seconds later taking feeds from John Jamieson and Brandon Sadlowski and burying it for his third of the season.
The Terriers added two late power-play goals, with Brodhag adding his second of the game in between, assisted by Joe Cucci and Francois Ouimet.
Merrimack finished 2-for-7 on the man advantage, with the Terriers converting on three of 12 chances.
Cannata stopped 31 shots in the victory, earning the second star of the night, as both teams registered 34 shots while combining for 70 penalty minutes.
Allan (three assists), Brodhag (two goals), Cucci (two assists), and Sheen (goal, assist) all tallied multiple-point performances in the victory, as the hosts have scored at least four goals in each of their last five home games.
A sellout crowd of 2,990 watched the Warriors improve to 6-0 at home, marking the first sellout since February 9, 2002.