PROVIDENCE UPENDS BOSTON UNIVERSITY, 3-1
Mark Fayne and Daniel New each post goal and assist for Friars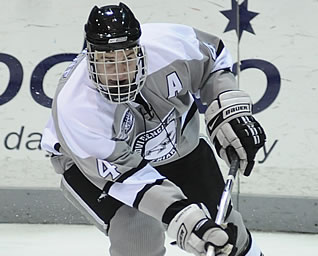 Mark Fayne had a goal and an assist for the Friars
PROVIDENCE, R.I. - The Providence College men's hockey team scored three times in the second period, including two power-play tallies, en route to a 3-1 victory over Boston University Friday night in a Hockey East game at Schneider Arena. With the win, the Friars ended a six-game losing skid and improved to 8-10-1 overall and 3-8-1 in league play. The Terriers fell to 6-10-3 overall and 4-8-2 in Hockey East.
Senior Mark Fayne (Sagamore Beach, Mass.) opened the scoring at 4:20 of the second period with a power-play goal. Sophomore Daniel New (White Plains, N.Y.) slid a pass at the high slot to Fayne, who ripped a slap shot which took a deflection and into the net for Fayne's fourth goal of the season. Junior Kyle MacKinnon (Walnut, Calif.) also assisted on the goal. At 11:37, senior Greg Collins (Hingham, Mass.) gave PC a 2-0 lead as he rifled wrist shot over Kieran Millan's right shoulder. Classmate David Cavanagh (Warwick, R.I.) assisted on the goal. New increased PC's lead to 3-0 less than two minutes later as he scored on the power play at 13:01. New's shot from the point bounced off a BU defenseman and into the net.
The Terriers cut the lead to 3-1 at 7:47 of the third period as Ross Gaudet scored his fourth goal of the season. Joe Pereira collected the puck behind the PC net and slipped a back hander to the slot to Gaudet who fired a one timer past PC sophomore goalie Alex Beaudry (Cumberland, Ont.). That was all that Beaudry would allow as he finished with 28 saves. Millan stopped 21 shots for BU.
The Friars are back in action on Saturday, January 16 when they host No. 16 Maine at Schneider Arena, while the Terriers host Merrimack at 7:00 p.m.