Saturday, February 13, 2010
NORTHEASTERN SKATES PAST UMASS TO SWEEP WEEKEND, 6-3
Wade MacLeod leads Huskies with two goals and assist in victory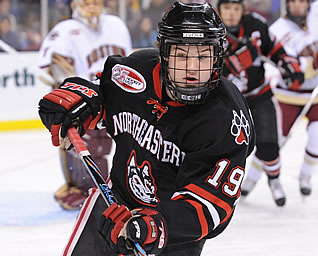 Wade MacLeod had two goals and an assist for the Huskies
The Northeastern hockey team strung together its season-best fourth-consecutive victory with a wild 6-3 victory against #18 Massachusetts on Saturday night at Matthews Arena. The Huskies special teams joined forces, scoring three extra-man markers on eight chances and killed off all six Minutemen powerplay opportunities. NU was powered by seven multi-point performances including two powerplay goals and a helper from junior Wade MacLeod.
UMass stockpiled 25 penalty minutes in the third period, alone, and finished with 11 infractions for 33 combined minutes. The Huskies took nine penalties in the triumph.
Rookie Chris Rawlings stopped 34 UMass shots in his 14th win of the season. The North Delta, British Columbia native shutout Massachusetts for 76:39 until Michael Marcou broke the stretch late in the first period. UMass netminder Paul Dainton turned away 31 shots as he slips to 13-11-0.
Northeastern struck first on a quick one-time sniper from rookies Drew Daniels to Robbie Vrolyk at 5:43 of the first period. Senior Greg Costa maneuvered the puck around the net and tried to bank in a wrap-around, but it caromed off the side of the net. D. Daniels scooped up the loose rebound and snapped it out to Vrolyk waiting in front for the early 1-0 edge.
UMass wiped Vrolyk's tally clean at 16:39 with a similar tally from M. Marcou. Michael Lecomte wrangled the puck free down low and zipped it out to the goalmouth where Marcou positioned his stick to break Rawlings scorless streak against UMass for the 1-1 stalemate.
MacLeod accounted for NU's first of three powerplay markers at 7:41 of the second after Casey Wellman was hauled off for high-sticking at 6:48. It only took the Huskies a couple of cycles before MacLeod redirected a perfect dish from junior Tyler McNeely on Dainton's doorstep for the 2-1 edge.
Northeastern's defense stood tall on Massachusetts' next possession and turned it into a 3-1 lead from senior Kyle Kraemer's laser at 10:17. Junior Steve Silva dropped off a pass for freshman Garrett Vermeersch on the far boards with a clear lane ahead. Vermeersch scoped out Kraemer skating into the slot and delivered a crisp pass that was ripped past Dainton for the two-goal pad.
James Marcou's tripping penalty at 1:09 of the third period opened up controlled chaos for the next 20 minutes. Vrolyk buried his second-career powerplay tally on a great dish from McNeely on the near post. McNeely wheeled the puck around the net from a D. Daniels pass and discovered a flanking Vrolyk at 3:07 to go up, 4-1. Vrolyk torched Dainton with a precise wrister to up the advantage to three.
Over a minute later, MacLeod stripped the puck in Northeastern's zone and streaked down the far boards with little pressure. On the breakout, newcomer Jake Newton trailed to MacLeod's right and cut up at the right time for the perfect one-timer tally at 4:14 to put a four-goal buffer in between the Minutemen.
The Minutemen cashed in on a delayed penalty at 11:39 to creep within three, 5-2. Jake Hobbs beat Rawlings with a snap shot off of J. Marcou's rebound for the extra attacker marker, but MacLeod quickly negated it with his second powerplay blast of the game. Vermeersch accepted a pass from Newton and wound up for a rip, but his stick broke in the process. The puck squirted over to MacLeod on the far post and he buried it for insurance at 12:53.
Will Ortiz added a shorthanded goal on Lecomte's five-minute major and game disqualification at 15:02, but the Minutemen's deficit was too vast to overcome.
Northeastern vaulted into sixth place on Saturday night. The Huskies shot over UMass Lowell and Vermont, but the River Hawks and Catamounts are just one and two points behind, respectively, with six regular season games left to go.
The Huskies turn their attention to cross-town foe Boston College for a Friday - Sunday set. The Friday, Feb. 19th game will take place at Matthews Arena at 7 p.m. but NU will have a day in between the second fray. On Sunday, Northeastern and Boston College will tangle at Conte Arena on ESPNU scheduled for a 3 p.m. puck drop.
Game Notes
- Northeastern is 12-1-1 when it scores first.
- First time this season the Huskies boasted seven multi-point performers (MacLeod, Kraemer, Newton Vrolyk, Vermeersch, McNeely and D. Daniels) - NU had five skaters post two points or more against Dartmouth on Jan. 2 and UMass Lowell on Jan. 9).
- The Huskies are riding a season-best four-game winning streak and five-game Hockey East winning stretch.
- Goaltender Chris Rawlings held UMass scoreless for 76:39.
- Saturday night's win was the first time three Huskies posted two assists in a game this year. Vermeersch registered his third two-assist outing of the season while Drew Daniels recorded his first multi-point outing of the year. McNeely posted three helpers against UMass Lowell on Jan. 9.
- Vrolyk notched his first-career multi-point game by way of two lamplighters. Vrolyk's tear started by potting the second goal against UMass on Friday, Jan. 12. The Boylston, Mass. native is riding his first-career pointstreak heading into the Boston College game.
- MacLeod has notched eight points in his last four games while McNeely has logged eight in his last five.
- MacLeod secured his eight multi-pointer of the year and 22nd of his career. Tonight was the first time this season MacLeod scored two goals and an assist.
- McNeely notched his fifth multi-point game this year and 12th of his career.
- D. Daniels put together his first-career two-point game.
- Newton scored his first goal since Providence on Jan. 19.