Saturday, February 14, 2015
Boston College Splits Weekend Series With 6-5 Win Over Vermont
Sophomore defenseman Ian McCoshen scores two goals for Eagles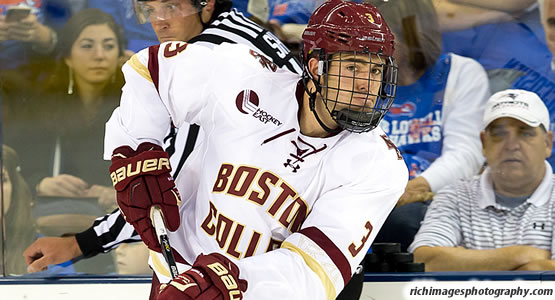 Sophomore defenseman Ian McCoshen scored two goals for the Eagles
| | | | | | | |
| --- | --- | --- | --- | --- | --- | --- |
| Prd | Time | Team | Score | Type | Scored By | Assists |
| 1st | 4:05 | BC | 1-0 | PP | Ian McCoshen (3) | Noah Hanifin/14, Alex Tuch/13 |
| 1st | 5:17 | BC | 2-0 | EV | Teddy Doherty (6) | Scott Savage/4, Cam Spiro/5 |
| 1st | 8:46 | VER | 1-2 | EV | Malcolm McKinney (4) | Jonathan Turk/8, Ori Abramson/1 |
| 1st | 17:55 | BC | 3-1 | EV | Ian McCoshen (4) | Ryan Fitzgerald/8, Austin Cangelosi/12 |
| 1st | 19:50 | VER | 2-3 | EV | Travis Blanleil (1) | Mike Paliotta/21, Dan Senkbeil/5 |
| 2nd | 1:44 | BC | 4-2 | EV | Quinn Smith (7) | Scott Savage/5, Steve Santini/3 |
| 2nd | 10:43 | BC | 5-2 | PP | Austin Cangelosi (6) | Teddy Doherty/14, Michael Matheson/17 |
| 3rd | 5:23 | VER | 3-5 | EV | Jonathan Turk (6) | Malcolm McKinney/1, Anthony Petruzzelli/5 |
| 3rd | 10:35 | BC | 6-3 | EV GW | Alex Tuch (12) | Zach Sanford/15 |
| 3rd | 14:05 | VER | 4-6 | EV | Brady Shaw (13) | Mike Paliotta/22, Jake Fallon/14 |
| 3rd | 19:36 | VER | 5-6 | EV EA | Brady Shaw (14) | - |
| | | | | |
| --- | --- | --- | --- | --- |
| Scoring | 1st | 2nd | 3rd | Final |
| Vermont | 2 | 0 | 3 | 5 |
| Boston College | 3 | 2 | 1 | 6 |
| | | | | |
| --- | --- | --- | --- | --- |
| Shots on Goal | 1st | 2nd | 3rd | SOG |
| Vermont | 15 | 13 | 17 | 45 |
| Boston College | 15 | 10 | 6 | 31 |
| | | | |
| --- | --- | --- | --- |
| Team Stats and Records | PP | PIM | SHGF |
| Vermont (17-11-2) | 0/2 | 2/4 | 0 |
| Boston College (18-10-2) | 2/2 | 2/4 | 0 |
| | | | | | | |
| --- | --- | --- | --- | --- | --- | --- |
| Vermont Goaltending | MIN | GA | 1 | 2 | 3 | Saves |
| Mike Santaguida | 30:43 | 5 | 12 | 6 | 0 | 18 |
| Brody Hoffman (L, 11-5-2) | 26:49 | 1 | 0 | 2 | 5 | 7 |
| Empty Net | 2:28 | 0 | | | | |
| | | | | | | |
| --- | --- | --- | --- | --- | --- | --- |
| Boston College Goaltending | MIN | GA | 1 | 2 | 3 | Saves |
| Thatcher Demko (W, 16-9-2) | 60:00 | 5 | 13 | 13 | 14 | 40 |
CHESTNUT HILL, Mass. - Twelve of 18 skaters scored at least one point while sophomore defenseman Ian McCoshen offered up a pair of goals in No. 10 Boston College's 6-5 response on Saturday afternoon after losing to No. 17 Vermont in overtime the previous night. The Eagles prevailed in an offensive onslaught as four Eagles tallied multiple points, including Alex Tuch's game-winning goal at 10:35 of the third period at Kelley Rink.
Along with McCoshen's and Tuch's two-point efforts, sophomore Austin Cangelosi and junior Teddy Doherty both offered up a goal and an assist. Cangelosi's goal, like McCoshen's, came via the power play as Boston College went a perfect 2-for-2 with the extra man. The Eagles' penalty-killing unit kept the Catamounts at bay on both their chances.
Sophomore goaltender Thatcher Demko was tested heavily, thwarting 40 of UVM's 45 shots. BC lobbed 31 shots total, 23 on Mike Santaguida and eight on Brody Hoffman. Vermont head coach Kevin Sneddon lifted Santaguida after Cangelosi's power play goal at 10:43 of the second frame.
The opening 20 minutes was void of staunch defense as the teams combined for a five-goal first period.
McCoshen's first of the day came via the power play after UVM's Ori Abramson was hauled off for tripping at 3:41. On the ensuing exchange, the Eagles dominated the draw and cycled up top. Tuch popped the disc up to freshman Noah Hanifin within the blue line who then quickly relayed it over to McCoshen for the one-timer. McCoshen's angle duped Santaguida at 4:05 for the 1-0 power play goal.
Doherty doubled the lead over a minute later a quick wrister from the left dot at 5:17.
Senior Cam Spiro won a battle along the near side and flung it behind the net to sophomore blue liner Scott Savage. With Doherty cutting in, sophomore blue liner Scott Savage backhanded the pass to Doherty in the slot for the successful bang-bang play and a 2-0 Eagle edge.
Vermont cut its deficit in half at 8:46, just five seconds after freshman Zach Sanford's hooking call let out at 8:41.
Abramson ran the puck up the wall to Jonathan Turk in the corner. Malcolm McKinney discovered some ample room in front and plowed the feed from Turk past Demko to make it a 2-1 affair.
McCoshen reclaimed the Eagles' two-goal advantage with his second marker at 17:55. Cangelosi broke up Vermont's forecheck behind Santaguida and poke checked the puck out to sophomore Ryan Fitzgerald in the slot. Fitzgerald did not have much of an angle, so he deferred to McCoshen between the circles. McCoshen corralled the pass and blasted it past Santaguida to make it 3-1, BC.
With 10 seconds remaining in the first frame, the Catamounts negated McCoshen's second tally after Rob Darrar tipped a pass in front. Dan Sankbeil dug a puck out of a scrum to the top of the blue line where Mike Paliotta was in position to redirect it towards Demko. As Darrar was cutting to the net, he stuck his stick out on Paliotta's pass and managed to squeak it by Demko at 19:50 to make it cut it back to a goal, 3-2.
Boston College jumped on Vermont early to get back at UVM's late goal in the second with a senior Quinn Smith marker at 1:44 of the second stanza.
Sophomore defenseman Steve Santini busted up a Vermont cycle attempt in the neutral zone and the puck caromed up to Savage on BC's blue line. With Smith already circling back, Savage connected on the backhand lob and Smith skated in on Santaguida and beat him far side with a precise snap shot for the 4-2 advantage.
Boston College added its second power play tally of the evening on a tic-tac-toe play capped by Cangelosi at 10:43. The Eagles capitalized on a Mike Paliotta tripping call logged at 10:16 of the second period.
Junior captain Michael Matheson sent the cycling pass over to Doherty above the left dot. Doherty offered a head fake towards the net and then opted to send the feed towards Cangelosi parked on the crease. Wedged in between Santaguida and his defenseman, Cangelosi redirected the pass to the back of the net for a 5-2 BC lead.
Vermont trimmed the margin to two goals once again on a Turk tally at 5:23 of the third period.
Anthony Petruzzelli was victorious in a corner battle and eventually kicked it out to McKenney on the left dot. McKenny deferred to Turk on the far post and converted the layup one-timer to make it 5-3.
The Eagles' onslaught continued after Sanford scooped up a wayward Kevin Irwin blast deep in BC territory. Sanford shook off his defenseman and relayed the puck through the neutral zone to Tuch in stride. Tuch accepted it on the blue line and skated in on Hoffman, maneuvering the puck around UVM's backstopper at 10:35 for the 6-3 lead.
At 14:05 of the third, Brady Shaw was the beneficiary of a Paliotta blast at 14:05. Paliiotta hurled a slap shot at Demko on a dish from Jake Fallon high in the zone. Demko made the stop in traffic, but Shaw crept around the post and swatted the loose puck in to give Saturday's goal total a double-digit look, 6-4.
Vermont tried to reenact Boston College's late-game heroics from Friday night but came up just short. Shaw scored his second-straight tally on a blast from out deep with 24.3 seconds left, but the Eagles held their ground in the waning moments to preserve the 6-5 victory.
Boston College will have all week to prepare for a one-game showdown against UMass Lowell on Friday, Feb. 20, at Kelley Rink. Game time is scheduled for 7:30 p.m. Boston College, in second place and four points behind Boston University, is two points clear of third-place Lowell. That following Monday, Feb. 23, the Eagles will finally close out the 63rd annual Beanpot at 4:30 p.m. at TD Garden.
Game Notes
- Sophomore defenseman Ian McCoshen turned in his first-career two-goal game and fifth-career two-point performance. The Faribault, Minn., native also scored his second power play goal of the season.
- Junior defenseman Teddy Doherty and Ryan Fitzgerald both met the 50-point plateau for their careers on Saturday evening. Doherty now has nine goals and 42 helpers for 51 points in 96 career games played while Fitzgerald hit the benchmark (26-24-50) in his 70th-career game.
- For the second time this season, Boston College has scored a power play goal in three-consecutive games (Feb. 6-14). The last time BC turned the trick was from Oct. 18-25.
- Boston College has now scored a pair of power play goals in four games this season. Along with tonight's 2-for-2 showing, the Eagles did so against UMass (Oct. 25), Brown (Jan. 2) and UConn (Jan. 24).
- Austin Cangelosi has scored a power play goal in consecutive games and becomes the second Eagle this season with the distinction. Adam Gilmour scored power play goals on Jan. 2-3.
- Quinn Smith scored his first goal since the Michigan game on Dec. 13, 2014, breaking a 12-game draught.
- Scott Savage notched his first multi-point outing with a pair of assists. The San Clemente, Calif., native recorded three multi-assist performances as a freshman.
- Boston College has scored six goals on three occasions this season. Including tonight's performance, BC tallied six goals against RIT and Colorado College in back-to-back nights on Oct. 18 and Oct. 24, respectively.
- The 11-goal total in Saturday's victory marks the most combined goals in a game since the Eagles posted an 11-0 victory against Army on Nov. 10, 2013.