Boston University Skates Past Merrimack College, 6-2
Senior forward Evan Rodrigues has goal and three assists for Terriers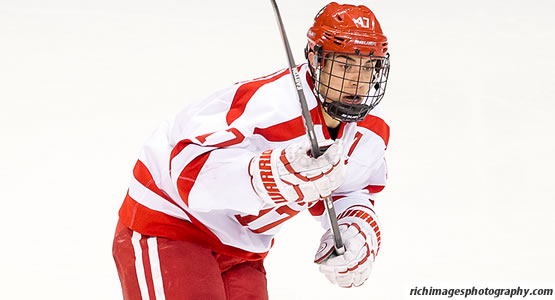 Senior forward Evan Rodrigues had a goal and three assists for the Terriers
| | | | | | | |
| --- | --- | --- | --- | --- | --- | --- |
| Prd | Time | Team | Score | Type | Scored By | Assists |
| 1st | 8:11 | MER | 1-0 | EV | Jace Hennig (13) | Vinny Scotti/6 |
| 1st | 9:44 | BU | 1-1 | PP | Robbie Baillargeon (3) | Brandon Fortunato/15, Brandon Hickey/10 |
| 2nd | 7:23 | BU | 2-1 | EV | Danny O'Regan (20) | Evan Rodrigues/33, Jack Eichel/38 |
| 2nd | 14:11 | BU | 3-1 | EV GW | Jack Eichel (19) | Evan Rodrigues/34 |
| 2nd | 17:35 | BU | 4-1 | EV | Evan Rodrigues (18) | Matt Grzelcyk/23, Brien Diffley/6 |
| 2nd | 18:49 | BU | 5-1 | EV | Matt Lane (7) | Brien Diffley/7, Robbie Baillargeon/12 |
| 3rd | 9:23 | BU | 6-1 | PP | Jack Eichel (20) | Evan Rodrigues/35, Ahti Oksanen/11 |
| 3rd | 10:20 | MER | 2-6 | EV | Jace Hennig (14) | - |
| | | | | |
| --- | --- | --- | --- | --- |
| Scoring | 1st | 2nd | 3rd | Final |
| Merrimack | 1 | 0 | 1 | 2 |
| Boston University | 1 | 4 | 1 | 6 |
| | | | | |
| --- | --- | --- | --- | --- |
| Shots on Goal | 1st | 2nd | 3rd | SOG |
| Merrimack | 4 | 11 | 4 | 19 |
| Boston University | 18 | 20 | 8 | 46 |
| | | | |
| --- | --- | --- | --- |
| Team Stats and Records | PP | PIM | SHGF |
| Merrimack (16-17-4) | 0/2 | 11/25 | 0 |
| Boston University (22-7-5) | 2/8 | 5/10 | 0 |
| | | | | | | |
| --- | --- | --- | --- | --- | --- | --- |
| Merrimack Goaltending | MIN | GA | 1 | 2 | 3 | Saves |
| Rasmus Tirronen (L, 12-13-3) | 60:00 | 6 | 17 | 16 | 7 | 40 |
| | | | | | | |
| --- | --- | --- | --- | --- | --- | --- |
| Boston University Goaltending | MIN | GA | 1 | 2 | 3 | Saves |
| Matt O'Connor (W, 19-3-4) | 59:52 | 2 | 3 | 11 | 3 | 17 |
| Empty Net | 0:08 | 0 | | | | |
BOSTON - The third-ranked and top-seeded Boston University men's ice hockey team posted a 6-2 victory over 11th-seeded Merrimack in game one of the teams' Hockey East quarterfinal series on Friday evening at Agganis Arena.
Senior Evan Rodrigues had a four-point night, posting a goal and three assists while freshman Jack Eichel added two goals and a helper.
BU improves to 22-7-5 on the year while the Warriors fall to 16-17-4. The two teams will meet on Saturday (March 14) at 4 p.m. for game two of the best-of-three series. The game will be broadcast live on NESN and TSN2.
Jace Hennig scored both Merrimack goals, potting the first and last goals of the game. The freshman gave the visitors a 1-0 lead 8:11 into the contest but BU got a power-play equalizer from sophomore Robbie Baillargeon 93 seconds later to kick off a run of six straight goals by the Terriers.
BU broke open the game with a four-goal second period. Junior Danny O'Regan used his 20th goal of the year to give the Terriers the lead for goo at 7:23 of the middle stanza.
Eichel and Rodrigues followed with tallies at the 14:11 and 17:35 marks, respectively, and junior Matt Lane made it 5-1 with just over a minute left in the second.
Rodrigues found Eichel for a power-play marker midway through the third before Hanning created the 6-2 final with a goal less than a minute later.
BU held a commanding 46-19 shot advantage as junior Matt O'Connor picked up his 19th win of the season with a 17-save effort. Rasmus Tirronen posted 40 saves for the Warriors.
The Terriers went 2-for-8 on the power play and killed off both of Merrimack's chances with the man advantage, which each occurred in the first period.