Monday, February 23, 2015
Grzelcyk Sends Boston University To 4-3 Overtime Win Over Northeastern In Beanpot Final
Junior defenseman Matt Grzelcyk scores two goals - including game-winner - for Terriers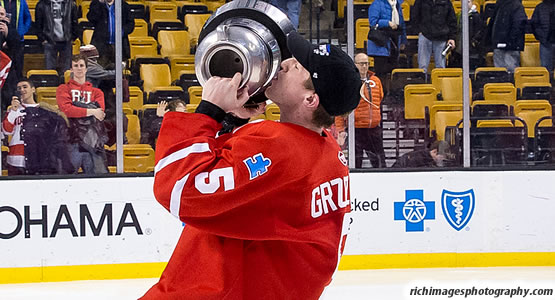 Junior defenseman Matt Grzelcyk scored two goals for the Terriers
| | | | | | | |
| --- | --- | --- | --- | --- | --- | --- |
| Prd | Time | Team | Score | Type | Scored By | Assists |
| 1st | 2:19 | BU | 1-0 | EV | Mike Moran (4) | Nikolas Olsson/4 |
| 1st | 2:47 | NOE | 1-1 | EV | John Stevens (4) | Garret Cockerill/8, Nolan Stevens/7 |
| 2nd | 5:31 | BU | 2-1 | EV | Robbie Baillargeon (2) | Cason Hohmann/17, Ahti Oksanen/8 |
| 2nd | 14:18 | BU | 3-1 | EV | Matt Grzelcyk (6) | Nikolas Olsson/5, Matt Lane/8 |
| 3rd | 9:18 | NOE | 2-3 | EV | Kevin Roy (17) | Clay Witt/1, Garret Cockerill/9 |
| 3rd | 10:53 | NOE | 3-3 | EV | Dustin Darou (3) | Nolan Stevens/8, Mike Szmatula/15 |
| OT | 0:51 | BU | 4-3 | PP GW | Matt Grzelcyk (7) | Evan Rodrigues/30, Jack Eichel/34 |
| | | | | | |
| --- | --- | --- | --- | --- | --- |
| Scoring | 1st | 2nd | 3rd | OT | Final |
| Boston University | 1 | 2 | 0 | 1 | 4 |
| Northeastern | 1 | 0 | 2 | 0 | 3 |
| | | | | | |
| --- | --- | --- | --- | --- | --- |
| Shots on Goal | 1st | 2nd | 3rd | OT | SOG |
| Boston University | 11 | 12 | 10 | 1 | 34 |
| Northeastern | 15 | 7 | 11 | 0 | 33 |
| | | | |
| --- | --- | --- | --- |
| Team Stats and Records | PP | PIM | SHGF |
| Boston University (20-6-5) | 1/2 | 3/6 | 0 |
| Northeastern (15-13-4) | 0/3 | 3/14 | 0 |
| | | | | | | | |
| --- | --- | --- | --- | --- | --- | --- | --- |
| Boston University Goaltending | MIN | GA | 1 | 2 | 3 | OT | Saves |
| Matt O'Connor (W, 17-3-4) | 60:51 | 3 | 14 | 7 | 9 | 0 | 30 |
| | | | | | | | |
| --- | --- | --- | --- | --- | --- | --- | --- |
| Northeastern Goaltending | MIN | GA | 1 | 2 | 3 | OT | Saves |
| Clay Witt (L, 10-7-2) | 60:51 | 4 | 10 | 10 | 10 | 0 | 30 |
BOSTON - Junior captain Matt Grzelcyk scored two goals, including one on the first shot of overtime, to lift the No. 4 Boston University men's ice hockey team past Northeastern, 4-3, for its 30th Beanpot title on Monday evening at TD Garden.
The Terriers took a 3-1 into the second intermission, but the Huskies rallied with goals less than two minutes apart midway through the third to force overtime.
Just nine seconds into the extra session, junior Danny O'Regan drew a hooking penalty on Northeastern's Matt Benning. Just 42 seconds later, the Beanpot was back in BU's hands for the first time since 2009.
A shot by Grzelcyk from above the left circle beat Huskies' netminder Clay Witt near side at the 51-second mark to send the BU bench and crowd into a frenzy. Senior Evan Rodrigues and freshman Jack Eichel assisted on the goal, which was Grzelcyk's sixth in the past five games.
The performance earned the Charlestown native tournament MVP honors. Grzelcyk's dad, John, has worked at TD Garden for over 40 years as a member of the arena's "bull gang."
With the victory, BU reached the 20-win mark on the year, improving to 20-6-5, while the Huskies fell to 15-13-4. Junior Matt O'Connor and Witt each made 30 stops on the night.
The Terriers never trailed in the contest, as junior Mike Moran took advantage of a Northeastern miscue along the boards and opened the scoring on a breakaway just 2:19 into the contest. The Huskies, however, got a quick equalizer just 28 seconds later from John Stevens.
Sophomore Robbie Baillargeon broke a 1-1 tie at 5:31 of the second when he followed up a rebound at the foot of the left circle for his first tally since the opening night of the season. Senior Cason Hohmann and junior Ahti Oksanen assisted on the play, which came off a rush.
BU took the game's lone two-goal lead a Grzelcyk slapper found the back of the net with 5:42 left in the middle stanza. Freshman Nikolas Olsson set up an offering for Grzelcyk at the left point and the junior tucked his blast inside the far post.
Despite the fact that the Terriers have dominated third-period play all season long, the Huskies did not let that deter them from making a comeback.
Kevin Roy continued his strong play of late when he potted his 17th tally of the year at 9:18 of the third. Dustin Darou followed that up by scoring his third goal of the season - and his second of this year's Beanpot - at the 10:53 mark to make it a 3-3 affair.
BU only had two power-play chances, but used the latter to end the game. All three of Northeastern's power plays occurred in the second period and the Terriers were able to kill them all off.