Saturday, February 14, 2015
Northeastern Earns Weekend Sweep With 6-1 Win Over UConn
Senior forwards Adam Reid and Torin Snydeman score two goals each for Northeastern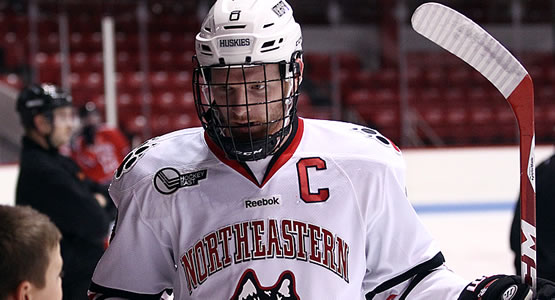 Senior forward Adam Reid scored two goals for Northeastern
| | | | | | | |
| --- | --- | --- | --- | --- | --- | --- |
| Prd | Time | Team | Score | Type | Scored By | Assists |
| 1st | 9:05 | NOE | 1-0 | EV | Trevor Owens (3) | Dalen Hedges/21, Mike McMurtry/15 |
| 2nd | 2:45 | NOE | 2-0 | EV GW | Torin Snydeman (6) | Zach Aston-Reese/9, Matt Benning/20 |
| 2nd | 5:48 | CON | 1-2 | EV | Shawn Pauly (4) | Corey Ronan/7 |
| 2nd | 15:21 | NOE | 3-1 | EV | Dalen Hedges (8) | Mike McMurtry/16, Kevin Roy/19 |
| 2nd | 17:33 | NOE | 4-1 | EV | Adam Reid (3) | Brendan Collier/5, Kevin Roy/20 |
| 3rd | 3:11 | NOE | 5-1 | EV | Adam Reid (4) | Brendan Collier/6, Kevin Roy/21 |
| 3rd | 18:49 | NOE | 6-1 | EV | Torin Snydeman (7) | John Stevens/9 |
| | | | | |
| --- | --- | --- | --- | --- |
| Scoring | 1st | 2nd | 3rd | Final |
| Northeastern | 1 | 3 | 2 | 6 |
| Connecticut | 0 | 1 | 0 | 1 |
| | | | | |
| --- | --- | --- | --- | --- |
| Shots on Goal | 1st | 2nd | 3rd | SOG |
| Northeastern | 6 | 11 | 14 | 31 |
| Connecticut | 4 | 10 | 17 | 31 |
| | | | |
| --- | --- | --- | --- |
| Team Stats and Records | PP | PIM | SHGF |
| Northeastern (14-11-4) | 0/4 | 3/6 | 0 |
| Connecticut (9-15-7) | 0/3 | 4/8 | 0 |
| | | | | | | |
| --- | --- | --- | --- | --- | --- | --- |
| Northeastern Goaltending | MIN | GA | 1 | 2 | 3 | Saves |
| Derick Roy (W, 5-5-2) | 60:00 | 1 | 4 | 9 | 17 | 30 |
| | | | | | | |
| --- | --- | --- | --- | --- | --- | --- |
| Connecticut Goaltending | MIN | GA | 1 | 2 | 3 | Saves |
| Rob Nichols (L, 8-15-7) | 60:00 | 6 | 5 | 8 | 12 | 25 |
HARTFORD, Conn. - The UConn men's hockey team dropped their weekend Hockey East series with Northeastern, falling Saturday afternoon 6-1 at the XL Center in Hartford. Northeastern was led by seniors Adam Reid and Torin Snydeman who each scored a pair of goals in the win. NU notched their sixth-straight win and remained unbeaten in their last eight games.
UConn junior Shawn Pauly (Bellingham, Wash.) provided the only Husky goal, scoring his fourth on the season in the second period. The Huskies fell to 9-15-7 overall and 6-9-4 in Hockey East with the loss.
Northeastern's leading point scorer Kevin Roy finished the afternoon with three assists to give him 37 points on the season. Junior Mike McMurtry and sophomore Brendan Collier each finished with a pair of assists. In goal, sophomore Derick Roy made 30 saves to pick-up his fifth win on the season.
After a 9-0 win last night, Northeastern picked-up right where they left off on Saturday, scoring the game's first goal at 9:05 in the first and then opening up a 2-0 lead. Trevor Owens gave his team a 1-0 lead burying a feed right in front. The first period remained scoreless the rest of the way but NU made it 2-0 just 2:45 into the second. UConn goaltender Rob Nichols (Dallas, Texas) made a nice kick save on a Zach Aston-Reese shot but the rebound found the stick of Snydeman who buried it for his first of two.
UConn grabbed some momentum back and cut the lead in half just 2:03 later on Pauly's tally. After serving a boarding penalty, Pauly came out of the box and jumped right in the play, getting a pass in the slot from freshman Corey Ronan (Franklin, Mass.) and burying it top-shelf. UConn got a pair of power play chances in the second but continued to struggle with the extra skater, coming up empty on both. NU closed out the period tacking on a pair in the last five minutes.
Roy won a puck battle in the corner and McMurtry sent a nifty pass to Dalen Hedges who was able to finish at the right post at 15:21. Reid nabbed his first at 17:33, finishing off an impressive 3-on-2 chance with a one-time tap-in off a feed from Collier. Reid opened the third period with his second goal at 3:11 and Snydeman finished off the scoring with his second at 18:49.
Both teams got 31 shots on net and were held scoreless on the power play. UConn has not scored on the power play in the last seven games, a streak of 28-straight power plays.
The Huskies will be back on the ice when they face New Hampshire in a home-and-home series next weekend. UConn will host UNH at the XL Center on Friday night at 7:05 pm and travel to Durham, N.H. on Saturday for a 7:00 pm start. Saturday's game will be televised live on NESN.