Massachusetts Tops Notre Dame, 4-3, In Longest College Hockey Game Ever
Junior forward Shane Walsh scores 11:42 into fifth overtime for Minutemen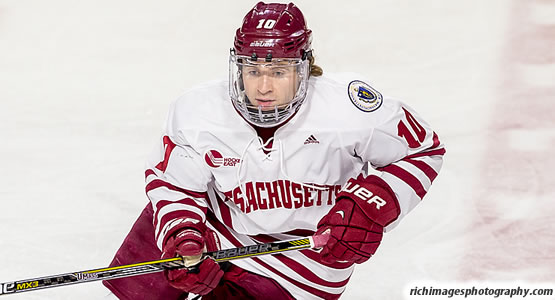 Junior forward Shane Walsh scores game-winning goal for Minutemen
| | | | | | | |
| --- | --- | --- | --- | --- | --- | --- |
| Prd | Time | Team | Score | Type | Scored By | Assists |
| 1st | 9:39 | NDM | 1-0 | EV | Sam Herr (11) | Jake Evans/10, Robbie Russo/19 |
| 2nd | 9:19 | NDM | 2-0 | EV | Vince Hinostroza (9) | Robbie Russo/20 |
| 2nd | 11:42 | UMA | 1-2 | PP | Steven Iacobellis (7) | Brandon Montour/14, Patrick Lee/15 |
| 2nd | 14:24 | NDM | 3-1 | PP | Steven Fogarty (7) | Robbie Russo/21, Anders Bjork/12 |
| 2nd | 15:39 | UMA | 2-3 | EV | Steven Iacobellis (8) | Shane Walsh/8, Ray Pigozzi/13 |
| 2nd | 19:58 | UMA | 3-3 | PP | Troy Power (6) | Frank Vatrano/10, Brandon Montour/15 |
| OT5 | 11:42 | UMA | 4-3 | EV GW | Shane Walsh (13) | Dennis Kravchenko/21, Brandon Montour/16 |
| | | | | | | | | | |
| --- | --- | --- | --- | --- | --- | --- | --- | --- | --- |
| Scoring | 1 | 2 | 3 | O1 | O2 | O3 | O4 | O5 | Final |
| Massachusetts | 0 | 3 | 0 | 0 | 0 | 0 | 0 | 1 | 4 |
| Notre Dame | 1 | 2 | 0 | 0 | 0 | 0 | 0 | 0 | 3 |
| | | | | | | | | | |
| --- | --- | --- | --- | --- | --- | --- | --- | --- | --- |
| Shots | 1 | 2 | 3 | O1 | O2 | O3 | O4 | O5 | SOG |
| Massachusetts | 16 | 13 | 10 | 8 | 16 | 9 | 9 | 10 | 91 |
| Notre Dame | 7 | 7 | 7 | 11 | 8 | 16 | 12 | 10 | 78 |
| | | | |
| --- | --- | --- | --- |
| Team Stats and Records | PP | PIM | SHGF |
| Massachusetts (11-21-2) | 2/3 | 2/4 | 0 |
| Notre Dame (15-17-5) | 1/2 | 3/6 | 0 |
| | | | | | | | | | | | |
| --- | --- | --- | --- | --- | --- | --- | --- | --- | --- | --- | --- |
| Massachusetts Goaltending | MIN | GA | 1 | 2 | 3 | O1 | O2 | O3 | O4 | O5 | Saves |
| Steve Mastalerz (W, 4-11-1) | 151:42 | 3 | 6 | 5 | 7 | 11 | 8 | 16 | 12 | 10 | 75 |
| | | | | | | | | | | | |
| --- | --- | --- | --- | --- | --- | --- | --- | --- | --- | --- | --- |
| Notre Dame Goaltending | MIN | GA | 1 | 2 | 3 | O1 | O2 | O3 | O4 | O5 | Saves |
| Cal Petersen (L, 10-14-3) | 151:42 | 4 | 16 | 10 | 10 | 8 | 16 | 9 | 9 | 9 | 87 |
NOTRE DAME, Ind. - Originally credited with a hat trick but later changed to just two goals, Steven Iacobellis of the Massachusetts hockey team normally would have been a star of the game but he was just one of 21 student-athletes in maroon merely happy to lift his arms in victory, assuming he had the strength remaining, after UMass beat Notre Dame, 4-3, in five overtimes Friday night in the longest hockey game in college hockey history. A Compton Family Ice Arena crowd of 3,994, several hundred of which stayed for more than 2.5 regulation games worth of action, saw history unfold.
On a night where Notre Dame goaltender Cal Petersen set an NCAA record by making 87 saves, UMass goaltender Steve Mastalerz stopped 75 shots, tied for fifth-most in NCAA history, and Shane Walsh scored to end the contest at 1:24 a.m. EST after 151:42 of game-time, it's understandable to see where a hat trick scored four hours previous could slip out of the three star race.
The previous record for the longest game in college hockey history was a 150:22 marathon where Quinnipiac defeated Union, 3-2, in the ECAC quarterfinals on March 12, 2010. The previous Notre Dame record was a mere 95:18, a mark set on March 23, 2007, against Alabama-Huntsville in the first round of the NCAA tournament. Tonight's game eclipsed that mark by 56:24, nearly an entire regulation game.
During the fifth overtime, the eternally-peppy Notre Dame hockey band counted down to the record like New Year's Eve. The final of countless bursts of good cheer was the intrepid ensemble's last, however as just 1:20 after breaking the record, UMass broke through to Notre Dame's net. Rushing down ice, a UMass pass deflected oddly off of a defenseman and right to Walsh who scored and ended the contest just short of six hours after it began.
The loss puts Notre Dame's backs proverbially to the wall as the fifth-seeded Irish (15-17-5) will look to extend its season for the rest of the weekend after dropping the opening game of this best-of-three Hockey East playoff first round series against the 12th-seeded Minutemen (11-21-2). The second game is Saturday night at 7:05 p.m. EST with the third slated to begin at 7:05 p.m. EDT on Sunday, if necessary.
UMass played the role of the plucky underdog early on with a feisty fore-check heavy style of play that led to a 16-7 edge in shots on goal during the first period. What it did not do, however, was ensure that the Minutemen would lead after the first 20 minutes of play as Petersen was up to the task on all 16 shots and the Irish offense sent one home. Midway through the period, Robbie Russo sent a pass up the ice creating a three-on-two situation for the Irish. Steve Mastalerz stopped Jake Evans' shot but left a juice rebound for Sam Herr who fired it into the heart of a mostly-empty net for his 11th goal of the year and a 1-0 Notre Dame advantage.
The 1-0 lead after the opening stanza continued a game run of game-opening frames for Notre Dame. The Irish have posted a shutout in the first period of six of their last eight games. In those contests, Petersen has made 114 saves (14.25 per game) and allowed just three goals for a .974 save percentage.
In stark contrast of the 110 goal-less minutes to come, the teams combined to score five goals in the second period's final 10:41 to make it a 3-3 game. Notre Dame doubled its lead midway through the second period when Vince Hinostroza found a little room and beat Mastalerz with a medium-range wrist shot off of a feed from Russo. UMass drew back to within a goal at 2-1 when Iacobellis scored an unusual power play goal. While being knocked to the ice from behind in the slot, a rebound bounced off of his skate and past Petersen.
Notre Dame extended its lead to 3-1 with a power play strike of its own at 14:24 as Steven Fogarty snapped a shot through a screen and past Mastalerz for his seventh goal of the year. Russo picked up his third assist of the night on Fogarty's goal, giving him 31 of his senior campaign. Iacobellis snuck away from the Irish defense to score his second goal at 15:39 of the second period when Walsh's pass found him alone on the doorstep. On the power play, Iacobellis scored the equalizer with just 2.0 seconds left in the second period during a scrum in front to complete his hat trick.
It would be a while before either team would score again. Petersen and Mastalerz would combine to save each of the next 125 shots on goal while many others hit posts or narrowly sailed wide of the net. The quality of play declined as the battle of attrition waged onwards well past midnight, but as records fell, Gatorade was consumed and bodies increasingly ached, neither side could claim victory until Walsh's tally 11:42 into the fifth overtime brought the contest to its end.