Friday, February 13, 2015
UMass Lowell Rallies To Tie Massachusetts, 3-3
Sophomore defenseman Michael Kapla scores game-tying goal for River Hawks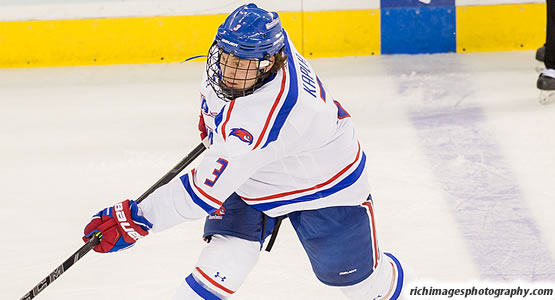 Sophomore defenseman Michael Kapla scored the game-tying goal for the River Hawks
| | | | | | | |
| --- | --- | --- | --- | --- | --- | --- |
| Prd | Time | Team | Score | Type | Scored By | Assists |
| 1st | 8:49 | UML | 1-0 | EV | Ryan McGrath (2) | Terrence Wallin/6, Tyler Mueller/9 |
| 2nd | 1:47 | UMA | 1-1 | EV | Brandon Montour (3) | Marc Hetnik/7, Steve Mastalerz/1 |
| 2nd | 16:31 | UMA | 2-1 | EV | Shane Walsh (11) | Dennis Kravchenko/16, Mike Busillo/1 |
| 3rd | 5:59 | UMA | 3-1 | SH | Steven Iacobellis (6) | Dennis Kravchenko/17 |
| 3rd | 11:07 | UML | 2-3 | SH | Evan Campbell (8) | Zack Kamrass/12 |
| 3rd | 17:45 | UML | 3-3 | EV GT | Michael Kapla (5) | Tyler Mueller/10, Michael Fallon/6 |
| | | | | | |
| --- | --- | --- | --- | --- | --- |
| Scoring | 1st | 2nd | 3rd | OT | Final |
| UMass Lowell | 1 | 0 | 2 | 0 | 3 |
| Massachusetts | 0 | 2 | 1 | 0 | 3 |
| | | | | | |
| --- | --- | --- | --- | --- | --- |
| Shots on Goal | 1st | 2nd | 3rd | OT | SOG |
| UMass Lowell | 11 | 9 | 8 | 4 | 32 |
| Massachusetts | 6 | 9 | 13 | 4 | 32 |
| | | | |
| --- | --- | --- | --- |
| Team Stats and Records | PP | PIM | SHGF |
| UMass Lowell (16-10-4) | 0/2 | 5/10 | 1 |
| Massachusetts (9-18-2) | 0/5 | 2/4 | 1 |
| | | | | | | | |
| --- | --- | --- | --- | --- | --- | --- | --- |
| UMass Lowell Goaltending | MIN | GA | 1 | 2 | 3 | OT | Saves |
| Jeff Smith | 37:08 | 2 | 6 | 5 | 0 | 0 | 11 |
| Kevin Boyle (T, 13-7-4) | 27:49 | 1 | 0 | 2 | 12 | 4 | 18 |
| Empty Net | 0:03 | 0 | | | | | |
| | | | | | | | |
| --- | --- | --- | --- | --- | --- | --- | --- |
| Massachusetts Goaltending | MIN | GA | 1 | 2 | 3 | OT | Saves |
| Steve Mastalerz (T, 2-8-1) | 65:00 | 3 | 10 | 9 | 6 | 4 | 29 |
AMHERST, Mass. - Freshmen Dennis Kravchenko and Brandon Montour both pushed point streaks to six straight games as UMass hockey skated to a 3-3 tie with #16/15 UMass Lowell on Friday night at the Mullins Center. Following the non-league matchup between the Hockey East foes, the Minutemen sit at 9-18-2 and the River Hawks at 16-10-4.
Kravchenko logged a pair of assists in the contest for his eighth multi-point game of the season and now has a team-leading 27 points on the year, the most for a UMass freshman since Casey Wellman logged 33 (11g, 22a) in 2008-09 and the fifth-highest point total by a Minuteman freshman in the Hockey East Era.
Montour registered his third goal of the year and 16th point in 14 games in a UMass uniform, while junior Shane Walsh scored his 11th of the season, his ninth tally since Jan. 2, an 11-game span.
UMass Lowell took a 1-0 lead midway through the first period as Terrence Wallin and Tyler Mueller set up Ryan McGrath's wrister from the slot at the 8:49 mark.
The Minutemen came up with the equalizer just 1:47 into the second as Montour took an outlet pass from sophomore Marc Hetnik and senior Steve Mastalerz, skating into the River Hawks' zone and firing a shot into the far corner of the net.
Walsh then put UMass in front, 2-1, late in the stanza. Kravchenko collected a feed from senior Mike Busillo, curled around the back of the UMass Lowell net and flung a shot towards goal. Walsh found the loose puck sitting on the goal line and tucked it home 16:31 into the frame.
The Minutemen increased the margin to 3-1 at the 5:59 mark of the third period. Kravchenko won a battle for the puck along the boards, creating a shorthanded 2-on-1 that sophomore Steven Iacobellis deposited into an open net.
However, the River Hawks responded with a shorthander of their own at 11:07. Zack Kamrass found Evan Campbell in the slot to cut UMass Lowell's deficit to 3-2.
The River Hawks later netted the equalizer 17:45 into the stanza. Michael Kapla drove a shot through traffic with Mueller and Fallon earning the assists.
UMass and UMass Lowell finished even in shots on the night, 32-32, and went 0-for-5 and 0-for-2 on the power play, respectively. The Minutemen won 37 of 67 faceoffs (55.2%), led by a 16 for 26 (61.5%) night over the dots by Iacobellis.
Mastalerz totaled 29 saves in net for UMass, while Jeff Smith and Kevin Boyle split time for the River Hawks and made 11 and 18 stops, respectively.
The teams will close out their three-game set tomorrow afternoon in Lowell at 4 p.m.