Saturday, February 14, 2015
UMass Lowell Skates Past Massachusetts, 7-1
Sophomore forward Joe Gambardella has goal and three assists for River Hawks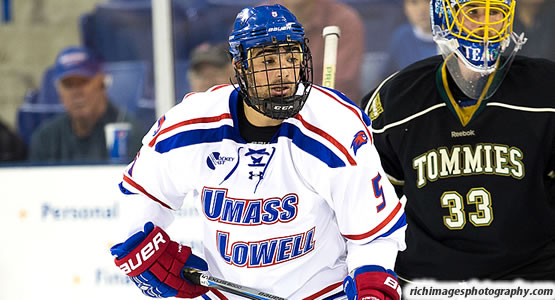 Sophomore forward Joe Gambardella had a goal and three assists for the River Hawks
| | | | | | | |
| --- | --- | --- | --- | --- | --- | --- |
| Prd | Time | Team | Score | Type | Scored By | Assists |
| 1st | 5:21 | UML | 1-0 | EV | John Edwardh (4) | Zack Kamrass/13, Tyler Mueller/11 |
| 1st | 6:05 | UML | 2-0 | EV GW | Terrence Wallin (2) | Michael Colantone/5 |
| 1st | 11:52 | UML | 3-0 | PP | Zack Kamrass (6) | Adam Chapie/11, Dylan Zink/12 |
| 1st | 13:59 | UML | 4-0 | EV | Joe Gambardella (8) | John Edwardh/4, C.J. Smith/15 |
| 1st | 18:15 | UML | 5-0 | EV | John Edwardh (5) | C.J. Smith/16, Joe Gambardella/13 |
| 2nd | 7:42 | UML | 6-0 | EV | John Edwardh (6) | C.J. Smith/17, Tyler Mueller/12 |
| 2nd | 11:21 | UMA | 1-6 | EV | Dominic Trento (5) | Dennis Kravchenko/18, Keith Burchett/5 |
| 2nd | 16:46 | UML | 7-1 | PP | Evan Campbell (9) | Joe Gambardella/14, John Edwardh/5 |
| | | | | |
| --- | --- | --- | --- | --- |
| Scoring | 1st | 2nd | 3rd | Final |
| Massachusetts | 0 | 1 | 0 | 1 |
| UMass Lowell | 5 | 2 | 0 | 7 |
| | | | | |
| --- | --- | --- | --- | --- |
| Shots on Goal | 1st | 2nd | 3rd | SOG |
| Massachusetts | 7 | 13 | 9 | 29 |
| UMass Lowell | 17 | 7 | 7 | 31 |
| | | | |
| --- | --- | --- | --- |
| Team Stats and Records | PP | PIM | SHGF |
| Massachusetts (9-19-2) | 0/5 | 7/14 | 0 |
| UMass Lowell (17-10-4) | 2/7 | 5/10 | 0 |
| | | | | | | |
| --- | --- | --- | --- | --- | --- | --- |
| Massachusetts Goaltending | MIN | GA | 1 | 2 | 3 | Saves |
| Steve Mastalerz (L, 2-9-1) | 13:59 | 4 | 9 | 0 | 0 | 9 |
| Henry Dill | 46:01 | 3 | 3 | 5 | 7 | 15 |
| | | | | | | |
| --- | --- | --- | --- | --- | --- | --- |
| UMass Lowell Goaltending | MIN | GA | 1 | 2 | 3 | Saves |
| Kevin Boyle (W, 14-7-4) | 60:00 | 1 | 7 | 12 | 9 | 28 |
LOWELL, Mass. - Behind five first period goals and John Edwardh's hat trick, the No. 15 UMass Lowell hockey team defeated Massachusetts 7-1, Saturday night at the Tsongas Center.
The win helped UMass Lowell (17-10-4, 10-7-2) retain the Alumni Cup.
"We're extremely pleased about the outcome, it was certainly what the doctor ordered for us, we needed a shot in the arm of positive momentum," said Head Coach Norm Bazin. "I'm glad to get a come from behind tie yesterday, and come back to follow it up with a good effort today."
John Edwardh (Calgary, Alberta) scored his fourth goal of the season only 5:21 in the first period, gathering a rebound off of Steve Mastalerz's pads and poking it home. Terrence Wallin (Yardley, Pa.) scored less than a minute later when he drove in and sent a wrist shot past Mastalerz.
With the River Hawks on a 5-on-3 advantage, Zack Kamrass (Atlanta, Ga.) scored his 11th career goal on a snipe from the blue line at 11:52 of the period. Joe Gambardella (Staten Island, N.Y.) netted his fifth goal of the season to extend the lead with 8:01 on the clock.
The quick 4-0 deficit prompted Massachusetts (9-19-2, 4-14-1) to make a change in net, bringing in Henry Dill.
Edwardh scored his second of the game with 1:45 remaining in the period to make it 5-0, deflecting the puck in off a C.J. Smith pass.
The freshman completed his first career hat trick on a power play goal at 7:42 of the second period.
Dominic Trento stopped the bleeding for the Minutemen, scoring at 11:21 of the middle period.
With 4:14 remaining until the third period, Evan Campbell (Port Coquitlam, British Columbia) finished the night's scoring, splitting the defense and sending the puck into the upper corner. Edwardh's three goals, two assists and five points, are all new career-highs. He previously had two points against Penn State, and had a goal and assist in the Notre Dame series.
Gambardella and Smith both had three assists, setting new career-highs. Gambardella also set a career-high in points, and Smith tied his. The River Hawks went 2-for-7 on the power play, while Massachusetts went scoreless in five opportunities. Kevin Boyle (Manalapan, N.J.) made 28 saves for his 14th win of the year. Mastalerz made nine saves in 13:59 of playing time, and Dill made 15 in 46:01.
The River Hawks return to action on Friday, February 20th at Boston College. Game time from Conte Forum in Chestnut Hill, Mass. is 7:30 p.m.