Saturday, October 3, 2015
UConn Upends Queen's University, 3-1, In Exhibition
Will Golonka, Tage Thompson and Johnny Austin score goals for the Huskies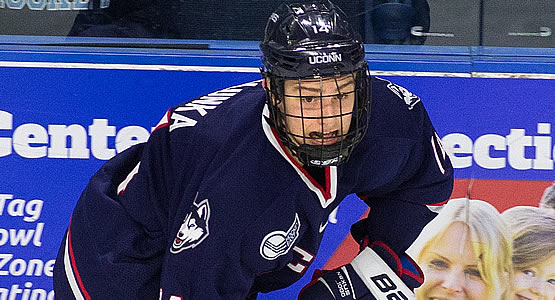 Sophomore forward Will Golonka scored a goal for the Huskies
| | | | | | | |
| --- | --- | --- | --- | --- | --- | --- |
| Prd | Time | Team | Score | Type | Scored By | Assists |
| 2nd | 9:43 | QEN | 1-0 | SH | Joseph Luongo | Patrick Downe |
| 2nd | 13:28 | CON | 1-1 | EV | Will Golonka | Patrick Kirtland, David Drake |
| 2nd | 14:15 | CON | 2-1 | EV GW | Tage Thompson | Jeff Wight, Joey Ferriss |
| 3rd | 19:15 | CON | 3-1 | EV EN | Johnny Austin | Shawn Pauly |
| | | | | |
| --- | --- | --- | --- | --- |
| Scoring | 1st | 2nd | 3rd | Final |
| Queen's | 0 | 1 | 0 | 1 |
| Connecticut | 0 | 2 | 1 | 3 |
| | | | | |
| --- | --- | --- | --- | --- |
| Shots on Goal | 1st | 2nd | 3rd | SOG |
| Queen's | 6 | 5 | 5 | 16 |
| Connecticut | 9 | 20 | 13 | 42 |
| | | | |
| --- | --- | --- | --- |
| Team Stats and Records | PP | PIM | SHGF |
| Queen's | 0/4 | 7/14 | 1 |
| Connecticut | 0/7 | 4/8 | 0 |
| | | | | | | |
| --- | --- | --- | --- | --- | --- | --- |
| Queen's Goaltending | MIN | GA | 1 | 2 | 3 | Saves |
| Kevin Bailie (L) | 40:00 | 2 | 9 | 18 | 0 | 27 |
| Jacob Brennan | 19:19 | 0 | 0 | 0 | 12 | 12 |
| Empty Net | 0:41 | 1 | | | | |
| | | | | | | |
| --- | --- | --- | --- | --- | --- | --- |
| Connecticut Goaltending | MIN | GA | 1 | 2 | 3 | Saves |
| Rob Nichols | 20:00 | 0 | 6 | 0 | 0 | 6 |
| Steve Thulin (W) | 20:00 | 1 | 0 | 4 | 0 | 4 |
| Tanner Creel | 20:00 | 0 | 0 | 0 | 5 | 5 |
STORRS, Conn. - The UConn men's hockey team took the ice for the first time in 2015-16 on Saturday afternoon and came away with a 3-1 win over Queens University in an exhibition contest at Freitas Ice Forum on the Storrs Campus. The Huskies got a pair of second period goals with the game-winner coming off the stick of freshman Tage Thompson (Orange, Conn.) en route the win.
UConn dressed their entire roster for the exhibition game and used all three of their goaltenders in the win. The Huskies dominated the shot chart, outshooting Queens 42-16. Junior Rob Nichols (Dallas, Texas) took the first periods and turned away all six shots he faced. Sophomore Steve Thulin (North Reading, Mass.) made four saves in the second period and earned the victory. Sophomore Tanner Creel (Arlington Heights, Ill.) made five stops to keep Queens off the scoreboard in the third.
The Huskies got seven power play chances on the afternoon but failed to convert any into a goal. The Gales were 0-4 on their extra man chances.
After a scoreless first period it was Queens who struck first in the second, catching the Huskies at the end of a penalty. The Huskies had a five-on-three advantage for 33 seconds but as Joseph Luongo's penalty for roughing expired, Queens defenseman Patrick Downe cleared the Huskies zone and found his stick just as he jumped out of the box. Luongo got a breakaway and beat Thulin to the stick side for a 1-0 lead at 9:43.
UConn used two quick strikes just 47 seconds apart to grab the lead for good. Sophomore Will Golonka (Carlisle, Mass.) produced the Huskies first goal of the afternoon, posting himself up at the right post to clean up a loose puck off a blasted David Drake (Naperville, Ill.) shot from the right circle.
The Huskies created a turnover to produce the second goal as senior Joey Ferris (Novi, Mich.) chipped the puck back into the zone where Jeff Wight (Coquitlam, British Columbia) fed Thompson who blasted a shot that caught goaltender Kevin Bailie in the shoulder but had enough on it to sneak past the goalie for a 2-1 lead at 14:15.
UConn iced the game away in the closing seconds of the third as senior Shawn Pauly (Bellingham, Wash.) won a draw in the Huskies zone back to defenseman Johnny Austin (St. Louis Park, Minn.). Austin looking to just clear the puck played it off the glass and the carom slid right into an empty net for the final, 3-1.
The Huskies will officially open the season next weekend with a two-game series at Alabama Huntsville, October 9th and 10th. The home opener at the XL Center is slated for Friday, October 16th against Arizona State.